The Best CBD Products for Your Zodiac Sign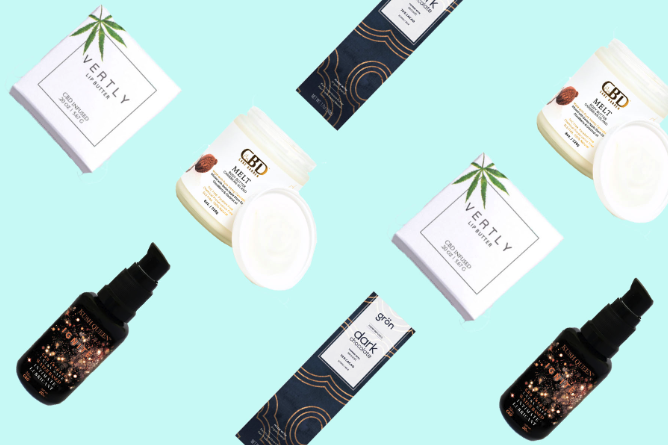 From enjoying a glass of rose with friends on a warm night to hitting up a restorative yoga class, the ways you choose to kick back and chill out are very much a reflection of your personality—and your personal, natal astrology. Thankfully, with more buzz than ever around self-care, health, and wellness, there is a bevy of strategies for managing stress, making it easier than ever to explore what works for you. One that's undoubtedly in the spotlight at the moment is CBD, which has increasingly become an active ingredient in many therapeutic items such as bath and body products, various types of sweet treats, and straight-up supplements.
CBD, which comes from either a marijuana or hemp plant, is non-psychoactive, so it won't get you high like THC (tetrayhydrocannabinol). It may, however, offer anti-inflammatory, antioxidant, anti-psychotic, anti-convulsant, and antidepressant properties. Because it can hemp is legal in all 50 states, hemp-derived CBD products are becoming more readily available online and in stores all over the country.
If you're interested in trying CBD to bolster wellness, trial and error may very well be a part of the process. But considering what you'll enjoy best through the lens of astrology certainly couldn't hurt. Here, the best types of CBD products for every sign.
Aries: Massage CBD
Because Aries is ruled by action-oriented Mars, chances are that you contend with stress by lifting heavy weights, sweating it out in a cycle class, or just getting outside and running. Although you may not readily admit it, your gung-ho athleticism might leave you with aching muscles. For that reason, your best bet may be a topical CBD salve—like Plus CBD Oil Balm ($51.95 for 1.3oz.)—that mixes CBD with a variety of relaxing essential oils. You can rub it into your tightest knots—or treat yourself to a massage, and ask the therapist to use it for extra relaxation.
Taurus: Chocolate CBD
As an earth sign ruled by luxury-loving Venus, there might be nothing that chills Taurus out more than some dedicated downtime at home, ideally curled up on the couch, especially if you have a much-loved, perhaps even high-end treat to enjoy while you get your R&R on. Your signature CBD product is likely an indulgent edible, hand-crafted, downright delicious one like Grön chocolate bars (which offer 100mg of CBD and 10 servings per bar, $20) or To Whom It May chocolates (which offer 10mg of CBD per two-bite bonbon, various prices).
https://www.instagram.com/p/BqF2Fb9lXuv/?utm_source=ig_embed
Gemini: Social CBD
As a super-social air sign whose ruling planet is super-communicator Mercury, Geminis find stress relief in connection. When you need a boost, you'll gravitate to bonding with your best friends—perhaps by having a nonstop text fest, hour or two long FaceTime session, or ideally, catch-up sesh in person. That said, you might find you dig a CBD product you can enjoy with others. CBD-infused soda (like Sprig) or mocktails (check out these recipes that use Papa & Barkley Essentials' tincture) lend themselves to getting you your fun, party fix, while chilling you out at the same time.
Cancer: Bath Time CBD
As a water sign ruled by the maternal moon, you're sensitive, compassionate, and your big, empathetic heart makes it all too easy for you to find yourself overtaxed emotionally and, at times, downright crabby and blue. Thankfully, spending time in or near water is often a quick fix for Cancers, and even better, there are a plethora of CBD products you can enjoy during your next therapeutic bath or shower. A couple to try: Kush Queen's Relax CBD Bath Bomb ($12.99) and Soaked Transdermal CBD Shower Gel ($39.99).
https://www.instagram.com/p/BunPkrJh90U/?utm_source=ig_embed
Leo: High-end CBD
Ruled by the confident, beaming sun, your upbeat nature is contagious, you can be loyal to a fault, and you easily slip into leadership roles on the daily. Spending time in the spotlight, and bringing joy and direction to others might be a Leo's default mode, but even you need self-care that makes you feel like the royal you know you are. Check out high-end, CBD-infused skin care products like Code of Harmony Glo-Berry Glistening Skin Oil Serum($48) or Code of Harmony Crave Salvation Oil Serum ($46). If you're getting your chill on with your bae (because, let's be real a sexy, romantic romp is one of your favorite ways to wind down), you might enjoy Vertly Hemp CBD Infused Lip Balm, which comes in a variety of sweet flavors like cocoa, peppermint, and rose ($22).
Virgo: CBD Variety Packs
Ruled by information-gathering Mercury, you're a natural-born communicator whose observant, detail-oriented nature can often lead to overstimulation. Thankfully, given that your ruling house is the sixth house, which oversees the daily grind and health, it's no surprise if you feel like stress management is your hobby. You'll want to do in-depth research on every method you try, so a CBD variety pack is likely your best bet. Charlotte's Web has a Virgo-esque Rebalance One-Month Supply Bundle that features their Extra Strength CBD Oil, as well as a small topical balm and a Five-Minute Journal ($92.98). Kush Queen has a Wellness Collection featuring a Bare tincture, MELT pain relief lotion, and Immunity Bath Bomb ($79.99). You might also enjoy Blue Ridge Hemp CBD Infused Coconut Oil ($55 for 8 oz.) that you can incorporate into your healthy cooking regimen.
https://www.instagram.com/p/BuUECA7A4lu/?utm_source=ig_embed
Libra: Skincare CBD
Your ruling planet Venus oversees all things beauty-oriented, so when you're not playing host or making a bazillion other social plans, you may be fairly obsessed with self-care in the form of exploring various beauty products. Luxurious, functional therapies are a Libra's jam, and you'll have a blast checking out CBD-infused, green skincare that has you glowing even more than you already do. A few possibilities: Kush Queen Defynt Skin Anti-Serum with 100mg CBD ($89), Kana Skin Care Lavender Hemp Sleeping Mask ($55), or CBD Care Garden Melt Body Butter, Caribbean Island ($65.50).
Scorpio: Sexy CBD
As a deeply-feeling water sign co-ruled by transformative Pluto and sexy Mars, you're intensely emotional—not that you'll open up about your feels to just anyone. Holding in how you feel can take a toll, so some form of release is imperative. Scorpios often find stress can be tackled with sex (you are ruled by the eighth house of sexual intimacy, after all) or other forms of sensual play. Your go-to CBD products might be ones you can enjoy behind closed doors, like Kush Queen Ignite CBD Lube ($49.99) or Foria Wellness Natural Arousal Oil with CBD & Kava ($48).
Sagittarius: On-the-Go CBD
With lucky, abundance-bringing Jupiter as the ruler of your exuberant, joyful sign, it can be tough to get you down, but everyone's susceptible to stress. You may be especially so if you ever feel like your free spirited nature is restricted in any way. Since travel and adventuring is your Sagittarius blood, you need a CBD product that is easy to enjoy on-the-go and that lends itself to thrill-seeking. For that reason, you might enjoy a sweet, easy-to-pop, microdose-friendly edible that you can throw in your backpack, like Plus CBD Oil Gummies (from $39.95) or  Mr. Moxey's Mints ($40 for 60 mints, 5mg CBD each).
https://www.instagram.com/p/BoKynCOlNvr/?utm_source=ig_embed
Capricorn: Nature-Focused CBD
Being the diligent, hard-working powerhouse you are, thanks to your ruling planet taskmaster Saturn, you're frequently unstoppable and consistently putting your nose to the grindstone to reach your goals. But let's be honest that even you need to chill from time to time. And as an earth sign, spending time in nature (think hiking or catching up on your reading at the beach) is particularly restorative for Capricorns. CBD products that lend themselves to these types of activities: topical salves, like Lord Jones High CBD Formula Body Lotion ($60) or energizing, calming, and wellness-bolstering formulas like Strava Hemp Oil Infused Coffee ($54.95).
Aquarius: High Tech CBD
As a curious air sign ruled by game-changer Uranus, which oversees electricity and scientific innovation, there's you're all about exploring the latest technology, especially when it comes to managing your stress. Whether you're hanging with your huge group of friends or coordinating a team effort on the job, you're almost always "on,", so prioritizing solid downtime is a must. Aquarians might enjoy a high-tech, easily portable form of ingesting CBD, like Select CBD Relax Lavender Disposable Vape Pen ($45) or Wildflower CBD+ VAPORIZER (for Aches or Immunity, $59.99).
Pisces: Artistic CBD
Deeply empathetic, creative, and spiritual Pisces is ruled by mystical Neptune—which is all about avoiding reality and embracing escapism—as well as the twelfth house, which deals with the unconscious. That said, stress and consistent exposure to toxic forces can easily throw a sensitive Fish into a blue mood or even depression. Embracing your artistic side is key to coping, and, in turn, you'd love CBD products that lend themselves to chilling out and getting in touch with your inner painter, poet, actor, or musician. Consider a rejuvenating, peppermint-infused Awaken Bath Bomb from Kush Queen ($12.99), PlusCBD Oil Peppermint Drops: Gold Formula (from $37.76), or The Press Pause Project CBD Teas, which come in English Breakfast, Chai, and Coconut Creme varieties ($32.99 for a 10-pack).
https://www.instagram.com/p/BtcZIW8hSdV/?utm_source=ig_embed
Most Popular on
Astrology.com