What You Need to Know About October's Full Moon in Taurus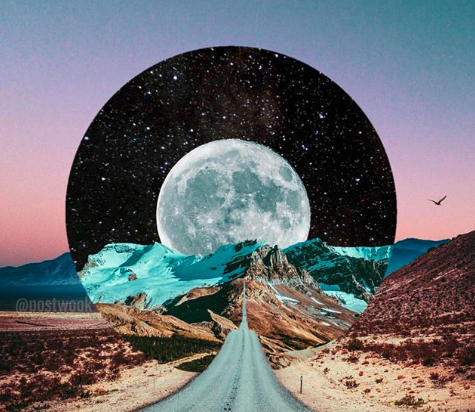 Eclipses act as a moment of reckoning in the heavens and here on Earth as the luminaries, the sun and moon, enter a magnificent standoff. This cosmic climate initiates energetic quakes that may lead to major drama, life-altering experiences, and a rearranging of the spirit, impacting each individual in profound ways. Growth cannot be avoided when eclipse energy is present if the universe decides it's time for a change, and with the Taurus full moon shaking up our lives on October 28, there's a good chance we'll all be walking on unsteady ground.
Though you may feel shocked by the events that unfold under Luna's glow, this celestial event acts as the culmination of events that have been building up since November 19, 2021, when this eclipse cycle first began. Consider where you've faced resistance throughout these last two years, searching for recurring themes that can provide insight into what to expect as this astrological era comes to an official end. Now may also be a good time to retrace your spending habits, taking into consideration if you're in better financial standing now than you were twenty-four months ago, or if it's time for a monetary wakeup call.
While it's true that eclipses can be scary and intense, the stars also present opportunities to appreciate where you've managed to establish consistency and stability. Whether you've implemented a new yoga practice, found solidarity in meaningful friendships, or finally purchased your dream home, find something to be grateful for when powering through chaos or turmoil. Remember to make space for that which brings comfort, especially when faced with the tense task of releasing that which does not serve you. Not every moment of this full moon lunar eclipse needs to feel difficult, and steadying your heart can provide opportunities to catch your breath and reclaim clarity.
In tandem with this eclipse comes a series of aspects between Mercury, Mars, and Jupiter. Your words and actions will have a big impact, which can be a good or bad thing depending on your decorum. Don't play games or get washed into a sea of drama, standing firm in your ethics, and remaining loyal to yourself without furthering conflict. While it's not easy for every member of the zodiac to draw lines when faced with pushy or stubborn individuals, the stars lend an extra hand when it comes to finding strength, though battles should be chosen wisely and there may be times when the best course of action is to simply walk away.
Choosing to let go can help you feel more in control during this astrological event, understanding that just because you invested a lot of time and energy into certain people or situations, it doesn't mean you have to stick with it for the long haul. Demolishing your own structures can feel invigorating, helping you reclaim independence from that which you were previously tethered to. Remember that there are always opportunities to rebuild, but that staying in an unhappy situation only generates more distance between you and the life you've always envisioned for yourself.
To navigate the full moon in Aquarius, here's your official full moon reading—including your full moon meaning, tips on how to handle the energy, and even a tailored moon ritual—all based on your zodiac sign.
Store
Recommended Reports For You
Most Popular on
Astrology.com