How to Harness the Power of the Planets This Memorial Day Weekend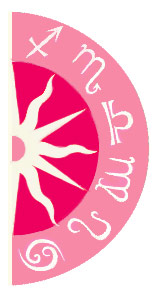 With two trines to kick it off, this long weekend should be an easy one to enjoy—all we have to do is go with the flow!
If we're playing plans by ear, the trine between retrograde Jupiter in Scorpio and Neptune in Pisces provides the creativity and resourcefulness to pull it all together at the last minute. The trine between Mercury in Taurus and retrograde Pluto in Capricorn helps us to slow down and be fully present.
Today's other major aspect, an opposition between Venus in Cancer and retrograde Saturn in Capricorn, can make us feel torn between what we feel like doing and what we "should" be doing. Take advantage of the Libra moon to strike the right balance.
With no major aspects on Saturday or Sunday, the rest of the weekend should be relatively chill—except for the Scorpio moon, which adds just enough intensity to keep things interesting!
Cut loose and do something adventurous on Monday afternoon, when the moon enters free-spirited Sagittarius.  A quincunx between the sun in Gemini and Saturn in Capricorn late Monday night makes the end of the weekend bittersweet, but at least we'll go "back to the grind" on Tuesday with no regrets!
HOROSCOPES FOR THE WEEKEND WARRIOR
May 25-28, 2018
 Aries
"So, how's work?" These days, that's a loaded question. But don't let your dread of being interrogated by well-meaning relatives keep you away from the family barbecue! Chances are, they don't really want to talk about work either.
Click here for more about the Aries sun sign.
Taurus
Visiting your in-laws seemed like a good idea at the time. But now that it's time to hit the road, you can think of a million reasons you'd rather stay home. Go anyway—this could be a bonding experience you don't want to miss!
Click here for more about the Taurus sun sign.
Gemini
Living the glamorous life doesn't have to be expensive. With your finesse, even a picnic in the park can be the height of sophistication! A basket packed with simple delicacies, a blanket in the grass, and a few of your most brilliant friends are all you need for La Dolce Vita.
Click here for more about the Gemini sun sign.
Cancer
A lot of people would love the pleasure of your company this weekend—but be sure to save some time for "me, myself, and I." Get away from it all with a low-maintenance friend and enjoy a spa weekend, yoga retreat, or whatever you consider a moment of Zen.
Click here for more about the Cancer sun sign.
Leo
At heart, you're a true patriot: someone who loves where they live and are eager to make it the best place it can be. Show your hometown pride by attending a block party, fireworks display, or Memorial Day parade—that is, if you're not already marching in it!
Click here for more about the Leo sun sign.
Virgo
Why sit around socializing when you could be doing something useful? Sign up for a charity 5K, walkathon, or any other event where you can have fun with like-minded people as you work together for a good cause.
Click here for more about the Virgo sun sign.
Libra
Everyone knows you're the hostess with the mostest. But when was the last time you welcomed visitors into your humble abode? Throw an impromptu party for a few of your best friends… and a few of their best friends.
Click here for more about the Libra sun sign.
Scorpio
For most people, the deep conversations you and your partner share on the regular are like the Holy Grail of intimacy. But you may be overlooking a more obvious way to connect. (Need I say more?) Set the mood, and see what happens…
Click here for more about the Scorpio sun sign.
Sagittarius
You've always got a bag packed and ready by the door, just in case adventure comes knocking.   But there's adventure to be found right in your own backyard—the trick is knowing where to look.  Keep your eyes peeled for clues, and see where they lead.
Click here for more about the Sagittarius sun sign.
Capricorn
With all the opportunities to overindulge this weekend, a little exercise might do you good! But keep the focus on fun, and forego your fitness regime for a group hike or pickup game. Just remember, the key word is fun—so keep that competitive streak in check.
Click here for more about the Capricorn sun sign.
Aquarius
You love to sing your heart out in the shower, car, or anywhere you think no one will hear. But it would be a shame to keep all that talent to yourself. Get up on stage at a karaoke or open-mic night, and blow the audience's mind!
Click here for more about the Aquarius sun sign.
Pisces
All the hard work you've been doing has brought you closer to your dream than you ever thought possible. Yes, you've still got more to do—but it's OK to take a break. The inspiration will still be there when you get back!
Click here for more about the Pisces sun sign.
Most Popular on
Astrology.com