Yas, Queen! The August New Supermoon in Leo Wants You to Shine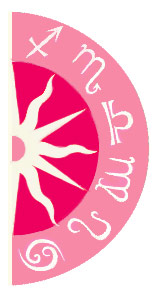 On Saturday, August 11, at 2:57am PST, the new moon will be in the regal sign of Leo.
Every new moon is a chance to reflect on what we want out of life and what we truly deserve, and most of the time, it's best to stay humble and keep our expectations down-to-earth. But since the August 2018 new moon is in Leo, we're all entitled to enjoy a bit of the royal treatment!
What Does the August New Moon in Leo Mean?
Leo is ruled by none other than the sun—the bright, shining star around which everything else in our solar system literally revolves. And though we may not be aware of it, each of us carries a little spark of that same "star power" within ourselves. This August 2018 new moon rekindles the flame and urges us to let our light shine for all to see.
It's not about vanity, though—Leo's so much deeper than that! At heart, this sign is about embracing what makes us special and graciously sharing those gifts with others. Somewhere in our lives right now, the universe is asking each of us to show up—step into a starring role, take a leadership position—and it's up to us to rise to the occasion.
But if the thought of taking center stage makes you want to run for the hills, take heart: there are subtler ways to make your royal presence known. Leo may have a reputation for theatrics, but there's also a quiet dignity to this lion-hearted sign.
Leo teaches us to know our own worth, without needing validation or approval from anyone else. But no matter how secure we are in our own awesomeness, we all need some positive reinforcement now and then. So if you've been feeling ignored or unappreciated, this new moon is a good time to demand the respect you deserve.
Just be aware that Leo's shadow side—being overly dramatic, attention-seeking, prideful, or ego-driven—can also rear its ugly head at this new moon. We'll all shine a little brighter if we remember to channel our spirit animal, the lion, in more conscious ways.
Horoscopes for the August 2018 New Moon in Leo
Leo
"The world doesn't revolve around you, you know…" Yeah, you've heard that one before, Leo. But even if you're not the center of the universe, you are the star of your own life story—and probably a few other stories, too. So go ahead and celebrate your fabulous self at this new moon… you deserve it!
Virgo
Egos: we've all got one. Even you, Virgo. And guess what? That's not necessarily a bad thing. But when we repress or deny this part of ourselves, it can start to take on a life of its own. At this new moon, put false modesty aside and start owning that ego of yours, so it doesn't own you.
Libra
They say it's not what you know, but who you know—and you know just about everyone, Libra! Still, there's no name you could drop that's more impressive than your own. After all, you're the one with the social savvy to bring everyone else together! This new moon encourages you to embrace your influential role.
Scorpio
Good work speaks for itself. Unfortunately, in this day and age, shameless self-promotion speaks a lot louder. Building your "personal brand" may feel tacky and fake, but it's a necessary evil if you want your work to be noticed. This new moon challenges you to get off your high horse and get in the game, Scorpio.
Sagittarius
Anyone can be a tourist—you'd rather be a citizen of the world, Sag! And with your joie de vivre, it's only natural if red carpets seem to roll out and doors seem to open everywhere you go. At this new moon, harness your superpower to embark on an inspiring and enlightening new journey.
Capricorn
Whatever comes your way, you take pride in knowing you've got it covered, Cap. But even the strongest, most capable among us need a little backup sometimes. At this new moon, the best way to take command of your situation just might be to swallow your pride and reach out for help.
Aquarius
Lately it seems like no matter how hard you try to connect with a loved one, the signals just keep getting crossed, Aquarius. But this isn't rocket science—the "technical difficulties" you're experiencing at this new moon are simple enough to resolve. All you have to do is stop overthinking, and start listening to your heart.
Pisces
For you, creativity isn't so much about flaunting your genius as channeling the muse, Pisces. But downplaying your own role in the process can make it all too easy for others to devalue your work. This new moon urges you to take more ownership of your visionary creations.
Aries
Grown-up life is no joke, Aries, but that doesn't mean we have to take ourselves so damn seriously all the time. Luckily for the rest of us, there are people like you in the world who know how to keep their inner child alive and kicking. This new moon is the time to let it come out and play!
Taurus
It may look like a humble abode, but to you, Taurus, it's a castle. And as the monarch-in-residence, you're prepared to defend your fortress by any means necessary… or to play the gracious host, depending on what the situation demands. This new moon challenges you to make the proper choice.
Gemini
Witty and whimsical, you're not just the life of the party—most of the time, Gemini, you are the party! And more often than not, everyone else is happy just to be invited. Still, at this new moon, you may want to consider sharing the social spotlight. After all, the more the merrier!
Cancer
You take pride in your possessions and handle them with the most exquisite care, Cancer. But at the end of the day, it's all just stuff—and you're worth so much more. This new moon is a time to focus on the essential, intangible things that make you one-of-a-kind and irreplaceable.
Most Popular on
Astrology.com