How to Build an Ancestral Altar to Connect With the Spirit World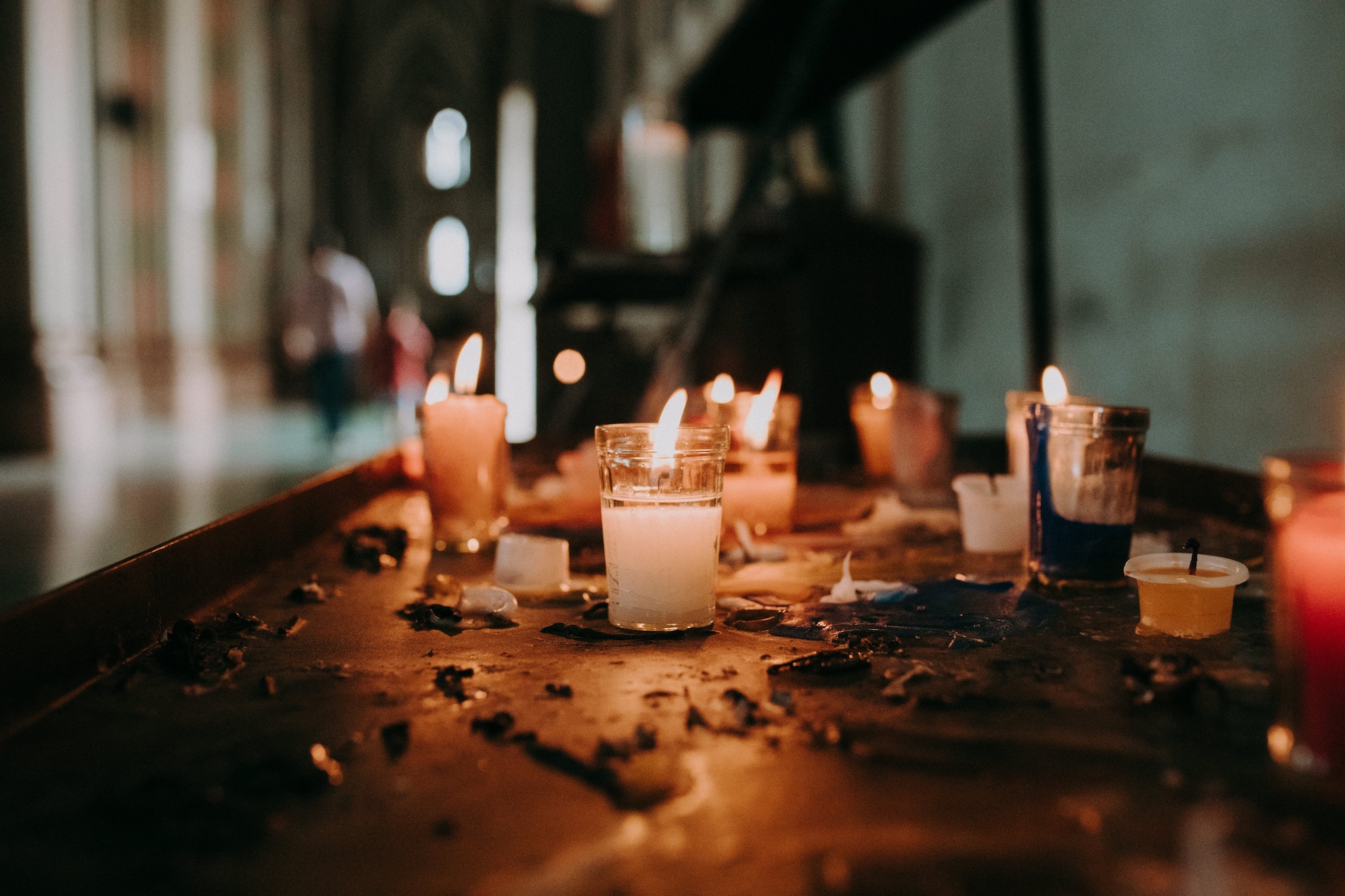 'Tis the season to remember the dead!
The end of October brings us a slew of opportunities to honor those who have passed to the other side, including Samhain or Halloween on Oct 31; Dia de los Muertos on Nov 1 & 2; and All Saints or All Souls Day on Nov 1 & 2.
After all, this is the time of year when people say that "the veil is thin," meaning that the invisible barrier between the worlds of the living and the dead is at its most porous.
Astrologically, we are also being supported in our desire to connect with the spirit world: Neptune's long transit through Pisces certainly lends itself to the timelessness of spirit work, while Jupiter's gallivant through Scorpio's underworld urges us all to dig up our roots and tend to them.
One of the simplest and widespread practices that can help you hold space for those who are gone but not forgotten is the creation of an ancestral altar in your home.
Building an ancestral altar is a rewarding and heart-opening practice, and anyone can participate, no matter what you know about your own ancestry. Here are some things to think about when creating and experiencing your home altar.
Setting Up Your Ancestral Altar
Look to the West In most European traditions, west is the direction associated with the land of the dead. Position your altar on a westerly wall if possible, or in such a way that you face the west while tending to it.

Get Some Fresh Flowers Traditional flowers at this time of year are marigolds and chrysanthemums, but if you have ancestors who had specific favorites, making an effort to include those flowers will enhance the energetic potency of your altar. If your granny loved roses the most, splurge on them for her!

Gather Your Crystals Traditional stones include carnelian, smoky quartz, and obsidians, but use what you're drawn to.

Light Some Candles Many observant altar-builders leave prayer candles in glass containers burning twenty-four hours a day for the last week of October. It is up to you to decide if this is safe for your particular set-up – just be sure that you have candles that you can light at least once a day.

Collect Family Photographs and Memorabilia Photographs of those who have passed (copies are fine), heirlooms, or small artifacts owned by your ancestors, will help focus your energy.
If you don't have any of these things, you can use items that are symbolically related to your forefathers and foremothers. Want to call on your grandfather, the postman? Old postage stamps might be a lovely addition to your altar. If your great-aunt was a tailor, a pair of nice sewing shears would certainly honor her life and work.
Also, some people include images or veneration of other beloved dead who are not blood-related: friends, mentors, or inspiring people who have crossed over.

Research Heritage References A lot of us don't know exactly who our ancestors are, but don't let that stop you. If you were adopted from China, you may include some beautiful embroidered silk as an altar cloth. If your family emigrated abruptly from Iran and left most belongings behind, you may consider anointing your candles with Damascus rose oil. If you are of blended heritage, make an attempt to honor each aspect of your ancestral lineage – every ancestor you have heard about and each region or country that is included in your known lineage.

Make room for food and spirit offerings. If you know what your departed relative's loved to ingest when they were alive, be sure to include these treats! People often use sweets, tobacco, or alcohol. After all, indulging the dead is good for the living!

Make your altar your own. If you're well-versed in interpreting your own natal chart, you might examine your fourth house for interesting or vital components to your ancestral altar. Also, you can look at which house Scorpio rules and which planets it governs in yout natal chart to understand how best to engage with your ancestors altar.
Once you have set up your altar, one of the most important things you can do is spend time there.
One way to incorporate your altar into daily rituals is to share a little bit of anything you eat or drink at home with your beloved dead.
Select a small plate and cup which will be used only for your altar, and within which you might share small amounts of your own food and drink with your ancestors. Each time you sit down for a meal, portion out a small amount of your food with which to feed your dead.
If this feels like too much of a time commitment, you can simply take some time each day and sit with your candles burning, in prayer or reflection. This is most significant when done at dawn or dusk. Consider saying specific prayers to your ancestors while lighting your candles.
Don't be afraid to ask your beloved uncle or a more distant, unknown relative to look after you; our ancestors are invested in our wellbeing and success.
The dead have left us with great gifts, and when we build altars to honor them, we are able to receive these gifts fully.
Store
Recommended Reports For You
Most Popular on
Astrology.com