What Your Zodiac Sign Says About Your Lips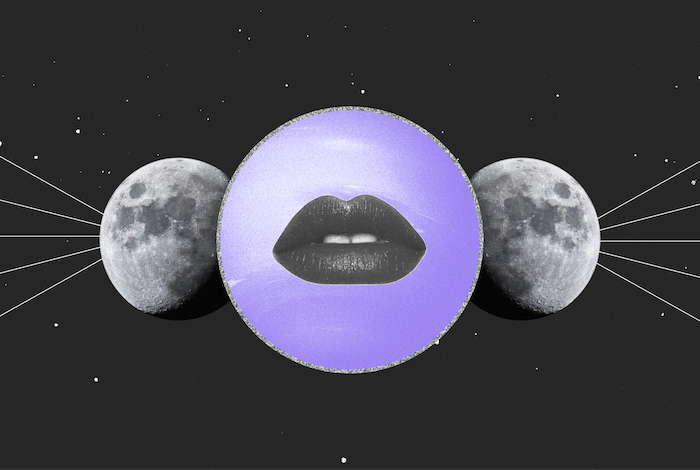 Lips are usually one of the first points of attraction—everyone loves a good kisser! And just like our zodiac signs, lip shape reveals something about your personality. Could it be because the two are intrinsically linked?
We think so! Here's what your zodiac sign says about your lips.
Aries: Uneven Lips
Aries is known for having extremely distinct characteristics. From strong noses to piercing eyes, Arians are likely to have uneven lips. These one-of-a-kind lips make each Aries even more desirable.
Shape
Aries' uneven lips can come in a plethora of shapes and forms! There is no one true lip shape for Aries, and there shouldn't be! Aries value individuality deeply, and mother nature kept that in mind when creating their lips.
Characteristics
Aries can have a wide range of lip characteristics. Their lips might puff up on one side, have an uneven top line or open slightly in the middle. No matter what, Aries' lip shape defies all boundaries. Truly, the only consistency here is inconsistency.
Meaning
Aries are known for an aggressive hunger for individuality. The uneven lips resting on most Aries faces are a daily reminder that originality and distinction are inherent in every Aries.
Taurus: Heart-Shaped Lips
Known for their perfectly symmetrical faces, beautiful hair and flawless skin, it is unsurprising that the most common lip shape for a Taurus is the ever-sought-after heart-shaped lips. While people sometimes pay thousands to get these luscious lips, every Taurus can thank their lucky stars for the lips they were gifted.
Shape
Taurus' distinct heart-shaped lips are a sight to behold—luring in lovers from miles away. The heart shape is self-explanatory and highly desired.
Characteristics
Taurus lips are defined by two wonderfully rounded curves at the top that lead into a perfect point, outlining one of the most romantic parts of the body.
Meaning
Every Taurus loves a little pleasure, and they wear it on their face. Their heart-shaped lips are a reminder of their sensual, indulgent nature.
Gemini: Wide Lips
Geminis wear their feelings on their face—making it impossible for them to hide their emotions. Luckily, most Geminis walk around with a smile, and their wide lips allow all of their bright, sparkling teeth to shine.
Shape
It's a bit hard to see the lip shape of a Gemini because they can never seem to keep their mouth shut. However, for those rare moments that a Gemini takes a breath in between sentences, you can see their wide lips stretch from ear to ear, encircling their beautiful smile.
Characteristics
Gemini's lips extend across the majority of their face, making their mouth the focal point. Fitting the Gemini's indecisive nature, their wide lips are neither curvaceous nor undefined but, rather, the perfect balance.
Meaning
Gemini, the social butterfly of the zodiac, wears their extroversion on their face. The broad mouth hints at every Gemini's very welcoming and outgoing nature.
Cancer: Round Lips
Known for their round features, it only makes sense that most Cancers have rounded lips, too. Cancer's gentle nature is mirrored through their delicate facial features, which makes them that much more approachable.
Shape
The unique round lips found on Cancers come with various bow shapes at the top of the lip; however, they are all placed into the same category because of the overly rounded bottom lip.
Characteristics
Round lips vary in size, but they rarely extend much farther out than the width of the nose. Cancer's rounded lips are typically on the smaller side and take up little space on the face. When paired with Cancer's circular face and round eyes, the round lips often add a soft essence to the Cancer's appearance. This is why their emotions are that much more visible.
Meaning
Cancer's emotional nature is easily projected through their round features. However, Cancer's goofy side also shines through this flirty lip shape!
Leo: Thin Lips
Leo's thin lips are a lovely contrast to full, thick hair that falls around their well-shaped face. Although lips might not be Leo's most prominent feature, they give balance to this sign's other dramatic features.
Shape
Leo's slender lips are neither short nor wide. The upper and lower lip are of equal thickness, making them very exact. The precise measurements of these lips align with Leos's regal nature; everything looks intricately detailed and purposefully placed.
Characteristics
Similar to a lion, lips are not the centerpiece of Leo's face. The smile that becomes exposed beneath their slender lips are the real attraction.
Meaning
Leos are known for their self-confidence. While some might rely on lip fillers to change their lips, Leos embrace their natural lips and wear them with pride!
Virgo: Full Lips
Virgo's unintended resting b*tch face can be attributed to their beautifully full, curvy lips—but, don't worry, they don't mean anything by it.
Shape
Plump, large, and curvaceous define every Virgo's full lips. These luscious lips look permanently pursed and definitely draw attention.
Characteristics
Calculating Virgo never lets a word leave their mouth without careful consideration; that is why you see no gap between their full lips. Their pillowy lips take up a large portion of Virgo's face. However, they are seldom used to speak without reason.
Meaning
Virgos are inherently practical, but their reserved nature can be a bit off-putting. Though Virgos don't intend to be stand-offish, their full, beautiful lips only add to the misrepresentation. They might appear mean instead of cautious.
Libra: Bow-Shaped Lips
Libra's bow-shaped lips are always a show-stopper. Blessed with a million attractive features, bow-shaped lips might not seem like much to Libras—but, trust us, all the other signs would die for them!
Shape
Libra's bow-shaped lips look like they're constantly puckered up. Though most lips have a Cupid's bow of sorts, the dramatic two peaks that meet in the middle of the upper lip set these Libra lips apart.
Characteristics
Bow-shaped lips are often associated with friendly demeanors, closely aligning with Libra's extroverted tendencies.
Meaning
Comforting Libras often draw the crowd in and make them feel welcomed—perhaps the crowd follows, at first glance, because of Libra's beautiful bow lips. Cupid's bows are also connected to love and flirtatiousness and perfectly complement Libra's charming personality.
Scorpio: Bottom-Heavy Lips
All of Scorpio's sharp features are notable, but none as much as their pouty, bottom-heavy lips. Among hypnotic eyes, defined cheekbones and kissable lips, can you blame anyone for wanting to talk to Scorpio!
Shape
Sexy Scorpios love to show off their bottom-heavy lips. While the top lip is by no means small, the bottom lip protrudes ever so slightly, making the ideal pouty expression.
Characteristics
The sensual bottom-heavy lip closely mirrors Scorpio's dark and intense nature. The lips draw in admirers, hold their attention, and never let them go.
Meaning
Scorpio's passion is undeniable—and their lips show it! Bottom-heavy lips lend themselves to being more expressive, which is ideal for emotional Scorpio.
Sagittarius: Top-Heavy Lips
Always-smiling Sagittarius is known for having extremely defined lips. Their top-heavy lips are typically the topic of conversation, even if they try to avoid the embarrassing comments with jokes.
Shape
Top-heavy lips are effortlessly uneven. With the top lip slightly bigger than the bottom, these lips give off this sense of assertiveness.
Characteristics
Top-heavy lips are often characterized by intelligence and communication. Intellectual and witty, Sagittarius knows precisely what to say with those top-heavy lips to lighten the mood.
Meaning
Sagittarians, the zodiac's natural comedians, use their top-heavy lips to tell hilarious jokes to any crowd. A good joke is nothing without timing, and timing takes brains—and lucky Sagittarius is one of the smartest of the bunch!
Capricorn: Downturned Lips
Typically appearing older than their actual age, it is no wonder that Capricorns usually have downturned lips. Their matching features only further their serious disposition. Once the stoic exterior is broken down, a welcoming smile shines through.
Shape
Downturned lips pull down at the edges of the top lip, creating a crease over the bottom. Though some might describe it as a constant frown, we know that once you break through every Capricorn's shell, a smile turns that frown upside down!
Characteristics
Downturned lips are sometimes associated with aging, aligning with the tendency for Capricorns to look more mature.
Meaning
Serious, and sometimes pessimistic, Capricorns are not cold inside. They're exactly the opposite. Capricorns are hard-working, great at management, and excited about new opportunities. However, they are also pragmatic and structured, often reflected on their face through their downturned lips.
Aquarius: Straight Upper Lip
Because of the lack of expression on their faces, it is easy to see Aquarian's straight upper lip. This unique characteristic is noticed by admirers and adds to the long list of remarkable qualities that make suitors fall deeper in love with Aquarius.
Shape
There is no telling how wide, full or thin Aquarius's lips could be. Straight upper lips lack any Cupid's bow, making them truly one of a kind.
Characteristics
The typical Aquarius is regarded as a non-conformist, and their lips fall in line. Their straight upper lip breaks the mold of what most think when they think of the word "lips."
Meaning
The Aquarius lip shape is like no other, perfectly mirroring their unparalleled personality. This creative and abstract sign sure knows how to march to the tune of their own drum and, thankfully, their lips do the same!
Pisces: Bee-stung Lips
There is no question that Pisces' sensual lips are undeniable. Luscious, full and soft, Pisces' lips are hard to ignore and even harder to forget. Suitors dream of the day they get to kiss those bee-stung lips.
Shape
Bee-stung lips are plump, perk, and rounded. They take up a large portion of the lower face and draw people immediately to every beautiful Pisces.
Characteristics
Bee-stung lips have a complex meaning—they represent innocence while coming off as sexy, and, honestly, Pisces gives off a similar vibe.
Meaning
Bee-stung lips are a telltale sign of youth, sensuality, and fun! And Pisces is known for their flirtatious, yet naive, nature. But don't be fooled. Pisceans are just friendly at heart, and their empathetic demeanor should not be misconstrued.
FAQs
Which zodiac sign has the most beautiful lips?
Though beauty is always in the eye of the beholder, Taurus takes the cake for the most beautiful lips. Their luscious, kissable, heart-shaped lips are jaw-dropping. So, if you're lucky enough to kiss a Taurus, try not to mess it up! Along with all of their other flawless features, Taurus is pretty much … perfect!
Store
Recommended Reports For You
Most Popular on
Astrology.com