Mercury Retrograde Is No Match for These Crystals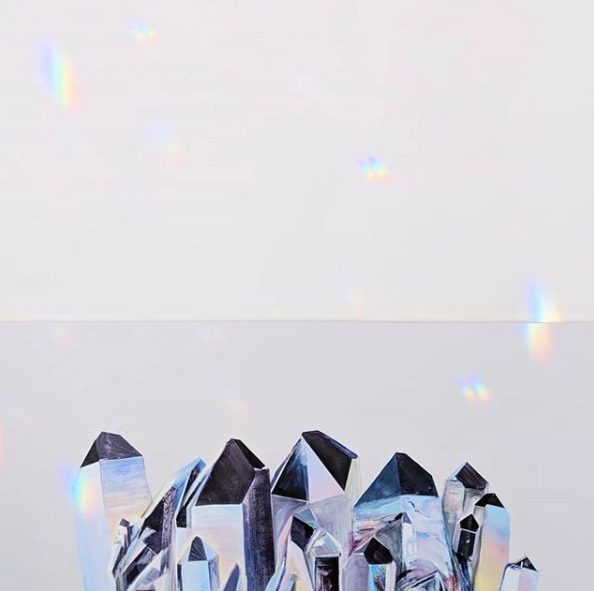 Our monthly Crystalscopes pair each zodiac sign with a crystal whose energies can support us through the coming month's transits. We choose crystals that are accessible and widely available. You may see the same stone pop up from month to month as a medicine for a different sign—consider it an invitation to add to your toolkit!
Also consider low-impact methods like using gem essences and elixirs, buying used crystals, or starting a crystal share with friends. Real magic can only be accomplished by acknowledging our impact on the world around us.
Read these for your sun, moon, and rising signs to learn what you should wear, carry, or place on an altar to help boost your specific astrology for the month. These also work as remediations for specific houses in your natal chart. This month's crystals are especially catered to help manage Mercury's long retrograde in Pisces.

Learn more about March's transits—and what they mean for you!
MARCH 2019 CRYSTALSCOPES
ARIES
Larimar
Chiron, the asteroid associated with the wounded healer, is transiting your sign (and will be for the next nine years) but the impact of the ingress is still very fresh. Combined with the heady, emotional discombobulation of Mercury retrograde in Pisces and the long-term effects of Saturn and Pluto in Capricorn squaring off against Aries, rams may be feeling a bit battered and bruised. Larimar is just what the doctor ordered! Calming, soothing, and centering, this beautiful blue gem from the Caribbean will help take the sting out of March and set up a nice clean slate.

TAURUS
Green tourmaline
Get ready for rebellion! Taurus may make some unusual choices this month. Uranus, the electric planet of disruption and chaos, returns to Taurus, stirring up romantic or business opportunities that might have first presented themselves in May of last year. This month will likely bring all kinds of interesting prospects to Taurus' doorstep. Green tourmaline helps us connect with the truth of one's own heart so that big decisions (which will have real and lasting consequences) can be made from a place of integrity and autonomy.

GEMINI
Rose quartz
Already not known for excessive politeness, Gemini has all month to prepare for Mars' potent ingress into their sign—but there are these gnarly squares from Mercury retrograde to contend with, too! The possibility for petty arguments or misunderstandings is high for Gemini, and the frustrating part is that Gemini's role in these situations may be particularly obvious. However, such conflicts can be avoided with a little caution. Rose quartz is an excellent ally when it comes to letting down the guard around Gemini's heart and abandoning the practice of "leave before you get left." While the twins are the sign of duality, they're also the sign of The Lovers card in the Tarot, and therefore the sign of interpersonal alchemy. Wear or carry rose quartz to aid in remediating any hard-heartedness.

CANCER
Danburite
This scintillating crystal is considered one of the highest vibration stones out there, and it brings fantastic energy into what can be a month of harnessing and honing power for Cancer. Danburite helps us diversify our thoughts and consider all possibilities, which Cancer will want to do, as opportunities for career advancement or possible job change will likely be coming in from multiple angles. Especially when worn as earrings, danburite assists us in making choices in alignment with our highest goals.

LEO
Zoisite
March is a good time for Leo to focus a little more energy toward cultivating internal peace and doing heart work. While notoriously extroverted, every lion sometimes needs a break from the pride, and this month is a good time for Leos to seek out some R&R. Zoisite is a profoundly useful companion to have on hand: the green and black stone (which often hosts inclusions of ruby, an important stone for Leo in general) connects the root to the heart and teaches us to honor our instincts when it comes to our feelings.

VIRGO
Howlite
Alas, poor Virgo. With Virgo's ruling planet retrograde and in opposition in Pisces, serenity will be especially hard to find this month. Virgo's famously high-strung nerves may be especially triggered by the cosmic activities this month, so get your panic attack plans in order. Part of that plan could be a worry stone of howlite. This smooth and soothing white stone that is often dyed to manufacture fake turquoise, but it is gorgeous just the way it is (just like Virgo!) and it is used to quell anger, anguish, and anxiety.

LIBRA
Charoite
Libra feels the burn of Chiron's transit taking place opposite Libra in Aries, as well as the squares from Saturn and Pluto in Capricorn. The mood around matters of everyday life can feel heavy, restrictive or slow this month, with Mercury retrograde's delays and glitches proving especially irritating for this harmonious air sign. Conservative attitudes or the need to reign oneself in might be a factor in creating a propensity toward boredom or ennui. Lighten up with charoite, a gorgeous stone that enhances mood, vitality, and one's ability to tap into the inherent magic of the universe.

SCORPIO
Emerald
Scorpio finds some relief—even liberation—in the sludgy, mysterious movements of Mercury in Pisces. While subject to the same hiccups as everybody else in the zodiac, Scorpio seems to be better equipped to roll with the punches of the retrograde. The only place that may suffer is interpersonal communications, where care must be taken to avoid hurting feelings or causing harm with our words. One medieval text on healing gemstones reminded that wearing an emerald ensures that the wearer will always speak from the heart. So, Scorpio, wear these classic green gems before having any big relationship talks this month.

SAGITTARIUS
Garnet
Mercury in Pisces squares Sagittarius, likely creating a real need for grounding. While Sagittarius is known and loved for their vibrant and high energy, this month archers may feel a little over-hyped, perhaps irrational or destructively distractible. The confusion of Mercury retrograde may hit exceptionally hard, and decision-making skills may be particularly affected. Garnet is the key for settling into oneself and finding stability and comfort in the present moment.

CAPRICORN
Magnetic hematite
The sun and Mercury will both sextile Saturn this month, boosting the potency of your ruling planet. Capricorn has a very special ability to manifest this month, so long as you can keep a steady goal within your sights. Magnetic hematite is often used in medical applications to soothe arthritis or nerve pain. Pieces of hematite that were natural magnetized by earth radiation have been considered sacred guiding stones for millennia. This month, working with magnetic hematite in combination with goal-setting can ensure Capricorn a prosperous year ahead.

AQUARIUS
Rhodochrosite
With Venus entering your sign and squaring disruptive Uranus, it is bound to be an adventurous month for Aquarians, especially when it comes to sex and romance or art and output. Unusual, edgy, or experimental behavior will likely be of benefit to you; shifts in identity are possible and may prove enlightening. Rhodochrosite is said to boost sexual and creative confidence and open channels of vitality, so whether you're branching out artistically or trying something new in the bedroom, rhodochrosite will ensure that you have fun with your experimentations.

PISCES
Citrine
With so much planetary emphasis on the mystical fishes, Pisces swims under a bit of scrutiny this month. Mercury retrograde can feel especially harrowing, and we don't want it upsetting your birthday observances! It's important to hold onto joy and delight this month (and to be careful of overindulging in substances or sweets). Citrine is a natural ally against the blues when worn or carried, helping clarify thoughts, bolster optimism, and generally boost your mood.


Art by Johanna Martin. Find her online at www.johannapaints.com, and on Instagram @blousesandhouses
Most Popular on
Astrology.com