Mercury Retrograde in Sagittarius 2024: Dates, Meaning, & Horoscopes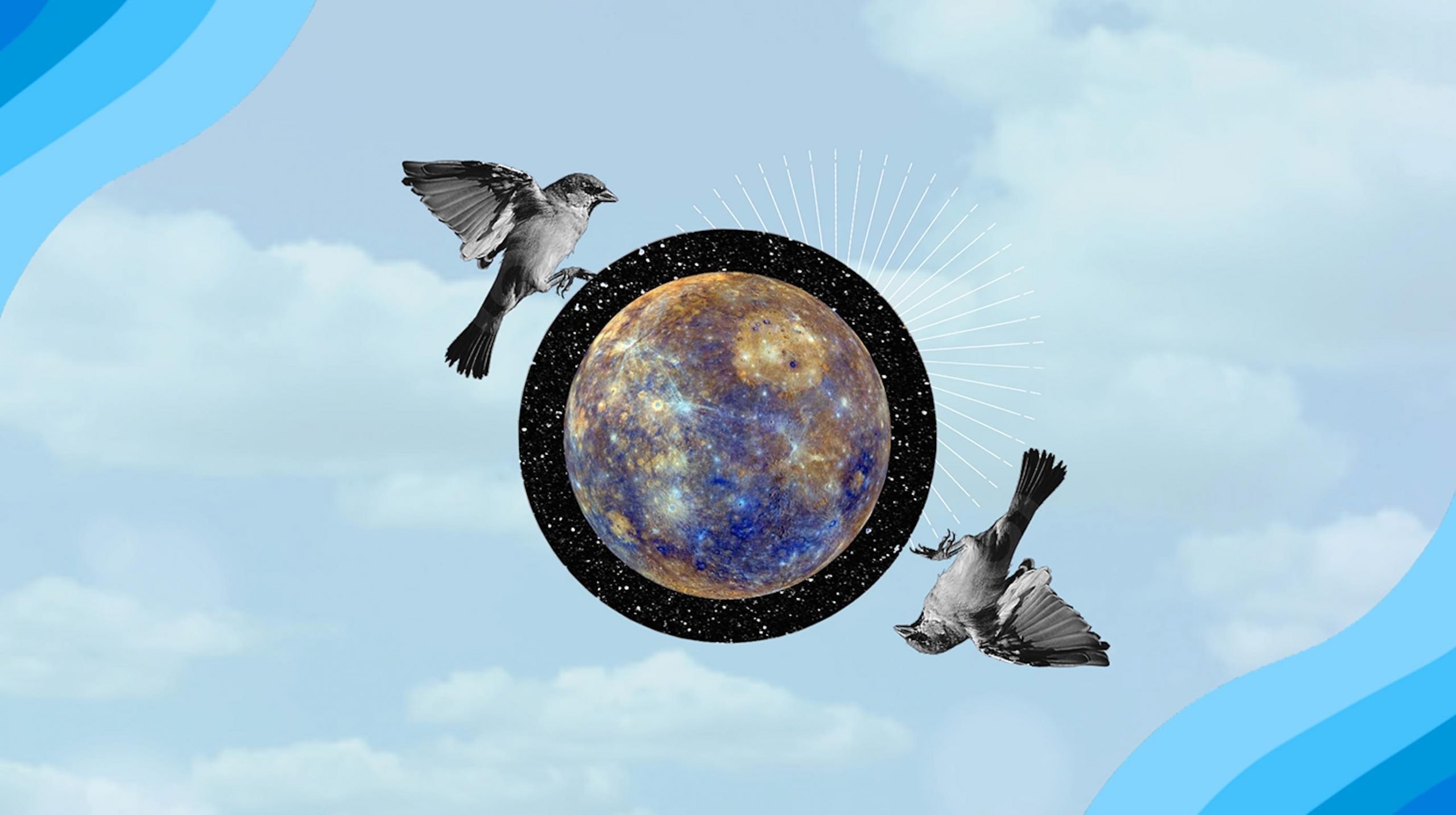 The third retrograde of Mercury in 2024 begins on November 25 and ends on December 15.
Mercury Retrograde in Sagittarius 2024: Pre & Post-Shadow Dates & Degrees
Mercury enters the pre-retrograde shadow on November 7, 2024, at (6° 23′) Sagittarius.
Mercury turns retrograde on September 1, 2024, at (22° 40′) Sagittarius.
Mercury stations direct on December 15, 2024, at (6° 23′) Sagittarius.
Mercury leaves the post-retrograde zone on January 2, 2025, at (22° 40′) Sagittarius.
Learn everything about planets in retrograde.
Mercury Retrograde in Sagittarius Meaning
When Mercury is in debility in the sign of Sagittarius, we can expect to see the bigger picture of
matters and not the minutiae. However, this retrograde means that our communication can get a little fuzzy, and we are unable to assess issues concisely. The ability to problem-solve and analyze situations is more complex than ever. The blunt nature of Sagittarius can make us critical of ourselves, since our thoughts at this time can create extreme emotions and make us feel less than wonderful.
The arrows of communication will have an intimate effect on us, which could lead to negative self-talk. Positive activities are welcomed at this time, as they'll give us hope. Affirmations can help boost our confidence and relationship with others. As the retrograde moves backward through Sagittarius, we can expect communication to take a feverish pitch and will become melodramatic.
Our words might even hurt—although we don't necessarily mean what we convey to others. So, it's best to think before speaking! Since Mercury in Sagittarius can be biting and direct, the retrograde can bring hurtful words to the surface even if it is by accident. It could also be a meaningful time to understand our emotions on a diverse level and to think of the best ways to express our innermost sentiments. Doing so will take a lot of effort, as we impulsively use our tongues as spitfire when expressing our sentiments to others.
Mercury Retrograde in Sagittarius Key Dates
December 4: Mercury retrograde opposes Jupiter in Gemini, exaggerating our feelings, words, and sentiments. Words can hurt on this day, so be careful with what you're putting out into the universe.
December 5: The Sun and Mercury retrograde form a conjunction called "cazimi" (which translates to "heart of the Sun"). This is the best day of the entire retrograde, as we will be given insights and understanding through the connection of these two planets. If there are contracts to be signed or plans to be made, do so on this day.
December 6: Mercury retrograde squares Saturn in Pisces, creating doubt with our words and the information we hear. We may feel stuck in situations or less confident than usual.
December 13: Mercury retrograde harmonizes with Venus in Aquarius, allowing us to speak from the heart and express our romantic sentiments to those we care about.
If you're confused about an important person or situation, a live psychic reading can bring the clarity you need!
Mercury Retrograde in Sagittarius Effects
-Most intense for: Gemini, Sagittarius, Virgo, and Pisces. These signs will have a tough time dealing with this retrograde since it'll affect their professional and personal lives intensely. Luckily, this could lead to them having to fight for their careers and relationships.
-Most challenging for: Taurus, Capricorn, Scorpio, and Cancer. These signs could feel paranoid and uncomfortable in their skin as past issues resurface, making them feel lost in their emotions and thoughts.
-Most beneficial for: Aries, Leo, Libra, and Aquarius. These signs will most likely survive the drama, since they're not profoundly experiencing personal matters. They can charm their way out of any situation and problem that comes to them.
Your 2024 Horoscope has vital information about how to harness Mercury's powers!
Horoscopes for Mercury Retrograde in Sagittarius 2024
Aries
Intuition is a compelling part of anyone's being. As one of the most impulsive zodiac signs, you react to situations without thinking them through. Now is the time to understand matters on a soulful level. However, this retrograde will create issues in how you understand things from a sentimental and emotional level. You may find it hard to trust your intuition, as situations that are unfolding are forcing you to take time to understand the reasoning behind the problem. But try not to get too caught up in these matters.
Taurus
By doing shadow work, you can begin to understand patterns and find new and healthier ways of being. On a positive note, the cosmic energy will help you see your self-worth and identify how you can grow. You will be able to reconnect with your value, but you must also do the unpleasant work that goes along with seeing your shadow self. Not only will this make you a better person, but it'll heal your wounds and heart.
Gemini
Mercury retrograde will bring many former lovers and friends back into your life. Before you commit to having a relationship with them once again, it's time for you to assess whether or not you are willing and want to jump back in the saddle. There are a lot of trust issues that need to be worked on, which may create conflict in the future of these partnerships and stop them from evolving.
Cancer
Try to pace yourself, as this retrograde can create tension in your daily routines. It will be hard to stick to a plan of action, but making minor adjustments can help move things in the right direction without overwhelming your psyche. Finding balance won't be accessible in the weeks ahead, so remember to breathe if your tension or stress levels rise. Meditation and yoga will assist in tempering your emotions and centering yourself now.
Leo
This retrograde won't be as challenging as you think. It will create a playful atmosphere within relationships, and light communication should be accessible to you when interacting with others. While the conversation may be flowing, the discussions are likely to remain surface-level, which won't be super exciting either. So, while this retrograde won't affect you on a deep level, you might find the days and nights of this transit to be boring. Find ways to occupy yourself that don't bring drama to the table.
Virgo
This aspect can help you reconnect with your inner voice. Take time to journal in the mornings, evenings, or whenever possible. Your emotions will have the chance to be understood, which will allow you to get to know yourself better. As long as you reconnect with yourself, you will feel what's brewing under the surface. Later on, this will give you the strength to take on the world at large when the retrograde ends. In the meantime, reflect and focus on finding your true self.
Libra
Your wanderlust sentiments are activated now, urging you to plan the ultimate vacation out of town. The caveat is once you go away, difficulties will ensue. Therefore, you must keep your information in one place and your mind on the ball. Don't forget to set your alarm clock to make your flight, or save a copy of your passport with a friend at home, and always have your valuables tucked away to avoid them from getting lost due to your carelessness.
Scorpio
Your finances might be in flux, which is why it's essential to use the cash that you've been saving for a rainy day. That time is here—so be prepared to spend a few dollars on yourself for essentials. As the retrograde commences, you will find that you are learning how to budget your money correctly. Therefore, you'll be able to start fresh when the retrograde ends, and have a whole new financial outlook on matters that will transcend your bank account to new levels.
Sagittarius
Your Mercurial mind might be overwhelmed by the influence of the retrograde aligning with your sun sign. A great way to harness the energy is to find a creative outlet and wish you can express your frustration. Art therapy is an excellent way for you to get all of your feelings out in the open and make something beautiful from the turmoil you are feeling within yourself at the current moment. This activity will help you stress less and breathe more.
Capricorn
Be careful, Capricorn! People may come to visit you in the psychic realm and astral plane. Make sure to set boundaries for yourself and cut the conversation short if you begin to feel tired or energetically drained. You don't have to engage with people making you uncomfortable, especially if they are not adding anything interesting to the discussion. More than anything, it's essential to protect yourself from emotional or psychic vampires who feed off your energy—so be careful.
Aquarius
Carve some time out of your life to catch up with friends. The theme of retrograde is all about realigning with your peers and those you care about. Showing your friends that you're there for them will help you realize that the feeling is mutual. By connecting with the people you care about, you'll feel lighter, happier, and more at peace. Just make sure you take turns speaking and try to listen intently.
Pisces
Professional frustrations, irritability, and impatience. You may find that others are a bit self-centered or inconsiderate. Your coworkers may rub you the wrong way but try not to let it get the better of you. Watch out for insecurities to peak, and don't allow other people's actions to affect your self-worth. Within this tense connection, you will also encounter confrontations—so hold on hard to your Zen zone to avoid falling victim to the negativity at work, dear Pisces.
Store
Recommended Reports For You
Most Popular on
Astrology.com