Moon in Aries: Stoke the Sacred Fire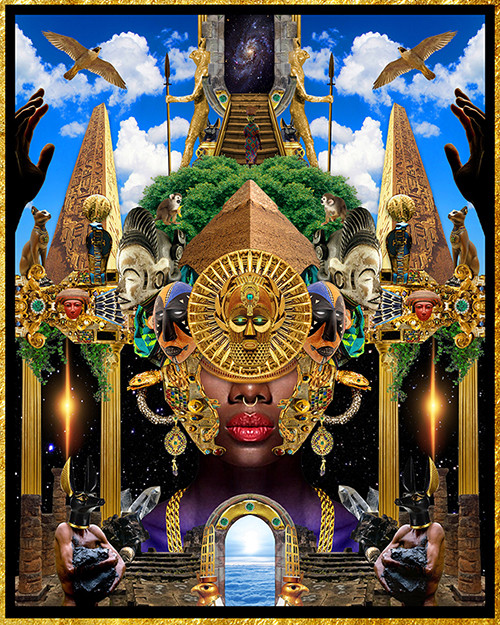 There's a pioneering spirit in the air as the moon moves through independent Aries. Humming in the background is a supportive alignment between the sun and Saturn, making this a great day to turn our attention to worldly things and ready ourselves for all the things we wish to develop, manifest, and experience in the future.
Find a quiet space and make yourself comfortable.  Take one slow, deep breath to reconnect to your own magic. Then, dive all the way into this vision and see what happens.
NEW ARMOR
Breathe all the way into and out from your core, your center, the heart of you. See yourself as you are today, approaching a beautiful cluster of pueblos built into a hillside. You are dressed in armor, like a warrior.
Feel yourself beginning to scale and climb the various steps and ladders leading up to the highest doorway or opening you can find in the rock face. You walk in, and this place is a place of supreme beauty—as if you are standing inside a small, rustic cathedral.
As you stand here, immediately you can feel the power of this place seeping into every part of you. Feel the magic energy of this place charging you up, giving you the power to create. Feel your inner strength roar in this place and notice the sacred fire burning in the middle of this space.
Breathe in and out the energy of this sacred fire— feel it firing up your will, your right to be, do, and have. As you watch the fire and breathe, feel the sacred fire stoking your own inner fire, transforming you in beautiful ways. It's making you magnificent.

(Read this last section, then close your eyes, enter the vision and experience it!)
Now feel the heaviness of the armor you wear. This armor represents your old ways of being powerful and moving through the world. As you continue to gaze into the fire, watch with wonder as all your old armor falls away. Your old armor just falls to the ground, leaving you free and liberated.
Now, in the flickering light of this magic fire, new adornments, tools, and power objects come to you—they are lighter, faster, a better fit to your new strength, your new purpose, your new creative power.
Examine these new clothes, adornments, and objects. Put them on. Feel your new powers and stay open to insights.
Ready for a new approach to gaining insight? Try a Vedic horoscope reading today!
Store
Recommended Reports For You
Most Popular on
Astrology.com