Profound Power: Mars Conjunct Jupiter in Scorpio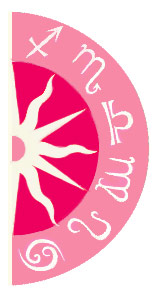 PEARL
"War is over, if you want it."
– John Lennon & Yoko Ono
We began 2018 with a super moon in Cancer, bringing about an upswell of emotion that runs the gamut from nostalgia to ecstasy to apprehension. There is a great deal of simultaneous focus on our past and future, personally and collectively, as we try to make sense of where we are in the present – and it is safe to say that sensitivities have been quite heightened. A focus on history, both personal and political, is informing us as to the changes we would like to make within ourselves and within the larger culture.
Yesterday, Uranus went direct in Aries, shaking out the cobwebs after five months' worth of inertia and a certain amount of hand-wringing. And, today, as the moon shimmies out of Cancer and into the sign of Leo, we have ample opportunity to evaluate ourselves and our positions before the hugely significant Mars-Jupiter conjunction this Saturday.
That conjunction, in Scorpio, gives our choices now a profound power. We can change our entire lives and ways of being this weekend, if we want to.
Learn how to best utilize this weekend's Mars-Jupiter energy all year long with a 2018 Tarot Reading!
This week reminds me of the Chariot in the Tarot.
Associated with the sign of Cancer (like the ancestry-emphasizing full moon we have just learned so much from), the Chariot is about staying calm in the midst of chaos. It is about justly and fairly doing battle when battle must be done. It is about preserving self-respect while taking action. It is about heeding the call of your own inner voice and not letting fear get in your way.
Cancer is associated with pearls, those luminous seeds of the sea that form in places where delicate, squishy oysters are injured, ill, or invaded. Layers and layers of lustrous nacre build up around a place where the oyster is hurting, until it yields something beautiful.
Wearing pearls is a great idea today – and all of this year, really – especially heirloom pearls that may have been passed down in your family.
As we are working to deconstruct large-scale oppressive narratives, maybe it is time to change the meaning of "clutching your pearls" from one of ineffectual hand-wringing to one of transformative resolve.
Grounding Elements Pro-Tip: Add a bit of this pearl powder to your favorite facial oil for luminous, clear skin. 
Store
Recommended Reports For You
Most Popular on
Astrology.com