9 Transformational Festivals That Value High Vibes Over Hashtags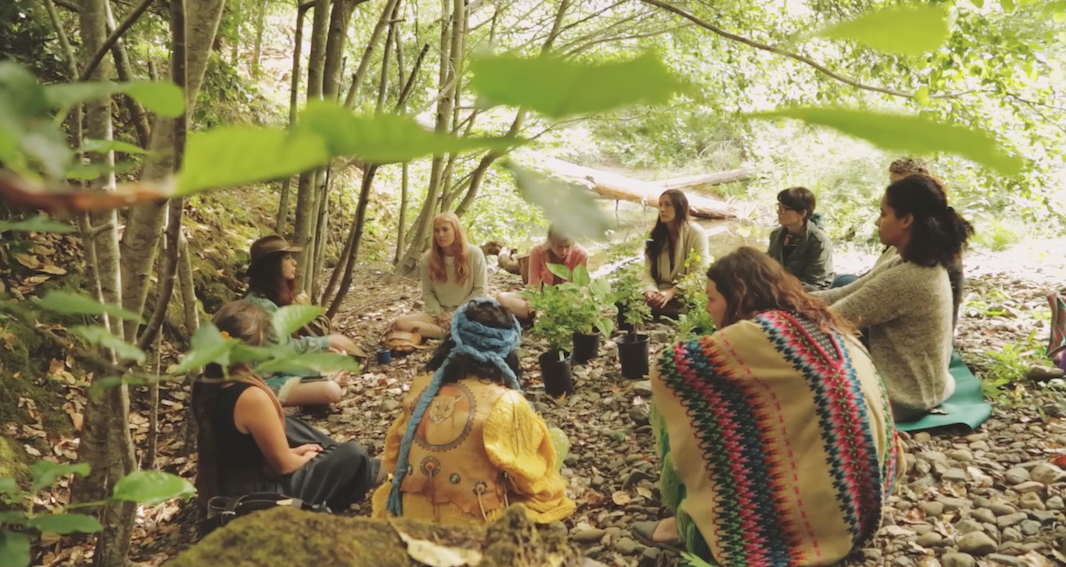 A few years ago, festivals across the continent were reaching critical mass. From the Electronic Sriracha Festival to Chipotle Cultivate Fest, it seemed like just about every place, food, and brand had a specific jamboree. Gatherings were propagating at an alarming rate, too, spawning clothing lines and stretching over multiple weekends. But in 2019 things have calmed on the festi front, and what's been left in the wake of the previous explosion is arguably the cream of the crop. No longer merely commercial money machines, a number of remaining festivals operate with a different ethos: this ilk aspires to be inclusive, healing, inspirational, and even transformational. Here are the nine high-vibe gatherings that are on our radar.
April 12–14
Live Oak Campground, Santa Barbara, CA
Every year is different at Lucidity. Since its inception in 2012, Lucidity has been creating a story and inviting attendees to follow along. 2019 marks the first year of the third trilogy, with each festival year building a larger mythic journey. The process is also inclusive: While the festival team of storytellers has provided a framework, they also invite guests to join in, adding to the tale through whatever artful medium they choose. Lucidity features live music, art galleries and installations, various courses (including somatic movement), therapeutic healing services, and more.
April 25–27
Louisville, KY
This annual event celebrates the diversity of community, promotes unity, and strengthens the role of faith in society. Each year, Faiths brings thousands of people from different spiritual traditions together to engage in common action to promote good. Thus far, Festival of Faiths has attracted over 70,000 visitors and has featured such speakers as the Dalai Lama, Deepak Chopra, Muhammad Ali, and Robert F. Kennedy, Jr. Expect workshops, live music, and poetry—and mind-body-spirit practices.
Embark on a vision quest with this Tarot spread
May 8–13
Buena Vista Lake, Kern County, CA
Lighting in a Bottle has grown leaps and bounds since its 1999 beginnings as a birthday party in Los Padres Forest. Presently hosted by the Do LaB, the festival is among the largest of its kind. The location has changed over the years, bouncing around California, and lands in a new spot again in 2019—Buena Vista Lake. The musical line up offers something for just about everyone with the likes of Disclosure, Santigold, DJ Koze, Ozomatli, and countless others spread across seven stages. In addition to jams, enjoy a slew of talks, workshops, wellness practices, cooking classes, and (of course) a lake.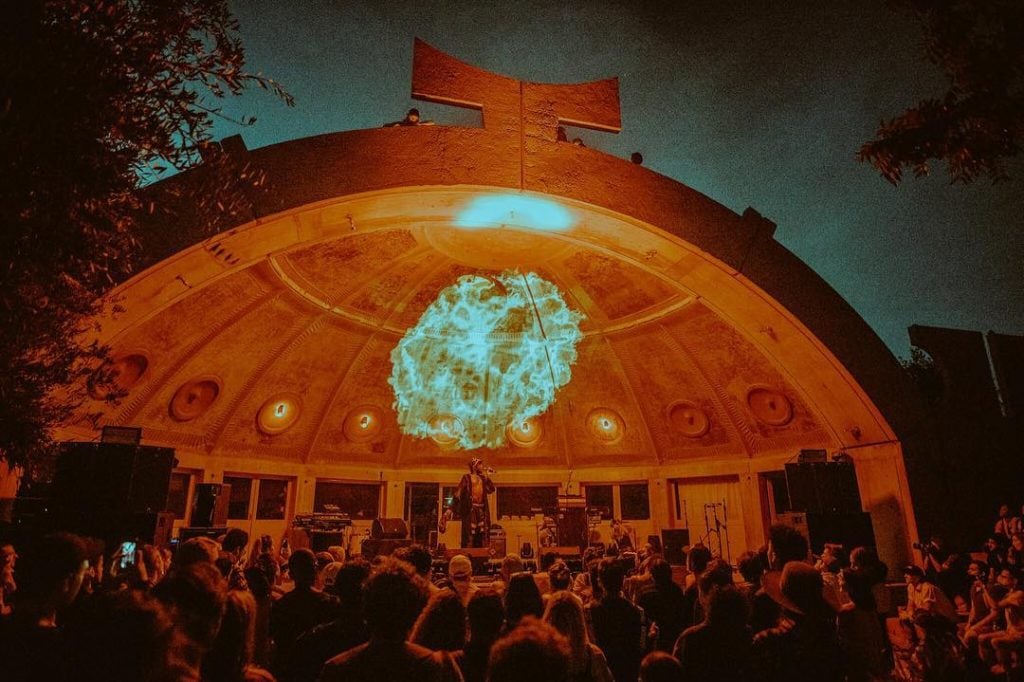 The scene at FORM
May 10–12
Arcosanti, Arizona
Held in an otherworldly eco-city an hour outside of Phoenix, FORM changes the narrative of what a festival is and can be. There are no VIP sections, no overlapping performances, and the festival caps admission to 2000 attendees, creating an intimate atmosphere for all. This year's musical lineup includes Bonobo, Mulatu Astatke, Peggy Gou, and Florence + the Machine, among others. Other activities include immersive art, rooftop yoga and pool parties to escape the desert heat.
Sun Session — June 6–10, Moon Session — June 13–17
Cave Junction, Oregon
The Spirit Weavers Gathering embraces feminine and ancestral ways. Currently in its seventh year, the five-day event celebrates cultures of the past and focus on basic human skills to ensure the survival of the body and the soul. Here, women ferment foods, dye fabrics, weave, share meals, make plant medicines, and function together as a community. Mentorship is also a key aspect of the gathering in addition as is inclusively and all staff and instructors commit to anti-racism work guidelines.
(East) August 7-11
White Mountains, New Hampshire
For the first time, this year the Sat Nam Fest will be held at the foundation's new 650-acre property at the base of the White Mountains of New Hampshire. Located two hours outside of Boston's Logan Airport, the location is a refuge for both experienced and new yogis with a variety of teachers, workshops, and class sizes. To promote a communal atmosphere, the meals at Sat Nam Fest are served out of the main dining hall, and the menu is all vegetarian with vegan and gluten-free options. Local and organic foods are used as much as possible.
What do the stars have in store for you this year?
August 9–12
Tidewater, Oregon
Now in its 12th year, this festival's mission is to "engage the minds and hearts of those finding of the beloved in each other; and to make that appreciation tangible on earth." Since the festival limits attendance to only 3,000 per year, it can come close to this goal. Here there are singing workshops, yoga and Qigong practices, dancing through dawn, speakers in addition to musical performances.
August 9–12
Salmo River Ranch, British Columbia
Shambhala Music Festival started in 1998 when a group of about 500 people gathered at the Salmo River Ranch for a party showcasing local art and music. The festival grew by word of mouth and now attracts world-renowned DJs and artists. Amazingly, you won't see any logos here as Shambhala does not accept any corporate sponsorship. Featuring six themed stages, each managed by their own stage director, the event is packed with best in up and coming electronic and live music from both around the globe and locally.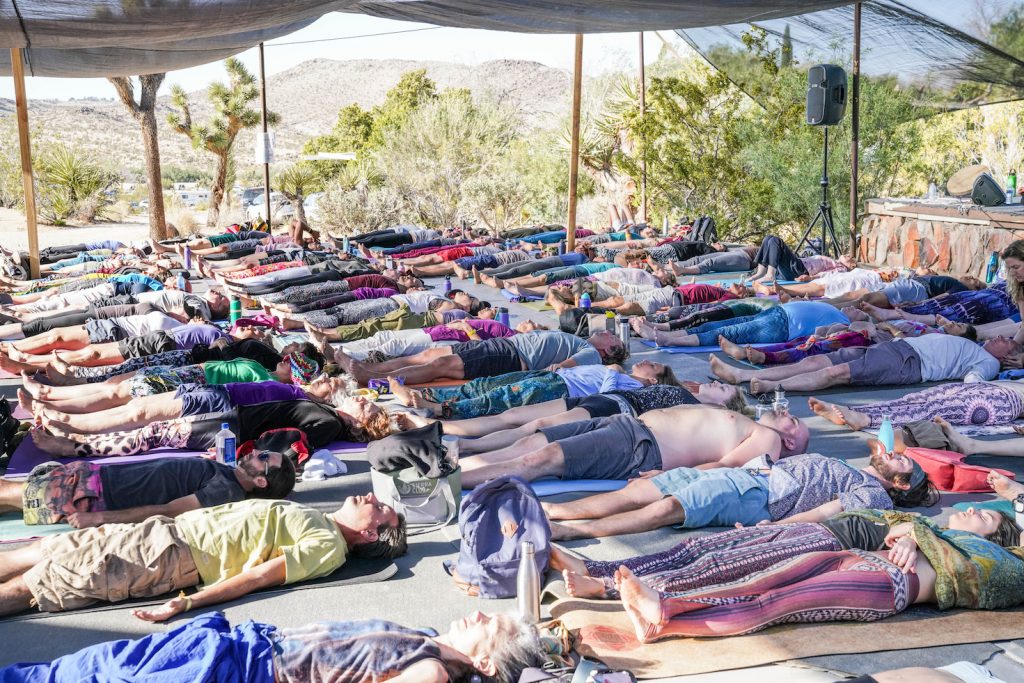 Shavasana at Bhakti Fest
September 25–30
Joshua Tree Lake RV & Campground, Joshua Tree, CA
Bhakti Fest celebrates the devotional paths of yoga, Kirtan (sacred music), and meditation. Here, attendees have the chance practice with the some of the most renowned yoga teachers in the world, dance to music by world-renown Kirtan artists, and take workshops with leaders in the field of personal growth. The festivals offer accommodations on and offsite, or guests can opt to camp. Free filtered water is provided at Bhakti Fest as well as an assortment of vegetarian food. The festival is a drug and alcohol-free.


Photos provided by Spirit Weavers, FORM, and Bhakti Fest
Most Popular on
Astrology.com