Zodiac Guide: Last-Minute Halloween Costume Ideas for your Sign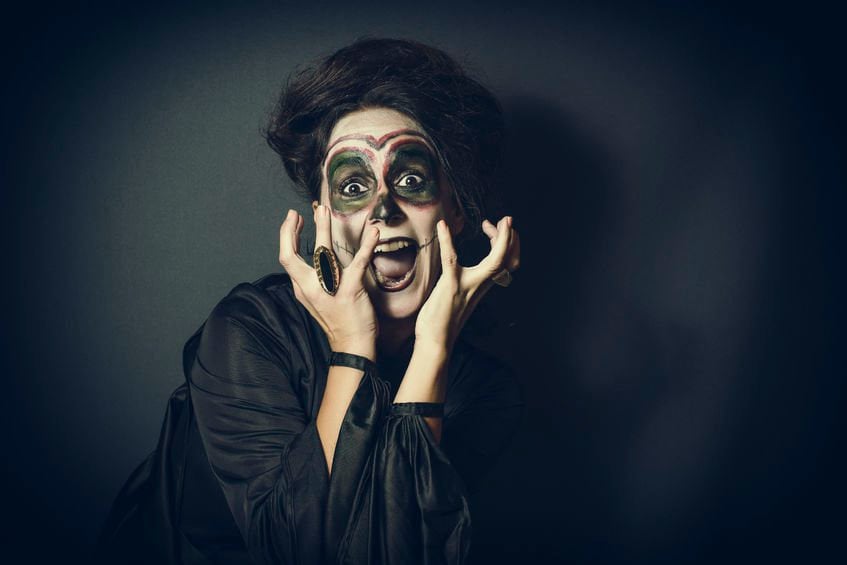 AT A LOSS? DON'T FREAK OUT!
Whether you prefer to DIY your Halloween costume, shop the sale section of your local Party City, or just hope you can scrape something together from your closet, it's no secret that sometimes, the biggest hurdle is just figuring out what to be in the first place.
That's where we come in: check out this guide to finding your perfect Halloween costume… based on your Zodiac sign, of course!
Aries
Your doppelgänger.
Dressing up as your doppelgänger is the perfect mix of witty and easy, and that's just right for an Aries. Gather whatever props you'd need to convey that person's identity, and let other people see the humor in just how little you really had to try.
Taurus
A YouTuber.
Grab some makeup and over-contour your face, get a big box and make a YouTube frame around your body, or walk around with a bucket of ice and an ALS foundation t-shirt. Anyone who spends time online will know what you're doing, and hey, at the very least, you could use the night to raise awareness for a cause!
Gemini
An emoji.
A Gemini's costume has to be two things: creative and collaborative. Grab your best friend and team up as the "dancing girls" emojis (or if you're feeling a lot more daring, perhaps you and your partner can dress up as certain fruits…). If all else fails, paint your face purple and grab some devil ears.
Leo
Wonder Woman (or anyone else from the Justice League).
You may not be into gender-bending when it comes to costuming (though if you are, more power to you!) but the perfect costume for a Leo is definitely one of this year's biggest movie hits, Wonder Woman! If you're male-identifying and would prefer to go with another member of the justice league, your costume of choice is readily available at almost any store where they are sold, and will command as much strength and respect as you're looking for.
Cancer
Your pet (and vice versa).
Grab some animal ears, face paint and clothes that match your pets' fur color, and then pick up a piece of clothing for them that's reminiscent of something you would wear. Add on accessories that in some way represents who you are, and voila! You and your PET are going as one another!
Virgo
A silent movie star.
Virgos have classic style (though their eccentricities do spice it up a bit!) There's nothing that a Virgo would like more than to dress up as something totally traditional for Halloween, and there's nothing more traditional than some good old fashioned vintage wares. Hunt through your local thrift shop for some black and white clothing, paint your face grey and over-line your lips, and walk around with gloves to be a silent movie star. Bonus: You'll get out of having to make awkward small talk at the same time!
Libra
A Greek god or goddess.
Whether you wrap an actual bed sheet around you and spray paint some twine gold and wrap it around your head, or head out to your local costume store to pick up one of the many "goddess" gear costumes they have on deck, there's nothing that screams "Libra" quite like refined elegance, simplicity – and a sprinkle of vanity.
Scorpio
The Addams Family.
Make a play on Scorpio's notoriously quiet intensity and dress up as Morticia, Gomez or Wednesday. We're sure you already have the black clothes in tow, just throw on a wig and prepare a few lines: "Black is such a happy color!"
Sagittarius
A zombie from 'The Walking Dead.'
Opt for a modern spin on a classic gore ensemble: be a walker from 'The Walking Dead!' Rip up some old clothes, buy some fake blood, Google some tutorials for zombie makeup, and if you're really committed, find a friend to be one of the main characters in the show, and you've got a duo destined for winning the 'best dressed' of the night.
Capricorn
A Disney Princess (or Prince!)
If you're a bookworm, opt for Belle. If you're independent and strong, maybe go with Jasmine, or if you're quiet and artistic, Snow White! The costume is classic while still being pretty and thoughtful… not to mention it's the easiest one to find in any given store!
Aquarius
An error page (costume not found!)
Get a white t-shirt and on it write: "Error 404: Costume Not Found." It's super easy, uber creative, and will have people admiring your resourcefulness and envying your comfort all night long.
Pisces
A classic artist, like Frida Kahlo.
Pencil in some eyebrows, build yourself a flower crown, and head out as one of your favorite artists! If you're not female-identifying, perhaps try Vincent van Gogh… bonus points if you can manage to do the whole "missing ear" thing.
Store
Recommended Reports For You
Most Popular on
Astrology.com