From November 23, 2015 thru November 29, 2015
The truth is, no one can be agreeable all the time. That's not all bad in your case (you're just passionate!), but early in the week you need to keep those stronger emotions (jealousy, for example) in check. Come midweek, your charm will kick back into drive, and others -- especially anyone that qualifies as more exotic, to your thinking -- will find themselves helplessly enamored. Thursday and Friday will find you pleasantly grounded and confident in your thoughts. Use this steady intellectual footing to learn something new, especially a fresh philosophy or sense of perspective. This weekend, don't let others rub you the wrong way with their bizarre behavior. You're way more patient than they are weird.
The Zodiac Love Tarot reveals the truth about your love life. Learn which obstacles are in your way and where your strengths lie. This reading clarifies important relationship issues, allowing you to search for answers through the symbolism of astrology and Tarot cards. The imagery of this unique system allows you to achieve your heart's desire.
Read More »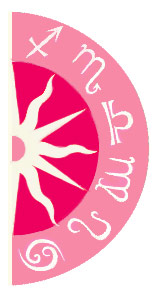 Discover what 2016 holds for you: