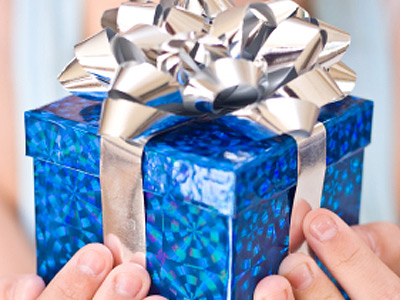 Time to narrow down a good gift? Chances are, if you're generous enough to buy a holiday gift for someone, you probably know their birthday. Voila! By knowing their Sun sign, you can hedge your bets that what you get them will be cosmically aligned!
ARIES
Trailblazing Aries friends will appreciate one-of-a-kind gifts ... just like them. Having something monogrammed with their favorite motto -- or a unique find that no one else has -- will satisfy their craving for original treasures.
TAURUS
Taurus individuals are ultra-materialists and would adore something they can wrap their finely tuned tactile senses around! Whether it's one good pillow sham or a new sheet set, going for quality -- not quantity -- is sure to please this earthy sign.
GEMINI
Gemini folks crave variety and don't like the idea of being hemmed in, especially intellectually. After all, nothing is more fascinating to them than new information and fresh ways of understanding the world. If your Gemini friend already has more books than they can read this year, indulge them with a clever board game that will titillate their fertile mind and require playful camaraderie with others.
CANCER
Cancer loves anything reminiscent of home and hearth. Compiling a book of childhood recipes or buying them ingredients for their first herb garden will put them at ease, giving them all the more reason to nurture themselves and others the way they do best.
LEO
Leo people appreciate the thrill of honest self-expression and have heightened respect for those who excel in their fields. Buying them an autobiography of their favorite performer or giving them a subscription to a magazine regularly featuring iconic figures will give them something to look forward to long after the holiday season is over.
VIRGO
Virgo is among the choosiest and most refined of individuals. Gift cards to their favorite stores will be a nice surprise ... while also relieving them of the responsibility of feigning joy at your gift.
LIBRA
Libra likes the idea of doing things in tandem, especially if it involves something that appeals to their luxury-loving nature. Getting them a spa treatment (and promising to accompany them!) or buying their favorite facial product is a natural fit for their romantic spirits ... and will have them looking even better!
SCORPIO
Both passionate and private, Scorpio loves anything that will spice up their boudoir. Whether it's fancy lingerie or potpourri for their underwear drawer, anything that adds flair to their favorite room in the house is sure to please them.
SAGITTARIUS
Sagittarius folks love adventure and will take it in any form! From travel books to vouchers for their favorite airline, invoke their fiery spirit with a gift that will remind them of a world far beyond their doorstep.
CAPRICORN
Capricorn has a soft spot for family heirlooms and antiques. Checking out vintage stores and pawn shops may reveal a hidden treasure that cannot be duplicated, and will score you some big holiday points with this classic sign!
AQUARIUS
Aquarius loves being on the cutting edge and getting the latest techie gadgets that leave others in their wake. While many of the latest products might be out of your budget, buying the latest accessory or app for their current gadgets is a great way to impress these brilliant thinkers.
PISCES
Gentle Pisces loves indulging in healing techniques and therapies. A new yoga mat, an aromatherapy candle or a gift certificate for a massage will invoke feelings of serenity, and are probably right in line with their New Year's resolutions.