Mars in Pisces: 6th House Meaning and More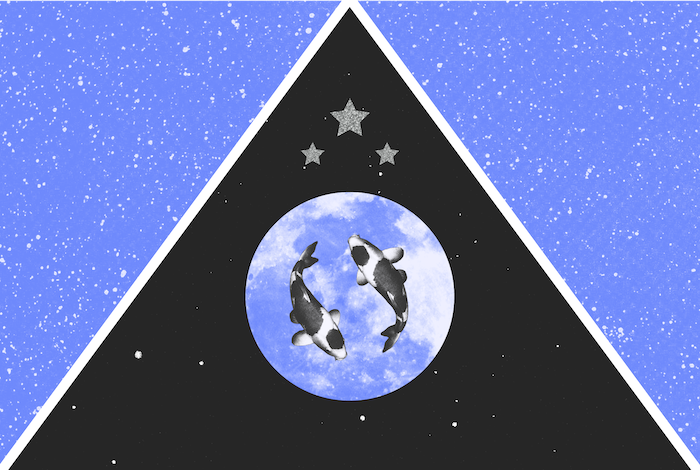 In the birth chart, wherever Mars lands in your chart can signify where you exert a lot of your energy. It can also speak to what motivates you. Learn more about what it means to have an active Mars in the 6th House, especially when it shows up in the sign of big-hearted, compassionate Pisces.
What Is the 6th House in Astrology?
In astrology, the 6th House is the area of the birth chart that speaks to our daily routines–think health, wellness, and rituals. Your skincare routine lives in the 6th House, as does your exercise routine. This area of the chart also reveals where we put in hard work, and the dynamics we experience with co-workers or at our day job, too.
"It's about the work and acts of service that we do on a daily basis," Nina Kahn, astrologer and mystic, says. "We can think of the 6th House as the 'maintenance' area of our charts, as the activity here is centered around keeping our lives and goals organized, functional, and in working order."
When it comes to health and routine the 6th House can shed light on our mental and emotional health, too. "The wellness aspect applies to daily routines and habits (or lack thereof), which play a significant role in our overall physical, mental and emotional health," Gabriela Rosales, The Stylist Witch, says. "The 6th House is all about the small things, but if there's anything we know about the small things, it's that they add up." You can find the magic to change your life and reality in the 6th House. Study your 6th House to learn more about daily routines and rituals that will help you foster a more productive and healthier environment.
Mars in Pisces Meaning
If Mars is the planet of war and Pisces is one of the most empathetic zodiac signs, then what do you get when someone has Mars in Pisces? "The emotionally centered and mutable energy of Pisces has a diffusing effect on Mars' firepower, making people born with this placement more passive about the way they chase their goals," Kahn says. "Pisces brings sensitivity to Mars' intensity, and softens some of this planet's harder edges."
Since Pisces is a mutable sign that prefers adaptability, Indecision can crop up with this placement. "While taking decisive actions can be difficult for a Mars in Pisces person, they may find that they're great at manifesting their desires on an energetic level." There is a deep connection between movement and energetic exertion and pursuing one's dreams. Mars in Pisces fights on behalf of the underdog–don't underestimate this placement's power. If their heart is in it, they're a force to be reckoned with.
Gabriela Rosales was born with Mars in Pisces, although her Mars is located in the 11th House, she shares how this placement manifests in her life. " I can confirm that the Piscean flavor adds a distinct need and urge to beautify the way I take action," she says. "My best example is that my favorite type of exercise [Mars] is hot yoga. The intense sweat satiates the martial desire to 'go hard' while the flow, movement and beauty of the postures and gained flexibility satisfy the Piscean need for beauty combined with the spiritual and philosophical foundations of the practice." 
Mars in Pisces: 6th House
In ancient astrology, each planet had a preferred section in the birth chart where it found its "joy"—where the energy of that specific house blends effortlessly with the signification of the planet. The planet Mars finds its joy in the 6th House. If you think of the 6th House as an active house, which holds your daily tasks and routines, well, Mars sure loves to stay busy. Mars reminds us that where we dedicate our energy–our blood, sweat and tears–is where we will experience growth. In Hellenistic astrology, the 6th House was known as the House of Bad Fortune. It's where we also found illnesses and hardships that we deal with throughout our lives. As a malefic planet, Mars' energy can operate comfortably here.
"People with Mars in the 6th House tend to be extremely hardworking, with busy schedules and a great desire to be of service to others," Kahn says. "They often find themselves taking on lots of responsibilities, so they mustn't take on too much and risk burning themselves out." The 6th House is also associated with service. When someone has heavy 6th House placements, they can absolutely find themselves taking on too much at the expense of their wellbeing. Kahn advises that "regular exercise and physical movement" is a wonderful way for people with this placement to find alignment and reconnect with themselves.
"For those who have Mars in Pisces in the 6th House, it's important to pencil in designated time for spiritually enriching activities and to channel excess emotional energy into something that feels fulfilling," she adds. "Yoga, meditation, or daily mindfulness practices can help them balance their energy and maintain a lifestyle that's supportive to overall wellness." All of that Martian energy yearns to have a Piscean release. Finding ways to tap into your spiritual beliefs or practices daily is key. Even if it's through meditation, taking a walk, or breathwork. Pisces is an amorphous sign that can easily absorb others' energy. When Mars in Pisces is placed in the 6th House, finding a physical outlet can help you shake and shift energy that doesn't belong to you.
Overall
It's also important to consider that Mars in Pisces can have fluctuating energy levels. Make sure to honor your ebbs and flows of energy. You may feel a burst one moment and totally drained the next. Learning to set healthy boundaries to protect your energy is critical with this placement, too. Mars in Pisces is the empathetic warrior and the friend who picks up the phone in the middle of the night, no matter what time you call.
Love and Sex
When it comes to love and sex, Mars in Pisces people are deep feelers. "Mars in Pisces people often have a less direct and more sensitive approach when it comes to pursuing love and sex," Kahn says. "Their seductive power is in their softness and mutability, and their go-with-the-flow vibe pulls people into their current in a more subtle way." Energy matters greatly to them as Kahn adds, "they seek to match the vibration of their romantic conquests, and being on the same energetic frequency is an important factor in their relationships. Sex is not just a physical act for a Pisces Mars person—it's a transcendental experience that can culminate in a powerful spiritual and emotional connection." 
Career
When it comes to career, Mars in Pisces people can take on the weight of the world. If Mars is in their 6th House, not only do they exert a lot of energy into their day job, but they are also most likely emotionally connected to it. It's critical for Mars in Pisces to develop boundaries around their work schedule so they can maintain a healthy work/life balance.
Family and Friends
Mars in Pisces people act with their entire hearts. When it comes to family and friends, this placement will do anything they possibly can to help those they love most. Sure, they may be a little flaky from time to time with the shifts in their energy levels, but their intentions are genuine. If they can make a difference or put a smile on a loved one's face, they're doing it.
Related Articles:
Pisces in 12th House: Meaning, Traits, Personality
Most Popular on
Astrology.com