This Tarot Card Is All About Rationality and Trust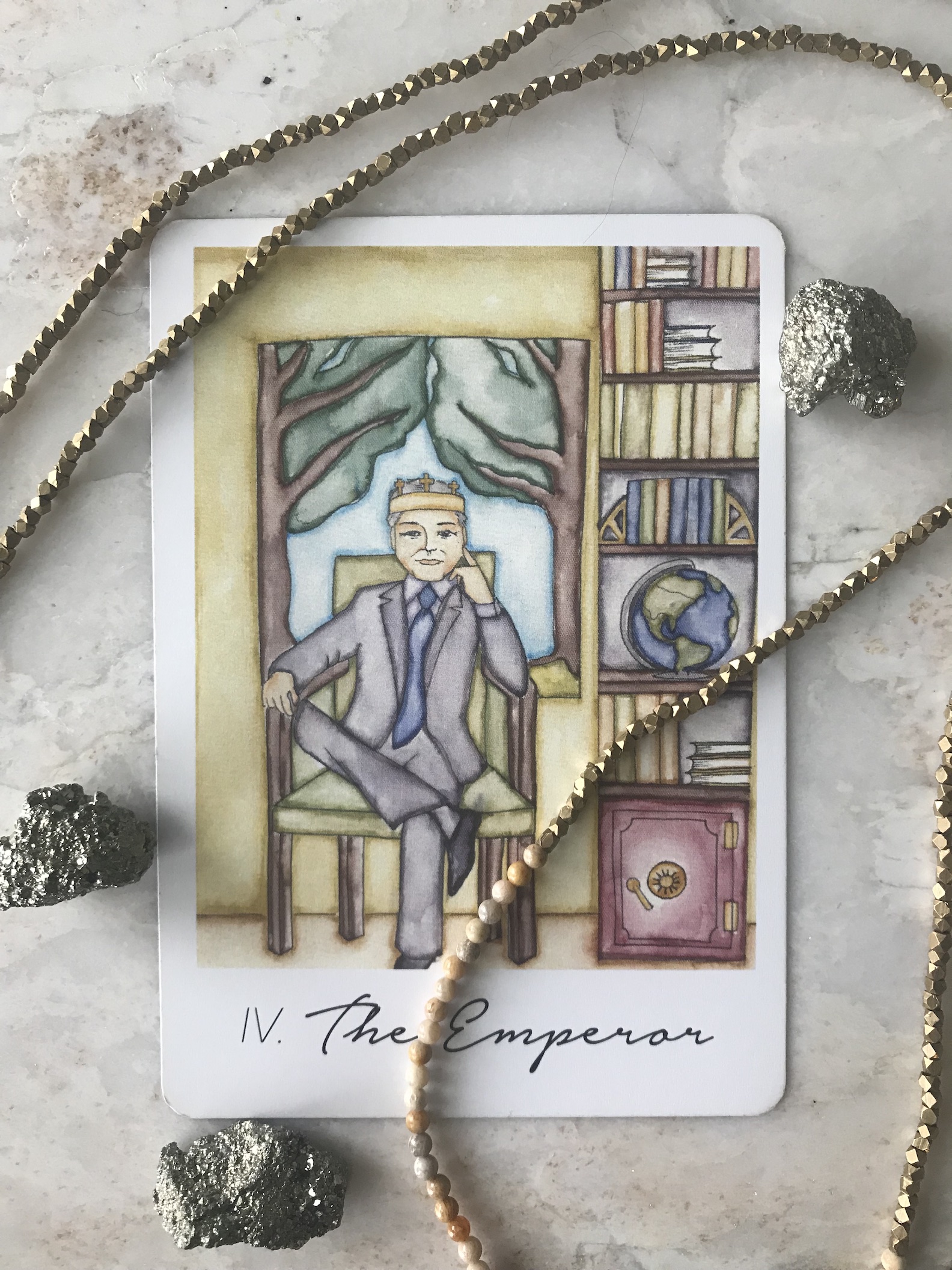 In this series, Jamie Richardson of Ember + Aura Tarot explains how to embrace the message of each major arcana card. 
The Emperor is the supreme father figure archetype who sits enthroned in our psyche. He is an energy to be trusted, a blend of the most loving and wise aspects of our sacred masculine. He brings with him a lifetime of experiences, as well as wealth and power. Along with these qualities comes a practiced ability to dispense sound advice and help one make rational decisions. Though The Emperor sits upon a throne representing his position of authority, he remains approachable and compassionate.
Highly traditional, The Emperor is the epitome of stability and groundedness. Like anyone who has worked tirelessly to accumulate wealth and enjoy success, he commands respect and expects order. However, don't let his seriousness fool you—this strong patriarch has a light in his eyes and welcomes your company.
When you draw this major arcana card, you are in touch with your clear and astute intellect. Essential for balance, intellect helps one weigh the potential risks and consequences associated with making certain decisions. The influence of The Emperor provides focus and confidence in the mind of the reader. More of a left-brained and linear thinker, this personality (who lives within us all) relies on proven practices and traditional methods to pronounce judgment.
Discover what's in the cards for you!
The Emperor is especially helpful in the realm of one's career. If he appears in a reading involving work, this is a good sign that you are in a great position of embracing your leadership. Delegate tasks and give counsel with the assurance that all of your experience has paid off. Feel comfortable with any material wealth and opportunities that are coming your way—you've earned it. Every so often, it is important to distance yourself from your emotions, and The Emperor aids in this process so you can take giant leaps forward without second-guessing yourself.
In order to bring the Emperor into your life, take inventory of your accomplishments. It's helpful to create timelines that illustrate where you began in a particular project and how far you have come. Feel yourself grounded in the areas of work, finance, planning, and action. This is the solid domain of The Emperor. Trust that all you have been through has led to this point in your life and you are qualified to lead and provide mentorship to others on their paths.
The Emperor takes all of our best-laid plans and shines the light of consciousness and recognition upon them. He keeps our ego and self-image healthy, so that they can, in turn, enable us to be our most productive selves. With his presence, The Emperor mirrors from within that which we already know: we are more than capable, and we can trust our power. Channel this positive masculine force and expect major results.
Find Jamie Richardson on Instagram @emberandauratarot or at www.emberandaura.com
Store
Recommended Reports For You
Most Popular on
Astrology.com