Venus Entered Aries on March 21 and It's About to Get Steamy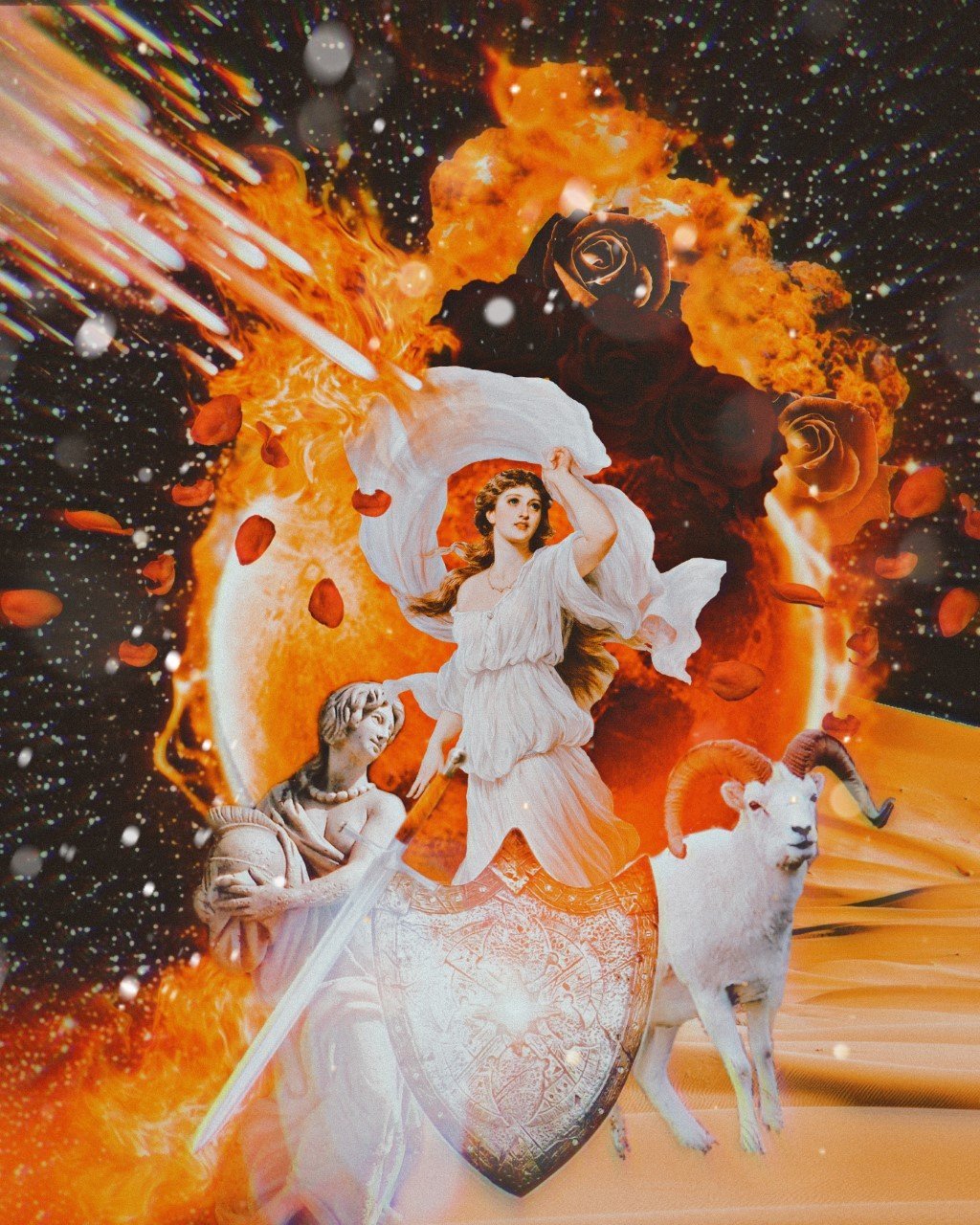 Venus in Aries Dates: March 21 to April 14
Venus, the planet that governs relationships, beauty, finances, and aesthetics, enters the Mars-ruled sign of Aries on March 21, 2021, at 7:16 am Pacific Time. 
Venus in Aries Meaning
When the goddess of love enters the domain of the god of war, passions flare, our energy increases, and things start getting steamy. Mars is hot, aggressive, and prefers to take action, and when Venus finds herself in his territory, the hookups can get hotter, but the tempers may flare. It's not Venus' favorite place to be in, and during this transit, she finds herself "in detriment" as she prefers balance, connection, harmony, and sweet nothings—not exactly what she finds under Mars' sharp, fiery, fiercely independent domain. 
With Mars as the ruler of Aries, Venus must conform to his way of doing things. Both planets are total opposites—Venus likes to keep the peace and Mars likes to fight. This can have both positive and negative manifestations.
Venus in Aries is the season of the sexually empowered feminine. Tap into your inner vixen to work with this energy and explore what sexual empowerment means to you. Whether you prefer to stay celibate, explore the kinky side of things, or sleep with multiple partners, the beauty is that the choice is up to you. This Venus in Aries transit can assist you in deciding what you like, what your preferences are, and how you choose to express yourself sexually. 
Read me: Sex Secrets for Every Zodiac Sign
How to Harness the Energy of Venus in Aries
To make the best of this transit, get active and into your body! If you're coupled up, getting started on a workout routine together could mitigate any frustrations. That's because Venus needs somewhere to channel the high-octane energy she is absorbing while transiting Aries. There's nothing like getting the blood pumping and muscles moving to navigate the influx of Aries intensity. If you're single, now would be a great time to join an outdoor workout club. 
You can also work with this energy through glamour and putting on what makes you feel like a femme fatale. Bust out the red lipstick, your hottest lingerie set, and take some sexy selfies while practicing your best "come hither" look. Throughout this transit, make it a point to dress in clothes that make you feel confident. There is nothing more magnetic than someone who boldly adorns themselves in what makes them feel good. 
Another way to make the best of this energy is to be bold and make the first move. If you've been stalling, playing coy, or endlessly flirting with someone without it really going anywhere, Venus in Aries supports being direct in your convictions. Do you like someone but not sure if they feel the same way? Now is the time to say something! The worst they can do is say no. Your ego might be bruised for a few days, but the other good thing about Venus in Aries is that lightning-fast bounce back. You'll be back in the game in no time. 
 You may find yourself playing cat and mouse with your crush this season, but don't forget to have a little fun with "the chase." Let the thrill of not knowing excite you and stimulate your desires. Drawing out the sexual tension during this season can result in explosive and exciting hookups, albeit not very long-lasting ones. Aries burns bright and fast, and with Venus here, this can spell short-term connections. This transit raises the stakes and might have us acting recklessly and impulsively, so just remember to pace yourself and don't let your passions get the best of you.
The downsides of this transit can lead to increased fighting, bickering, or quarreling. Understanding the art of playful teasing will come in handy this season, as there will definitely be a bit more quarrels to contend with in romance. Don't be surprised if you find yourself acting more territorial than usual over your partner. Mars can tend to act like a guard dog barking at people that aren't actually threats. Find ways to honestly express feelings of jealousy, without projecting them onto your partner.
Notable Venus in Aries Transits
March 26 — Sun conjunct Venus in Aries 
Asserting our needs or acting selfishly in partnerships.
March 30 — Venus in Aries sextile Saturn in Aquarius
Conflict resolution, supporting new relationship rules. Wrapping up a financial matter.
April 6 — Venus in Aries sextile Mars in Gemini
This transit supports playful banter, boldly claiming a desire for someone.
April 11 — Venus in Aries square Pluto in Capricorn
Relationship tensions could surface.
An explosive energy—so be careful of saying or doing something to intentionally hurt someone.
Keep tabs on the ongoing astrological transits & aspects with our Astrology Calendar.
Most Popular on
Astrology.com