Venus in Scorpio: Exploring the depths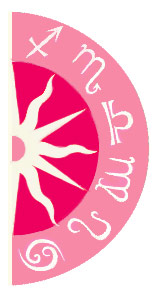 RUBY
Yesterday, Venus was swallowed up into Scorpio's underworld where it joined lucky Jupiter. Today, the dissolving moon is in watery Cancer, bringing our emotions up and our energy levels down.
Traditionally, Scorpio indicates a hard spot for Venus to find herself in – a bit like the story of Persephone descending into the underworld. Many interpretations tell of how she is frightened and vulnerable in this placement. But, is it possible there might be power here in the dripping caverns? Potent secrets buried among the twisting roots and crystals glimmering from the walls of the cave? If Venus holds onto the knowledge of her own regal power and refuses to succumb to fear, is it possible she might bring deep wisdom up from her time spent in the underground?
Venus in Scorpio transits are intense periods, during which time we are invited to look at jealousy, passion, sexual desire, and that which we have denied ourselves. This is an excellent time to bring out sumptuous lipstick or sensual lingerie.
It is also high time we call upon ruby, that most stimulating gem of the root and heart.
Wearing or meditating with ruby can help us transcend any shame, fear, or neuroses we may have around our own sexuality or personal power. Ruby is often associated with the positive use of our ego, ways we make ourselves feel good through dedication to beauty, self-improvement, and self-care while maintaining a deep knowledge of ourselves that protects us from harm.
Remember Dorothy's ruby slippers?
Ruby, like a safeword, grants us power while also promising us the safety that comes from knowing, respecting, and cherishing our own boundaries.
Rubies are often available as very small, rough specimens – drop a few of these into a bottle of perfume or cologne. When you spritz yourself with it, feel sexy, empowered … and safe to explore the depths.
Grounding Elements Pro Tip: Use these rubies to follow Olivia's recipe for a self love spritz!
Most Popular on
Astrology.com