Your Weekly Tarot Reading for the Blue Moon on August 22!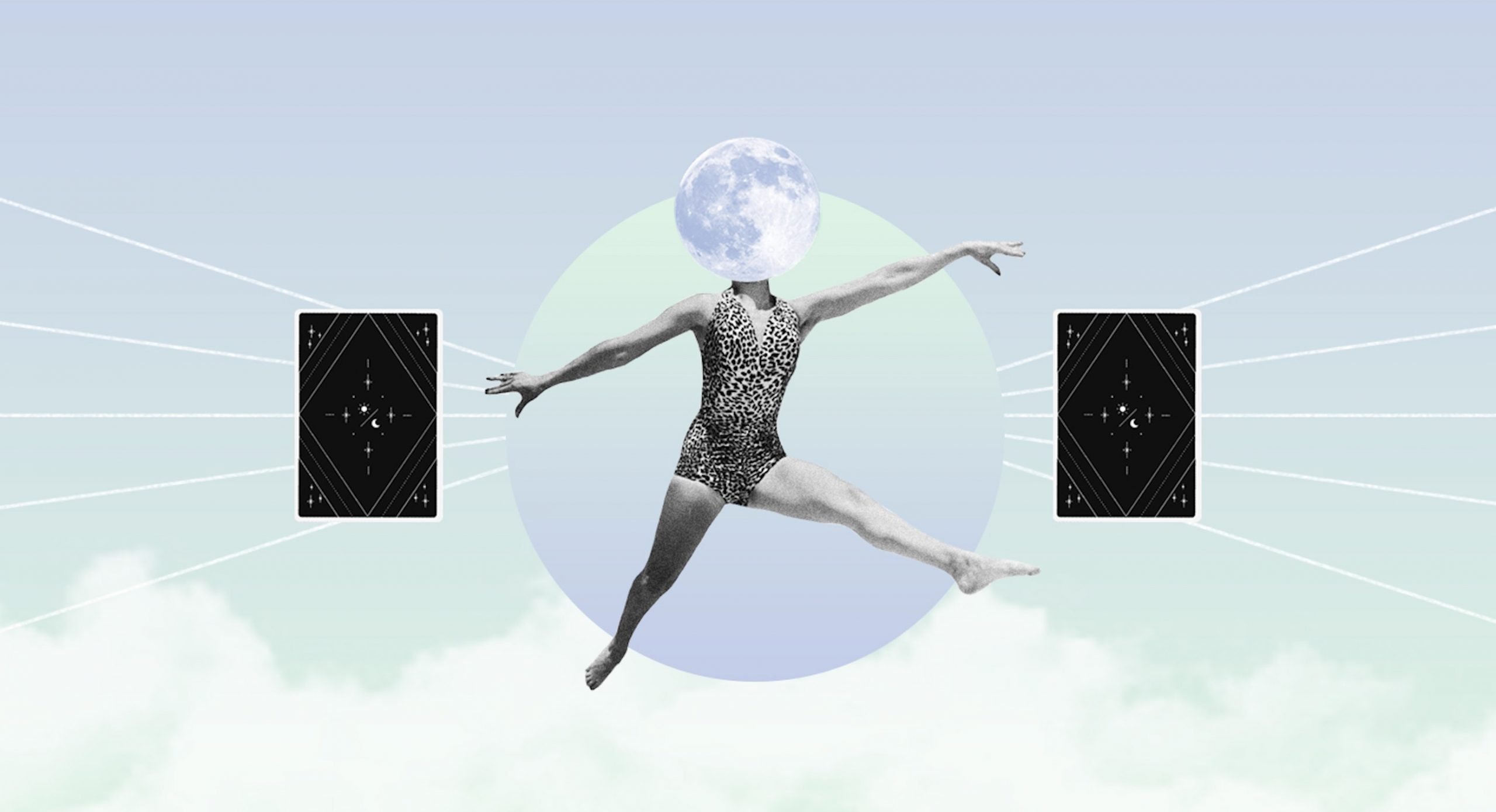 We are heading into one of the most positive weeks of the year, and your weekly Tarot reading for this weekly blue moon is here to guide you!
This week's Tarot cards invite us to slow down and soak up a little peace and quiet. In the moments of stillness, we are able to clear our minds, reflect on making changes, and awaken our awareness. We can put all this clarity into good use when the week culminates with a seasonal blue moon, the second full moon in Aquarius, which peaks on Sunday, August 22. The answers you have been searching for will be revealed through this lunation.
Aries: Eight of Wands Reversed
Slow down and take a break, Aries! Everything is moving so fast right now, that the energy feels like a tidal wave sweeping you up with its force! Before you get carried away, take a moment to chill out, gather your thoughts, and carefully plan out your next move.
Taurus: The Hermit Reversed
What has been bothering you, Taurus? Something beneath the surface has been nagging at you and testing your patience for quite some time, and this week, you need to deal with it. Dig a little deeper and find the root of the issue so you can finally eradicate this irritation once and for all!
Gemini: Seven of Pentacles Reversed
Have you been feeling a little more scatterbrained than usual, Gemini? Take time this week to figure out where you want to focus your energy in order to recenter and get your priorities straightened out. Give your attention to the people and activities that truly deserve it instead of spreading yourself so thin.
Cancer: The Tower Reversed
Cancer, your Tarot reading for the blue moon has a clear message: Do not resist change! This situation has dragged on for far too long, and you know it so what are you waiting for? You are ready for this transition so lean into it and make the necessary moves to welcome this new chapter of your life. You can handle this!
Leo: Eight of Swords Reversed
Stop being so hard on yourself, Leo. You must get out of your own head and end the constant loop of negative thoughts swirling around in your mind! Make it a point to call a friend this week who can remind you of all the lovely qualities you possess.
Virgo: Three of Wands
Accept a friend's help, Virgo. You simply cannot do everything on your own, and your current situation would be greatly improved if you ask for a little assistance right now. Swallow your pride and reach out to someone who possesses a strength you lack. The pieces of the puzzle will all come together with their expertise and perspective.
When life gets confusing, a live psychic reading can help you gain the clarity you're looking for!
Libra: Six of Wands Reversed
What has you feeling so down on yourself, Libra? You need a major boost of self-confidence this week! Stop comparing yourself to other people, and spend more time thinking about everything you have accomplished this year so far. Be sure to take inventory of the little everyday stuff you get done as well! A little positivity and celebration will go a long way right now.
Scorpio: Knight of Wands
Scorpio, your Tarot reading for the blue moon has a clear message: Slow down and pay attention! Everything is moving so fast in your life that it is almost hard to keep up with the little details, but a little extra planning now will save you a major headache later. Double-check your work before sending anything in or finalizing any agreements in order to avoid making silly mistakes this week.
Sagittarius: Four of Wands
It's time to celebrate, Sagittarius! A personal goal is coming to fruition because your hard work has paid off, and now it is time to enjoy that sweet taste of success! How will you fete this important milestone? Invite your inner circle to join you in honoring this momentous occasion!
Capricorn: The Hanged Man Reversed
Stop procrastinating, Capricorn! There is an exciting opportunity awaiting you, but this moment will not last forever. Do not let this pass you by simply because you are afraid of committing and taking it on. Stop talking yourself out of it and make the right decision already! It would be such a shame to let this slip through your fingers.
Aquarius: The Hierophant Reversed
Remain flexible, Aquarius. Expect your plans to get upended and twisted all over the place this week. It is totally frustrating, but allowing yourself to roll with the punches as you reschedule and reroute will lead you down the path of least resistance. Release control and just go with it.
Pisces: Queen of Pentacles
Get comfortable, Pisces. Give your home a little makeover and dive into that reno project you have been putting off for far too long. Focus on little tweaks to make everything feel a little cozier and more pleasant overall. Don't be surprised if you (and your guests!) never want to leave your home once you make a few changes!
Join our newsletters to her your daily horoscope in your inbox!
Most Popular on
Astrology.com