Your Weekly Tarot Reading for April 2–8, 2023: A Spring Awakening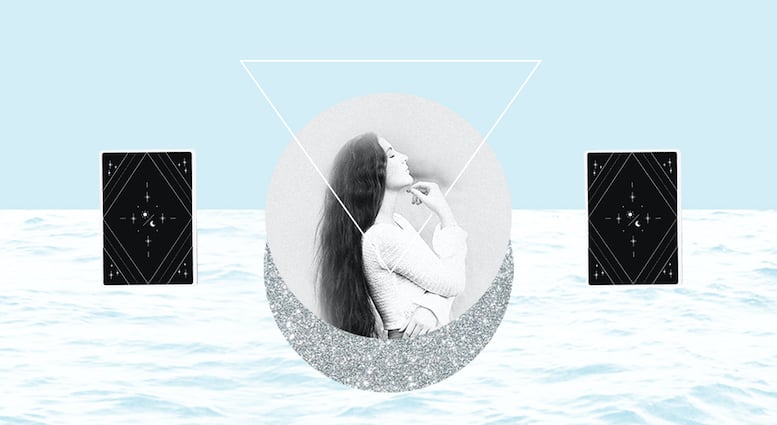 April continues to provide the magic of spring awakenings and the sprouting of new intentions. Nurture the growth that is emerging! The full moon on April 6 occurs in the diplomatic, fair, and social sign of Libra, creating a lovely energy to restore balance in your personal relationships and honor your close friendships.
Friends provide support and distraction during hard times and companionship and fun in light times, and these connections should be celebrated as wonderful enhancements to our lives. Call an old mate you haven't caught up with in a while, or plan a fun get-together for your besties. Invoke this lunation by expressing gratitude for the people you hold dear and invoking the magic of friendship.
This week's intuitively pulled Tarot cards reflect opportunities to feel confident and take the lead with a viewpoint imbued with optimism. You don't need to wait for someone else's permission to grab the reins, take charge, or go first. If you have been searching for something you cannot find anywhere, this is your moment to create it! Go for it and just begin.
Read on for your Tarotscopes with guidance into the week ahead.
Aries: Queen of Wands
Take the lead, Aries. Don't wait for an invitation to the fantasy of cool potential when you're the host with the most and the one who can get the party started. If you can't find what you are looking for, create it! You're the one in charge here, and there is no time like the present to make the dream affair you have always desired free of anyone else's permission to do so.
MORE TAROT: How to read and use Tarot.
Taurus: Seven of Cups Reversed
No need to be overwhelmed, Taurus. Several opportunities are opening up for you, but instead of this moment feeling like a blessing, it feels more like a curse because the possibilities feel overwhelming instead of exciting. Check in with your heart; if something feels misaligned, then that's all you need to know to eliminate it.
Gemini: Two of Wands
Keep your expectations realistic, Gemini. It's wonderful to dream big and shoot for the stars, but if you aim too high, you could set yourself up for major disappointments. Check in with your goals and consider if your timelines make practical sense before you set yourself up for failure.
Cancer: The Star
It's all good, Cancer. The recent stress you have been facing is finally easing, but it's been challenging to trust that the worst is over. Is this moment of peace and calm too good to be true? It assuredly is not. There is a break in your schedule, so use it to take some much-needed time to rest and relax after an intense period of stress.
MORE TAROT: Learn about each Tarot card's meaning.
Leo: Page of Swords
Indulge your curiosity, Leo. Ride the wave of motivation and seek out new experiences this week by finally signing up for that super niche class you have been considering, or at least purchase the book you noticed that is a deep dive into your secret passion. Immerse your mind into this endeavor fully to see where this inspiration takes you. It could create a completely unexpected path to explore!
Virgo: The Devil
Address the energy vampire, Virgo. If anything has been living in your mind rent-free and disrupting your peace, now is the time to address it. There simply is no space for whatever is draining your precious time and energy! Let it go once and for all.
Libra: Five of Cups
This is a learning experience, Libra. If a certain situation doesn't work out exactly as you thought it would, it doesn't have to be a bad thing. Lean into the bright side of this situation and consider what you could have done differently. That's all it is, and now you can move on.
MORE TAROT: How can you best capitalize off your natural talents?
Scorpio: Two of Swords
Take a beat, Scorpio. A decision must be made, but it should not be rushed. Don't succumb to outside pressure or supposed timelines that make you feel like you need to commit to something you just don't have the bandwidth for or feel ready to take on. Use all of the time you need to consider the potential outcomes.
Sagittarius: The Magician
Recognize your talents, Sagittarius. Whatever you put your mind to, you can accomplish, and it feels essential that you remember that this week as you allow your strongest skills to take center stage. Opportunities that highlight your strengths will give you that much-needed self-esteem boost you have been seeking.
Capricorn: Six of Cups Reversed
Let it go, Capricorn. It's time to stop reopening old wounds, digging into the past, and searching for more pain. You have been through enough, and there's no need to put yourself through this. If you want to move on, you must close the door to this situation and work towards self-forgiveness.
MORE: Sign up for our newsletters for daily in-depth astrological content!
Aquarius: Seven of Swords Reversed
Tell the truth, Aquarius. You might be trying to spare someone else's feelings by bending the story right now. Still, you will save yourself a lot of unnecessary headaches and unneeded grief if you are just straightforward and direct with your communications this week. Rip the band-aid off already.
Pisces: The Lovers
What feels right, Pisces? Not every decision has to be so complicated, so don't overthink it. This moment at a crossroads is actually quite simple: What does your heart desire? If you let that notion lead the way as you make your choices this week, you can't go wrong.
Store
Recommended Reports For You
Most Popular on
Astrology.com