Your Weekly Tarot Reading for April 30 to May 6, 2023: Say 'Hey' to May!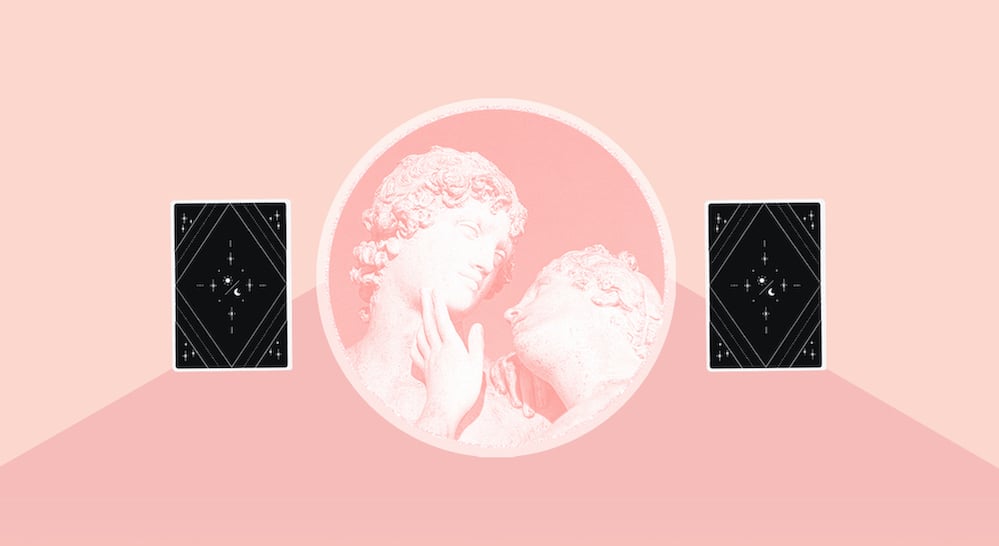 April winds down this week, and May begins with the pagan holiday of Beltane, a celebration of creativity, growth, and fertility in all of its many forms. In the northern hemisphere, we are just about halfway between the spring equinox and the summer solstice. Life is blossoming with beauty all around us and reflecting an auspicious moment to check in on our earlier set intentions to value our progress.
This is a lovely time to notice all the dreams you may have that are finally coming to fruition. Be sure to make space for merriment this week and to spend time having fun with the people you love. May 5's full moon in Scorpio uncovers hidden mysteries with the impact of a lunar eclipse, so open yourself up to expect the unexpected via a thrilling twist!
This week's intuitively pulled Tarot cards echo this cosmic energy with the reminder to stay organized, reassess your obligations, and resist the temptation to create your own stories based on little to nothing. If it doesn't involve you, don't get into it because not everything needs to be yours to take on! Save your energy for what needs it most (spoiler alert: it's your self-care!)
Read on for your Tarotscopes with cosmic insight and support for your week ahead!
Aries: King of Pentacles Reversed
Get organized, Aries. Before you say yes to yet another favor for someone else, let's focus on what you have already taken on first! It's lovely to want to help everyone, but it should not be at your own expense. Prioritize your own responsibilities with the most pressing time constraints before anything else to avoid feeling overwhelmed.
MORE TAROT: How to read and use Tarot.
Taurus: Eight of Pentacles Reversed
Prioritize rest, Taurus. Your endless earnestness is catching up to you this week as you find yourself dragging a bit to fulfill your obligations. The reality is it's hard to stay motivated when you're feeling utterly exhausted, so if you want to maintain your usual diligent productivity, you must take a break!
Gemini: Two of Pentacles
Don't overwhelm yourself, Gemini. Pay close attention to your energy levels this week as opportunities arise to take on more and more and even more! Before fully committing, ask yourself if this is something you truly want to do or if you feel like you are saying yes to please someone else. If you are hesitating, it's not worth the trouble.
Cancer: Knight of Pentacles Reversed
Don't jump to conclusions, Cancer. This week's energy has you feeling a little more sensitive than usual, causing you to be more susceptible to stories of your own creation as you fill in the gaps where information has been left unknown. You know what they say about assumptions, right? 
MORE TAROT: Learn about each Tarot card's meaning.
Leo: Page of Cups
Make it more fun, Leo. Life begins to feel rather boring when everything feels like an arduous obligation, but does it really have to be like that? Make the mundane feel more magical and inject a little more joy into your everyday tasks! For example, chores don't feel so dull when you have an enrapturing podcast or a killer playlist on to make the fly.
Virgo: Seven of Pentacles Reversed
Reassess your obligations, Virgo. Unsure as to where to begin this week? How could you possibly know when the enormity of your to-do list is looming over you? You might think you broke down your tasks into more manageable pieces, but the reality is that it's still feeling immense! Break it down further and set realistic timelines; this won't feel so intimidating.
Libra: Knight of Cups Reversed
Don't hold back, Libra. This week offers opportunities to speak from your heart and share how you really feel, even if it brings up initial discomfort for you and the other party. Being able to finally put your swirl of emotions into words will relieve the stress of keeping them all bottled up. Say everything because you have nothing to lose at this point.
MORE TAROT: How can you best capitalize off your natural talents?
Scorpio: Ace of Wands Reversed
Where to begin, Scorpio? If you cannot seem to untangle your current mess, maybe it just isn't time to start your exit strategy just yet. Instead of being paralyzed by the unknown, get comfortable in the mystery. Timing is everything, and there's a major difference between being stuck and merely standing still.
Sagittarius: The Star
It gets better, Sagittarius. Expect the constant pressure you have been under to begin to ease up this week as good news comes in to affirm that the most difficult part of your current situation is behind you. Enjoy the sweet relief by making more time to sit back, relax, and decompress.
Capricorn: Two of Wands
Set your plan in motion, Capricorn. If you have been waiting for a cosmic signal from the Universe to give you the green light to push forward beyond your comfort zone, this is it! You know what you want to do, and you know where you want to go. Make your move and start exploring! 
MORE: Sign up for our newsletters for daily in-depth astrological content!
Aquarius: Eight of Wands Reversed
Slow down, Aquarius. What's the rush? You have been moving in double-time lately, but if you continue at this pace, you are bound to make mistakes and, even worse, burn yourself out! Save your creative spark and resolute drive by taking a break from this week's nonstop mad dash.
Pisces: The Hierophant Reversed
Seek out a new method, Pisces. If what you're doing isn't working, it's time to try something else. Challenges are opportunities in disguise! Look at your current situation from all angles to see what you may have previously missed, and don't be afraid to try something completely 
Store
Recommended Reports For You
Most Popular on
Astrology.com