Your Weekly Tarot Reading for August 20–26, 2023: Take a Pause.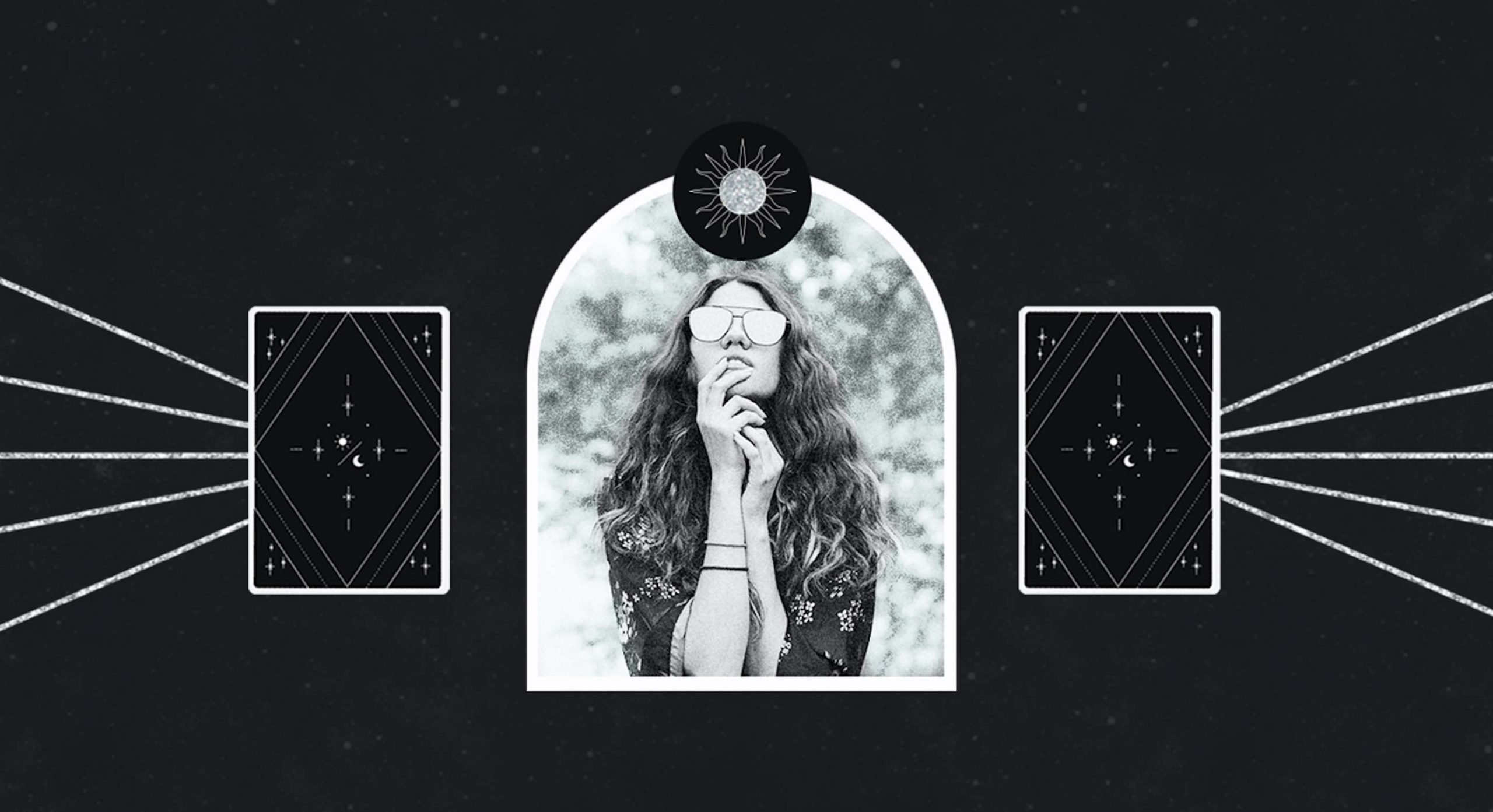 August moves along, and the current energy lacks a sense of productivity, so why fight it? There's no sense in forcing something to happen or trying to make something work if it just doesn't align right now. Have patience with yourself and the timing, especially when there is no urgency or need to rush.
This week's intuitively pulled Tarot cards reflect a lovely moment to press pause to gain clarity around your current situation. If you feel overwhelmed by decisions, upcoming opportunities, or fighting out what's next, then just take a little time out. It's always good to create some space to weigh your options and figure out the timing of your next steps, even if the conclusion you come to is to wait a little longer before proceeding. Sometimes doing nothing at all is the most powerful move you can make.
Read on for your Tarotscopes with cosmic insight to plan your week ahead!
Aries: Five of Wands Reversed
Pick your battles, Aries. Stress is high this week, but there's no need to make it feel worse by turning every little moment into a confrontation. Before getting into it, try to pause and reflect on whether something is really worth fighting over. Most likely, it isn't, so save yourself the trouble.
MORE TAROT: How to read and use Tarot.
Taurus: Four of Cups Reversed
Break out of the rut, Taurus. If everything has felt boring and routine lately, it's time to make a change to get yourself out of this funk. Some aspects of life will always be mundane, but there are always opportunities to make the ordinary feel more magical. Make that your focus this week.
Gemini: Two of Pentacles Reversed
Be wary of over-committing, Gemini. You may be tempted to say yes to everything coming your way right now, but it's better to take a conscious and more mindful approach to all these opportunities. The last thing you want to do is overwhelm yourself just as you have found that sweet spot of balance.
Cancer: Ace of Pentacles Reversed
Just wait, Cancer. You're feeling the stirrings of something new, but unfortunately, it's not quite time for it to begin yet! Don't rush this moment. Get your ducks in a row and focus on organizing everything so when you get the green light, you will be off to the races.
MORE TAROT: Learn about each Tarot card's meaning.
Leo: Justice
Don't get involved, Leo. Everyone wants to drag you into their drama, but that doesn't mean you have to go along with it. If you must, though, be sure to hear all sides before forming any opinions, but it's probably better to just listen rather than give any commentary.
Virgo: Ace of Swords
Think clearly, Virgo. Take your emotions out of this one so you can see your current situation with full clarity. If you stay too focused on the little details, you'll get caught up in a mess and just feel stuck, but if you stick to the facts that are right in front of you, you can't go wrong.
Libra: Queen of Pentacles
What's next, Libra? Opportunities are bubbling to the surface right now that, if taken seriously, could have a positive impact on your long-term financial stability. It's crucial to be cognizant of how you are investing your time right now, so err on the side of practicality over momentary fun. Be responsible.
MORE TAROT: What should you expect at work today?
Scorpio: The Hierophant Reversed
Try something different, Scorpio. After a series of roadblocks, it's become apparent that your usual way of doing things is just not working. If you want to make some headway here and move forward, you must take a different approach. Indulge in something completely unexpected and see what happens.
Sagittarius: Six of Wands Reversed
Keep it a secret, Sagittarius. Good news is here, but it's not yet the right time to share it with others. Savor this moment of personal success because you've earned it, but know that once the cat is out of the bag, you can't put it back in.
Capricorn: The Magician Reversed
No move is the right move, Capricorn. Not everything is as it seems this week, and it feels like your current situation is shrouded in illusion. Your best bet is to wait it out and let more information come through before making any major decisions. The ability to do nothing is powerful.
MORE: Sign up for our newsletters for daily in-depth astrological content
Aquarius: Seven of Wands Reversed
Don't overdo it, Aquarius. If something isn't working out as you had hoped, it's best not to force it into something it's not. It's not you; it's the timing, so put this on the back burner and focus your attention elsewhere. This is something you can return to later.
Pisces: Six of Swords Reversed
Let it go, Pisces. When the past comes calling, will you pick up? It's tempting to think the situation could be different now, but usually, something has ended for a very good reason. It's in your best interest to hold onto the memories without stirring anything up with a revisit.
Most Popular on
Astrology.com