Your Weekly Tarot Reading for October 15–21, 2023: Now Entering Eclipse Season!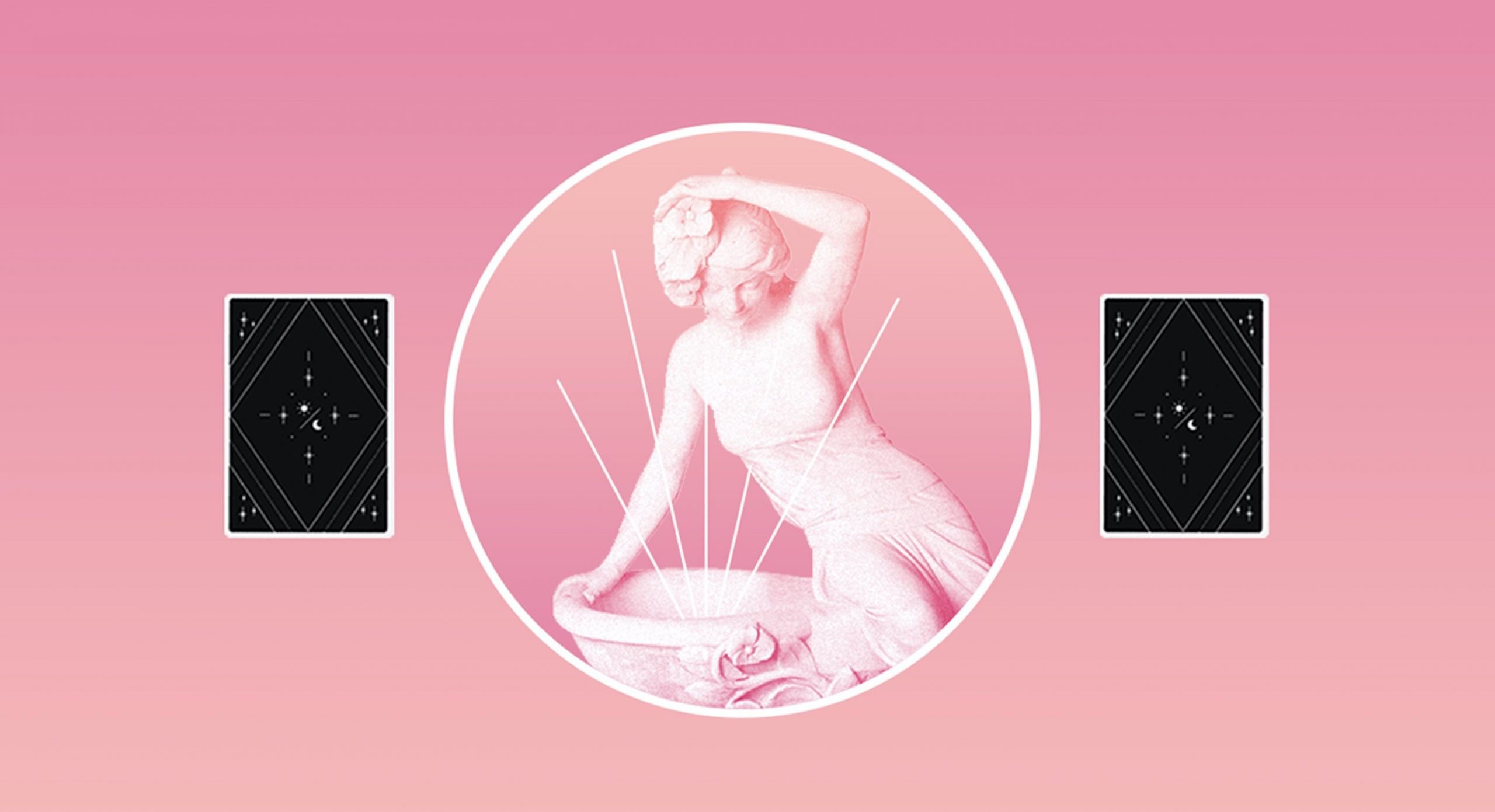 Eclipse season is here, and this cosmic moment brings an intense energy! Eclipses bring great transformations, much-needed changes, and major transitions. Change is good, but it's not always easy, so be sure to give yourself extra care and kindness as you navigate what unfolds as a result.
This week's intuitively pulled Tarot cards reflect the celestial pressure in the air with helpful reminders to remain calm, keep cool, and stay balanced. Not everything needs your involvement or your input, and it's okay to take your time to collect yourself before formulating a response. If the stress is getting to you, just slow down and focus on the positives. A little gratitude can go a long way right now.
Read on for this week's Tarotscopes with cosmic insight and tranquil guidance into your week ahead!
Aries: Five of Wands
Keep your cool, Aries. Tension is high this week, and little misunderstandings could blow up into bigger situations if you aren't careful. Be thoughtful in your responses, and don't be afraid to take a beat before escalating something. It's probably not worth it, so let it go.
MORE TAROT: How to read and use Tarot.
Taurus: Two of Pentacles Reversed
Create balance, Taurus. You don't need to take on everything that comes your way this week, even though it might feel like you should! It's okay to say no to opportunities so you can give yourself the space you need to focus on what matters to you right now.
Gemini: The Sun Reversed
Express your gratitude, Gemini. You have hit some bumps in the road, but it's not all bad here. Make a point this week to see everything that is going well and to celebrate the smaller achievements you've made. This appreciation will give you the motivation to keep progressing towards your goals.
Cancer: Four of Wands
Predictable is not the same as boring, Cancer. There is something quite nice about a situation that feels reliable and stable where you don't need to brace yourself for a potential dubious disaster at any moment. Enjoy what you have created, and don't second guess how good it is right now! 
MORE TAROT: Learn about each Tarot card's meaning.
Leo: Queen of Cups Reversed
Don't second guess yourself, Leo. This week calls for keeping a clear head despite a swirl of emotions feeding your insecurities and knocking your usual confidence. Don't give in to your harsh inner critic! Pay attention to how you feel around different people and new situations: that will give you all the answers you need.
Virgo: The Hermit
Indulge in alone time, Virgo. You have been going nonstop lately, and it's time to face the reality that that pace is not sustainable. Cancel your plans and take a step back from your busy schedule so you can rest and recharge with a major dose of self-care this week.
Libra: The Devil
Let it go, Libra. Have you forgotten that you hold the power to make a significant change in your life? If you feel like you're struggling just to tread water, you must make a move to do something different. It's time to release whatever is weighing you down and creating many negative feelings.
MORE TAROT: What should you expect at work?
Scorpio: Seven of Swords
Is this good enough, Scorpio? This week provides a reality check via an opportunity to pause and assess your current situation. It might be time to see how things really are rather than how you wish they would be. If it isn't working or providing the satisfaction you desire, then it's time to let this go.
Sagittarius: Three of Wands Reversed
Adjust your expectations, Sagittarius. It's wonderful to consider your big-picture plans, but you must match them with a realistic timeline if you want to stay motivated. This week is a good time to make adjustments to your plans and scale back in places where you aren't seeing progress just yet.
Capricorn: Knight of Cups
Express yourself, Capricorn. What's the point of holding back how you feel? Emotions are not meant to be strategic or logical, so stop trying to control them or tamp them down. Sharing what's going on in your heart is the only way to move forward in your current situation. Don't be shy!
MORE: Sign up for our newsletters for daily in-depth astrological content!
Aquarius: Eight of Swords Reversed
Stay focused on the positives, Aquarius. Have you noticed how well you have been doing lately? Everything has been going your way, and it's time for you to trust that you can continue to accomplish your goals and make more good things happen. You really do know what you're talking about! Keep going in this direction.
Pisces: The Chariot Reversed
Don't give in to your fears, Pisces. Something big is on the horizon for you, and you must believe in yourself fully to make the most of this opportunity. Don't get sucked into a negative mindset by focusing on everything that could go wrong. Try to stay positive and remain hopeful this week.
Store
Recommended Reports For You
Most Popular on
Astrology.com