Your Weekly Tarot Reading for October 9–15, 2022: Courageously Carrying On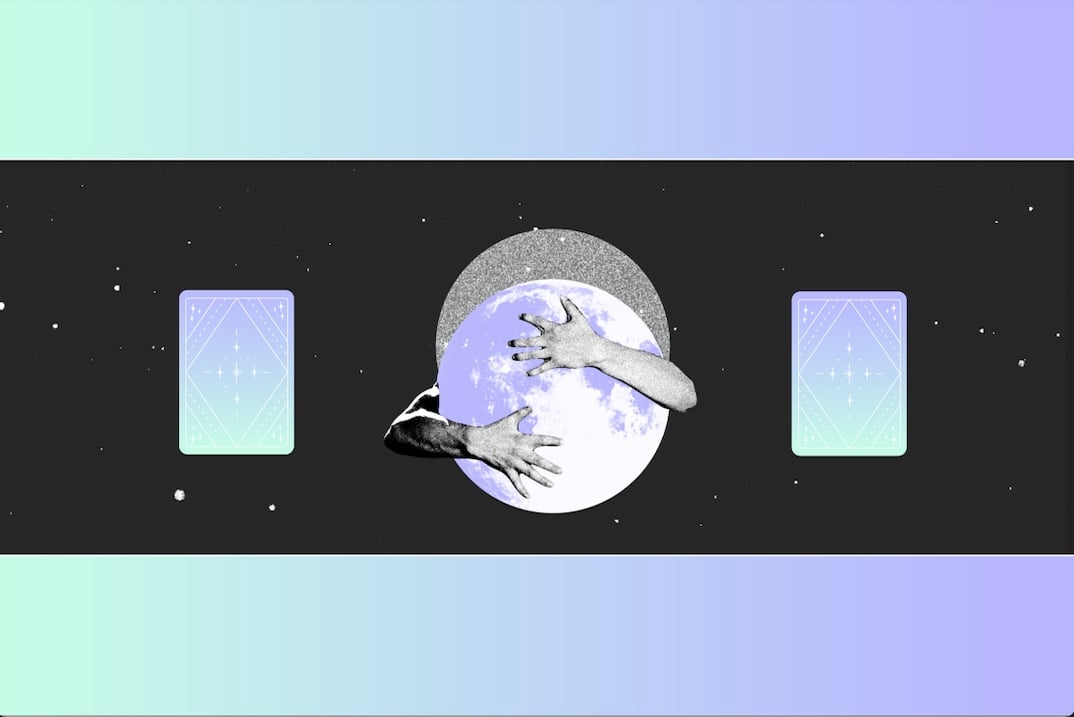 Our week begins with the Hunter's Moon, a full moon in courageous, confident, and adventurous Aries, inspiring the collective to take action by boldly going after what we desire, especially when it comes to our professional ambitions. Invoke this lunar energy to remove any obstacles in your path to feeling like your best self and release any self-limiting beliefs that hold you back from accomplishing your dreams. 
This week's intuitively drawn Tarot cards offer guidance highlighting the areas that require us to have confidence and fearlessness on the path to our highest purpose. 
Read your Tarotscopes for your sun and rising signs for a more personalized cosmic insight.
Aries: Six of Wands
Put your skills on display, Aries. You possess a lot of talent, so don't hide it by shying away from the spotlight! Put yourself out there and take full advantage of the opportunities being presented to you right now, whether it's a promotion, a raise, or something grander! It's time for you to flex.   
MORE TAROT: How to read and use Tarot cards
Taurus: Page of Cups Reversed
Raise your voice, Taurus. Don't hold yourself back this week because your experiences (both good and bad!) are ready to be shared! You have wisdom that the collective needs to hear right now, so don't be afraid to let it rip!
Gemini: The Sun Reversed
Lighten up, Gemini. Not everything has to be so dramatically serious all of the time! Try to find the humor in the foibles of your current situation. If you need a little pick me up to give your perspective a little dose of optimism, there's nothing better than acknowledging all of your blessings and expressing gratitude. 
Cancer: Eight of Wands
Get moving, Cancer! The impediments that were keeping you feeling stuck the past few weeks are lifting, and now it feels like everything is falling into place to make your plans come together. Don't procrastinate now! Ride the wave and go with this momentum to see where it takes you.
MORE TAROT: Wondering how you can make a dream your reality?
Leo: Strength
Remain calm, Leo. When life throws an unexpected wrench into your plans this week, don't lose your cool or let your emotions get the best of you. You've got this! Don't think of it as a roadblock; reframe it as an opportunity to get creative and turn lemons into lemonade.
Virgo: Two of Swords Reversed
Don't let the pressure get to you, Virgo. The clock is ticking this week, and you must make a decision before this opportunity passes you by. Instead of getting stressed out by the options, take a moment to think about what you actually want to do (rather than what you feel is expected of you). If you let your heart lead on this one, you can't go wrong.
Libra: Seven of Pentacles Reversed
Reevaluate your options, Libra. Good things take time, but it is valuable for you to be able to know when something is taking far longer than it reasonably should. Is your current endeavor still worth your time and effort? Only you can be the judge of that so take some time this week to weigh your choices.
MORE TAROT: What should you expect at work today?
Scorpio: The Devil Reversed
Let go of the familiar, Scorpio. We all outgrow certain situations, but sometimes it feels hard to move on from something you have known for so long. Let's not let something go on too far past its expiration date, ok? Don't be afraid to close the door to try something new that aligns more with your current status. 
Sagittarius: Ten of Swords Reversed
Acceptance is key, Sagittarius. Instead of running from your problems or pretending your anxieties aren't giving you grief, take a look at what's been haunting you. The reality of the situation is far less scary once you stop avoiding it and confront it head-on.
Capricorn: Three of Pentacles
Pool your resources, Capricorn. You can accomplish far more this week with the help of others than you can by yourself. Tap into your network in order to find people to support you in the skills you lack so you can make the successful progress you desire.
MORE: Sign up for our newsletters for daily in-depth astrological content!
Aquarius: The Magician
This is your moment to shine, Aquarius! An opportunity has landed in your lap which allows you to flex your skills and put your hard-earned experience on display. This endeavor will require your full focus, so clear your schedule and double down on your efforts to make the most of it this week.
Pisces: Page of Pentacles Reversed
Don't let disappointments drag you down, Pisces. We all mess up sometimes, and unfortunately, the most painful lessons are often the most impactful ones. Still, use these recent mistakes as an opportunity to learn and make necessary improvements. Don't give up just yet because with a few tweaks. You can still salvage this.
Most Popular on
Astrology.com