Best Tarot Decks of 2019: Creative Cards for the Modern Reader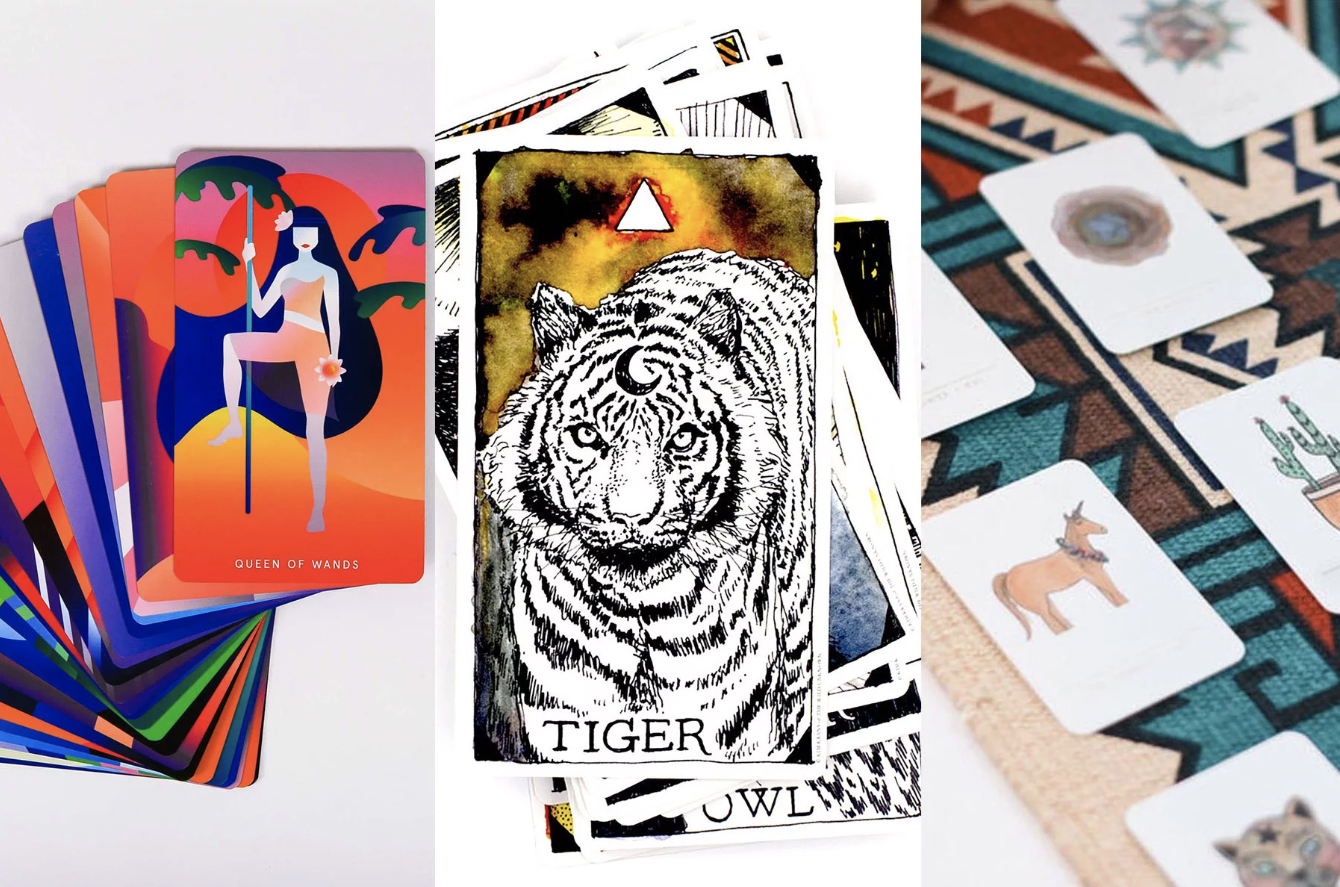 Becoming more and more popular in today's modern-day culture, Tarot is an alluring form of divination that has captured the likes of almost everyone. And it's easy to see why. With astrology dominating the conversation at every turn alongside reboots of all of our favorite spooky shows (see: Charmed, The Chilling Adventures of Sabrina), it's hard not to enjoy the amplified interest in the occult these days—and that includes Tarot.
Read me: This Is Your Sun Sign's Twinning Tarot Card
What Is Tarot?
For many, Tarot is a life-changing tool that allows us to tap into our higher selves. Through symbolism, imagery, and the mixture of these other divinations, Tarot provides access to our conscious and subconscious.
What started as a deck of playing cards in the mid-18thcentury has since evolved and folded into other types of divination, such as astrology and numerology. For example, the Rider-Waite deck, that classic deck you see clichély spread across a mystic's table situated next to a crystal ball in most eerie films, incorporates both astrology and numerology in its imagery and card meanings.
This Tarot reading will help you navigate the ups and downs of romance.
But for anyone unfamiliar with the practice, fear-invoking cards such as "Death" or "Devil" (and what they could symbolize) may be reason enough not to partake in readings.
Here's the contemporary truth: Tarot is not scary and anyone can learn how to read cards (yes, even you). When it comes to picking a Tarot deck, there's one out there for everyone. For instance, a deck with animal imagery may speak louder to one person than another.
Read me: 8 Signs You're Ready to Read Tarot Cards Professionally
Establishing a relationship with your deck is important—and that means starting from the day you choose it, onward. So if you feel like dabbling, check out our favorite decks of 2019 to see if you feel a connection. (Pro tip: Any Tarot reader will tell you that a gifted deck can oftentimes be more effective than one you've bought for yourself. If you're shopping for your BFFs' next birthday present, this could be the ultimate supernatural gift that keeps on giving.)
Read me: We Conjured 6 Witchy Podcasts for Your Listening Pleasure
Top Tarot Decks of 2019
The Wild Unknown Tarot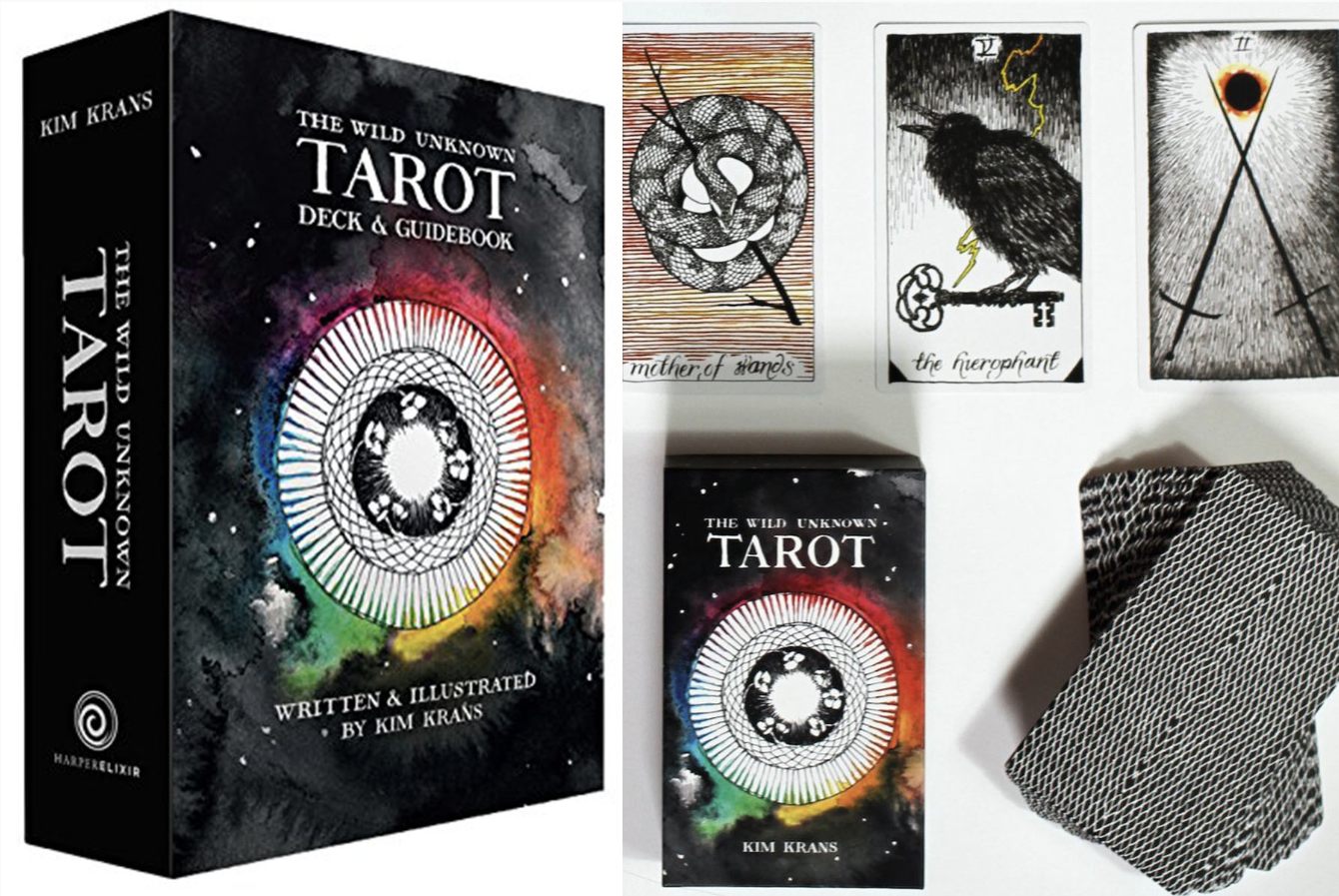 Courtesy of Amazon
The Wild Unknown Tarot Deck
, $28.77 
You've seen it on Instagram—this boxset includes a 200-page guide book complete with three new tarot spreads to try. The hand-drawn, minimalistic style offers a contemporary update on the traditional deck with undeniable witchy tones.
Rider-Waite Tarot Deck

Courtesy of Amazon
Rider-Waite Tarot Deck
, $15.60
You can't go wrong with the traditional deck! Originally published in 1910, the Rider-Waite deck serves as an excellent gateway for novices to familiarize themselves with the Tarot's symbolism. The full-scene depictions on each card provide clues to each card's meaning. (Pro Tip: Get the deck in another language to add an extra level of intrigue. I haven't put my Spanish deck down since I was gifted it!)
Tattoo Tarot Deck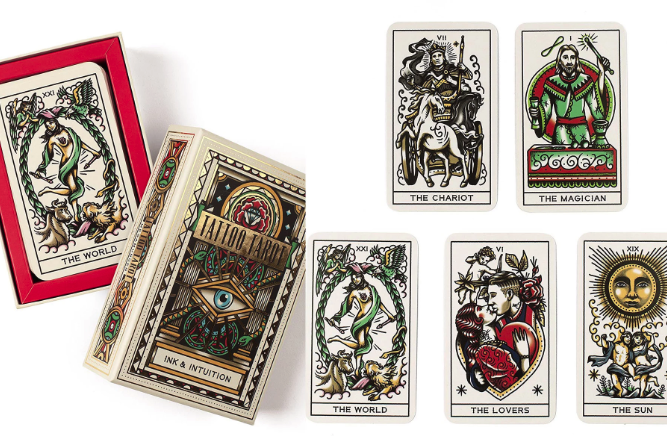 Courtesy of Amazon
Tattoo Tarot Deck
, $16.19
The art in this deck is inspired by Megamunden, the author of the best-selling Tattoo Coloring Book
. This is a complete deck that offers a modern, hip(ster) take on the Tarot. It comes with a 28-page guide book that delves in interpretations and the basics of conducting a reading.
Mystic Mondays Tarot Deck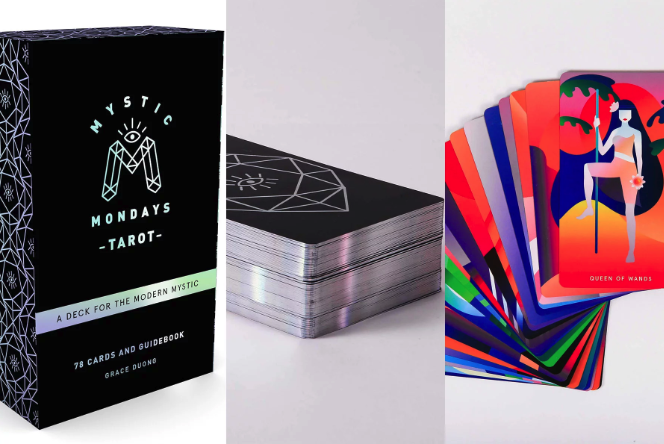 Courtesy of Amazon
Mystic Mondays Tarot Deck
, $19.19
Complete with holographic edges to wow at any party, this deck offers a bright and fresh contemporary spin on the traditional set.
Minimalist Tarot Deck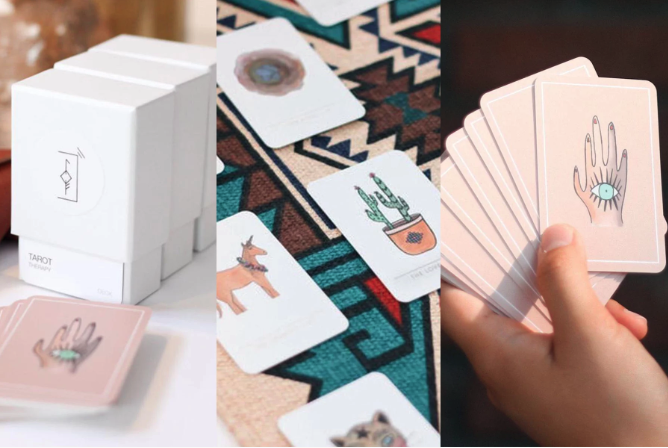 Courtesy of Etsy
Minimalist Tarot Deck, $36
This chic offering is a major arcana deck. The boxset comes complete with a piece of Kyanite and a downloadable app as a guide book. This deck is perfect for the minimalist in your life who needs to add some witchy flair to his or her coffee table book collection.
The Fountain Tarot Deck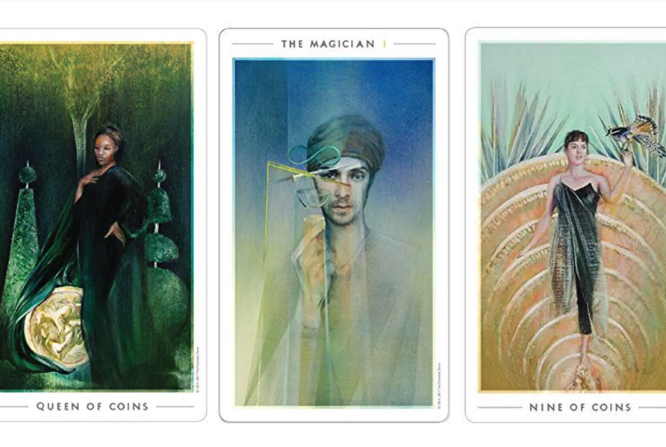 Courtesy of Amazon
The Fountain Tarot Deck
, $26.28
This deck very well could be the Birkin bag of tarot decks, with original art by Jonathan Saiz, each card has a stunning, ethereal depiction. The set comes complete with a guidebook that explains how to read the cards and develop a connection.
Wood Engraved Tarot Deck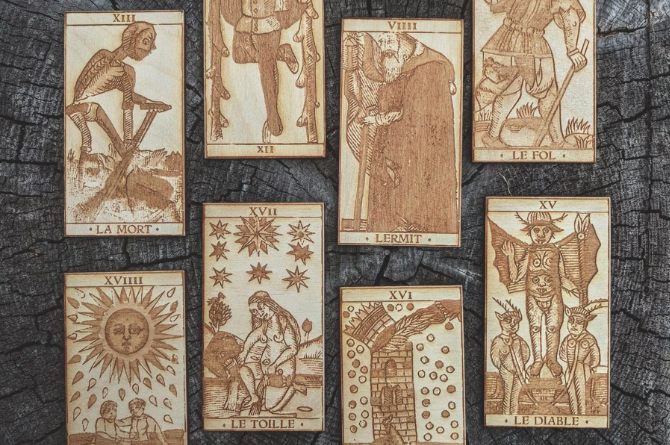 Courtesy of Etsy
Wood Engraved Tarot Deck, $79
Cut on Baltic Birch, each card is a replica of the 17th-century French Tarot De Marseilles deck designed by Jean Dodal. It's a 22-card deck that features the original French text on each Major Arcana card.
Afro Goddess Tarot Deck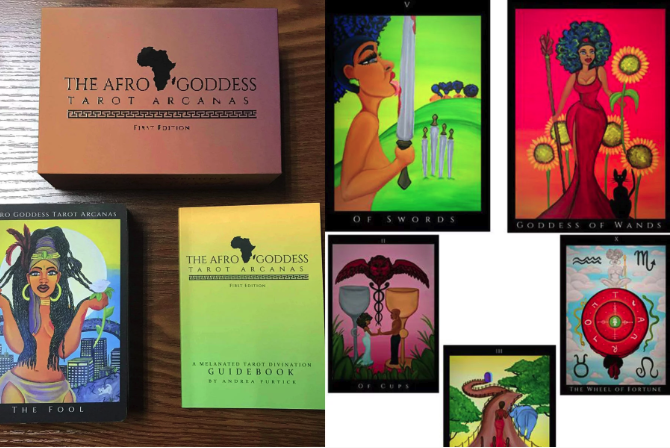 Courtesy of Etsy
Afro Goddess Tarot Deck, $69
Yas, queen! This deck has a spiritual connection to Africa with stunning imagery of Goddesses. It's a 79-card deck, and each card is hand-painted.
Moon Power Tarot Deck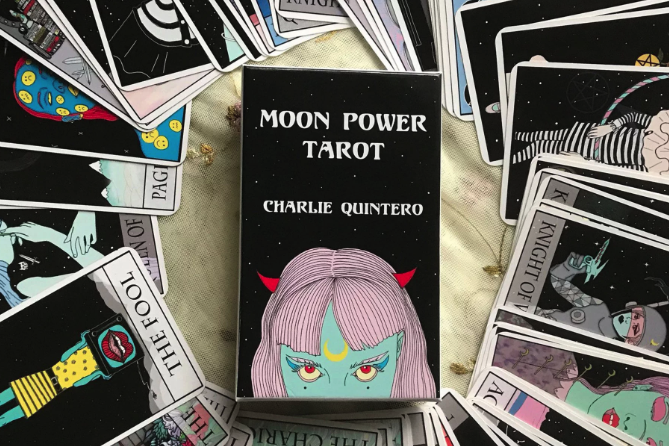 Courtesy of Etsy
Moon Power Tarot Deck, $52.80
This handmade boxset offers an out-of-this-world update on the traditional tarot's imagery. Each deck is made to order and takes 2-3 weeks to arrive.
Moon Void Tarot Deck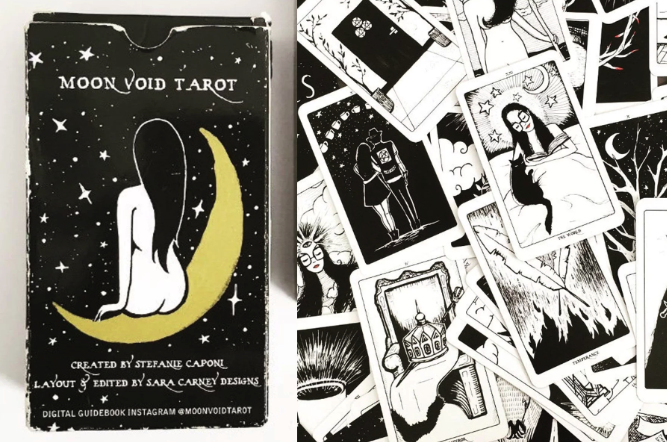 Courtesy of Etsy
Moon Void Tarot Deck, $40
This mostly black-and-white deck is a complete deck that's illustrated by Stefanie Caponi, a practitioner of various magick for more than ten years. The images are inspired by Caponi's interpretations of each tarot card and its symbolism.
Angel Tarot Deck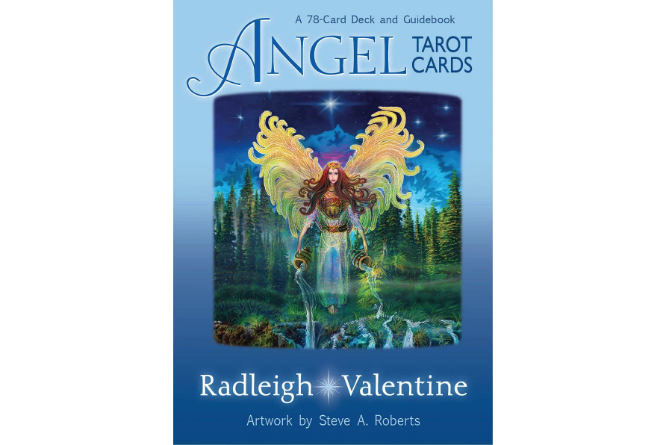 Courtesy of Amazon
Angel Tarot Deck
, $17.65
A longtime go-to for many readers, this deck features angels, archangels, unicorns, fairies and more to deliver the Tarot's messages. The guidebook offers advice on how to conduct a reading on others and suggestions on how to interpret each card.
Arcane Glyphs Tarot Deck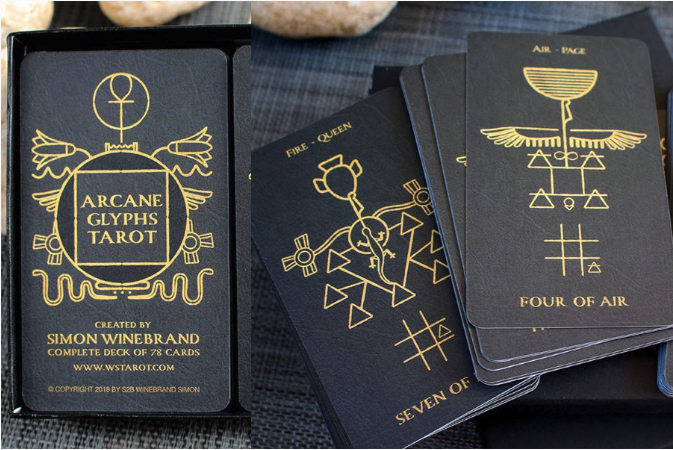 Courtesy of Etsy
Arcane Glyphs Tarot Deck, $44.95
This 80-card deck comes with the traditional Major and Minor Arcana cards and two additional information cards. The glyphs themselves are based on obscure symbols that represent humanity's deeper psychological states. It's recommended for personal and spiritual development, divination, tarot, card games, and more.
The Wooden Tarot Deck

Courtesy of Etsy
The Wooden Tarot Deck, $40
Woodland animals are the theme behind this deck. Unlock your mystical side through stunning, and sometimes haunting, animal artwork.
Most Popular on
Astrology.com