Welcome 2019 With the Help of These Energetic Crystals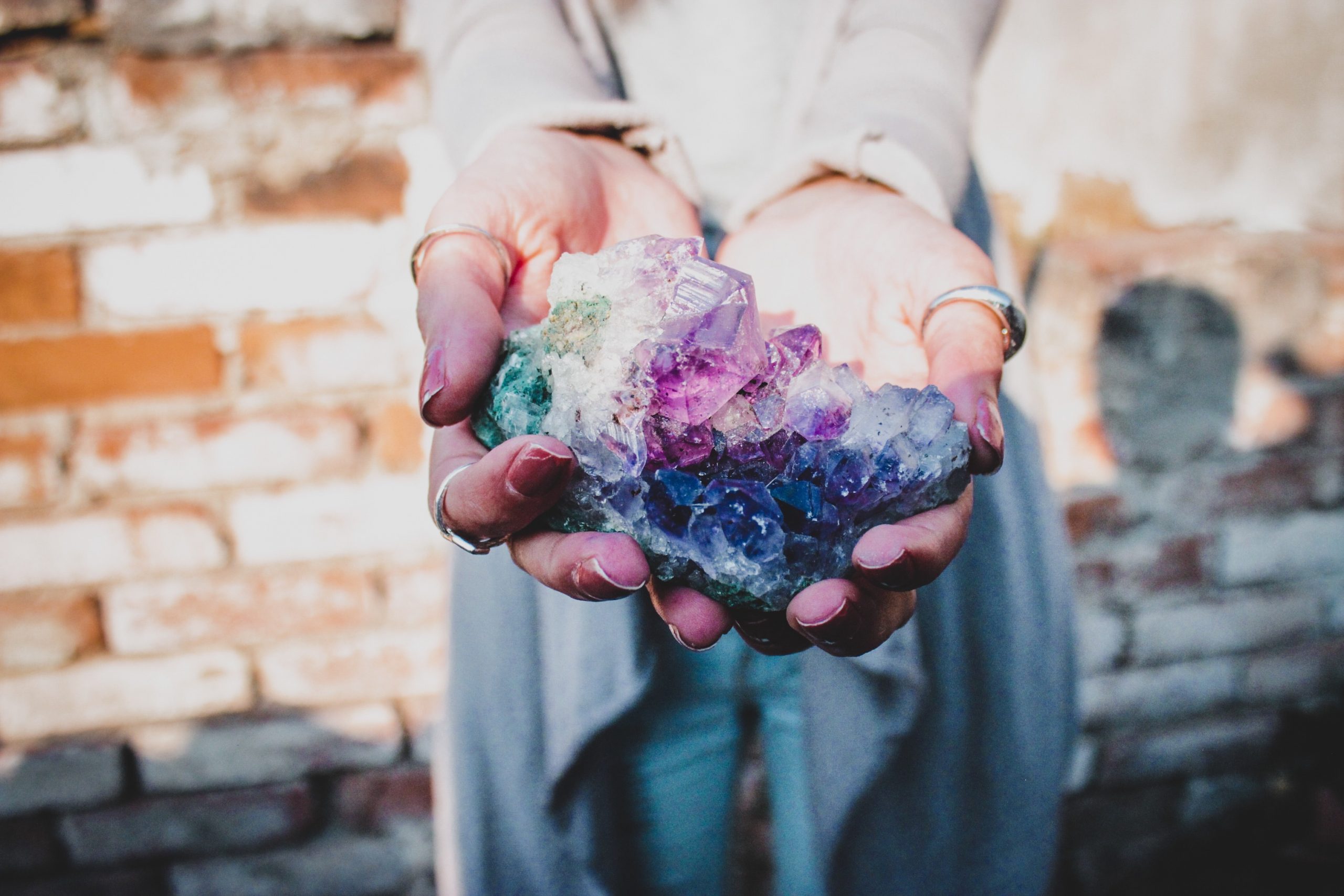 Our monthly Crystalscopes pair each zodiac sign with a crystal whose energies can support us through the coming month's transits.
Read these for your sun, moon, and rising signs to learn what you should wear, carry, or place on an altar to help boost your specific astrology for the month. These also work as remediations for specific houses in your natal chart.
But, first thing's first: What's up this month?
Click here for exact dates for all January 2019  transits.
An emphasis on Capricornian themes this month lends all of January a sober but very productive mood. Under Saturn's stern gaze, things may feel heavy or leaden but simultaneously transformative, especially as we experience the first eclipses of the year—there's a lot of internal alchemy going on. We may turn more reflective and inward, and all of us will wrestle with some internal demons. On January 2, the sun is conjunct Saturn at 11 degrees Capricorn, which can make or break us depending on our relationship with self-discipline, so get those resolutions right.
The first eclipse of the year is a solar eclipse, which takes place on the new moon in Capricorn on January 5. This is an opportunity to release any aspects of your ego that no longer serve your larger purpose. Dramatic shifts in social relationships are possible. We may feel an acute sense of shame, weakness, or embarrassment.
This month, Mercury switches signs twice, moving from Sagittarius to Capricorn on January 5 (the same day as that solar eclipse that, somewhat agonizingly, calls forth our higher selves) and then from Capricorn to Aquarius on January 25. There is ample opportunity to shift perspectives and realign with our cosmic work due to the messenger's unimpeded movement across the spheres. January 13, though, will be a bit of a humdinger: Mercury will conjunct Saturn in Capricorn on the same day that Jupiter squares Neptune. This brings in lofty ideas and beautiful dreams, but also a sense of despair or difficulty with communication. We are experiencing the full extent of our limitations this month.
On January 21, we stumble into a lunar eclipse at one degree Leo, visible across the entire North American continent and affected by a square to Uranus in Aries. Phase two of releasing the lower aspects of ourselves, this eclipse will likely involve more grief, catharsis and release than the first—and there may be a great deal of uncertainty and worry tied up in this transit. Be cautious with impulsivity and recklessness.
Finally, on January 31, we have Saturn sextile Neptune—the first of three precise sextiles between these two in 2019. The two energies are not naturally compatible, and yet they basically rule 2019. Our goal is to find spiritual order this year; to see if Saturn's tendencies toward restriction, practicality, boundaries, and order can harmonize rather than clash with Neptune's boundlessness, dreaminess, and illusion. We will close this rather grueling month with new knowledge about what routine and governance we may need to bring to our spiritual and creative selves—or in which ways the muse can help us steer the ship.
Read on for the crystals that may be able to support you the most in this work this month!
Click here for your personalized in-depth horoscope for January
JANUARY 2019 CRYSTALSCOPES
ARIES
Ruby
January's cosmic upheaval lights up Aries' career and life goals, as your ruling planet Mars comes home to roost and lends a can-do quality to the month's practical assessment. The first eclipse of 2019 will be especially potent for Aries and brings in all manner of assistance with productive long-term planning and goal-setting. Ruby is a traditional gemstone for fortifying Aries' best qualities (especially bolstering optimism and a sense of adventure) and is an excellent ally when worn or carried this month.
TAURUS
Cat's eye
As Venus, Taurus' ruling planet, sashays into Sagittarius, it is likely that Taurus will experience an abundance of new possibilities when it comes to love, sexuality, travel, and abundance. Things may feel unusually sped up for Taurus natives as the Universe sends a myriad of enticing opportunities at once. Discernment is key! Cat's eye, especially the gray variety, helps Taurus lean into the hard work of making clear choices and determining priorities so as not to become stagnant or overwhelmed. Carrying a small piece of cat's eye as a secret talisman is especially potent.
GEMINI
Hematite-included quartz
2019 brings a lot of changes for Gemini, and January provides the opportunity to clear the slate for the year ahead. Expect (and embrace!) big shifts in relationships, health, family, and chosen alliances. There's probably a need to release or let go of anything that no longer serves you, especially things that have dragged on for too long—allow for a gentle dissolution wherever possible, in order to simplify and prepare for the exciting possibilities lying ahead. A piece of hematite-included quartz will anchor your strength and keep confusion or second-guessing at bay.
CANCER
Blue lace agate
January is all about communication for Cancer, and especially about stating where your boundaries and limitations are. There have been significant shifts in how you view your closest and most intimate bonds, and the presiding desire may be to shut down and withdraw—but the opposite is needed. Cancer is being called to show up in ways that are both deeply vulnerable and deeply honest. Blue lace agate is considered one of the foremost mineral allies in supporting clear communication. Wear some at your throat or hold a piece in your hands when having difficult conversations.
LEO
Peridot
This month loops you back into your most important relationship — the one you share with yourself. Health routines, personal objectives, and erasure of negative self-talk are central to helping Leo maximize the power of this month's astrology. Leo's traditional birthstone helps eradicate fears of being unloved or unworthy and boosts commitment to taking good care of yourself. Peridot-infused elixirs or hydrosols may be a great addition to a self-care routine.
VIRGO
Muscovite
Muscovite can seem like an unusual and unassuming choice for Virgo when there's so much internal glamour rising to the surface for these often-humble natives. But muscovite is the most common variety of mica and is often found in mineral makeups, where it is responsible for lending gleam and shimmer to powder eyeshadows and highlighters. And that's Virgo's role this month as well, as creative blocks dissolve and the sparkle Virgo has worked so hard to cultivate comes rising to the top. Incorporate a mica-infused cosmetic to help you literally sparkle and shine.
LIBRA
Amethyst
2018 was hard for everybody, but Libra faced some unique challenges. The pressure lessens a little with the New Year, but there's a great need to self-soothe in the aftermath of such significant upheaval. The eclipses may prove particularly emotional for Libras and may trigger more self-destructive habits. Amethyst, considered by the ancients to be an ally in attaining sobriety, will help Libra redirect anxiety to healthier outlets.
SCORPIO
Black pearl
January opens up multiple aspects of life wherein Scorpio can make a serious power move that will have long-lasting results. Love life, career, and close friendships are all in need of that notorious Scorpio magnetism and intensity. Some risk-taking will inevitably be involved, but it will be rewarding. While the transits of the planets are assisting Scorpio in diving deep and being bold, black pearls can assist in grounding and diffusing the potency where necessary. A single pearl drop or a strand of beads can remind Scorpio that setbacks, injuries, slights, and challenges are part of the story, but not the focus of it.
SAGITTARIUS
Marble
A lot of exciting and unpredictable energy swirls around for Sagittarius this month, as Venus joins Jupiter in your sign—fortunes can shift dramatically, for better or for worse. Finances have likely been challenged or under scrutiny (this may go for your love life, too), and grounding out and trusting situations to be reliable can feel difficult. Marble possesses a cooling, dispersing energy that assists Sagittarius in coming down to earth and taking things one day at a time.
CAPRICORN
Labradorite
Happy solar return, Capricorns! With so much attention paid to the serious and workaholic aspects of Capricorn, it is easy to forget that this sign also holds profound mystical capacity. The symbol of the sea-goat comes from the ancient deity Enki, who taught humans how to be humans. There is a connection between the daily labor and ethics of Capricorn and the aim to which this last-quadrant earth sign aspires, which is that of luminous transcendence and bettering oneself through discipline. Labradorite helps lighten the burdens and pressures of the material world, while also allowing us to build and expand upon positive routines and habits.
AQUARIUS
Green garnet
January sees Aquarius immersed in the potency of reflection, introversion, and introspection. This month can be remarkably cleansing for Aquarius especially, but the work must be carefully attended to. Time spent alone is especially potent and provocative, as you return to your soul's contracts with this earthly embodiment. Green garnet on your altar helps you remember all of the work you have already done to clear the way for yourself. The natural optimism and brightness of this gentle and loving stone energy remind us not to return to toxic modes of being, as tempting or familiar as they may be.
PISCES
Dravite (brown tourmaline)
Pisces undergoes one of the most intriguing shifts this month, a kind of blossoming into a powerful new sense of fortitude and self-esteem, as well as exploring new sides of themselves socially and professionally. Here, old curses can be broken, outmoded social behaviors challenged and deconstructed, without much fuss. Pisces feels genuinely ready to be stable and centered, and dravite is just the thing to help. This heavy, dense stone vibrates at a deep and calming frequency, and as Pisces wades into unexplored waters of responsibility and owning your successes, dravite can help keep these changes feeling safe, sane and celebratory.
Image by Mariel Zabk via Twenty20
Most Popular on
Astrology.com