February's Crystals Will Help You Embrace the Season of Love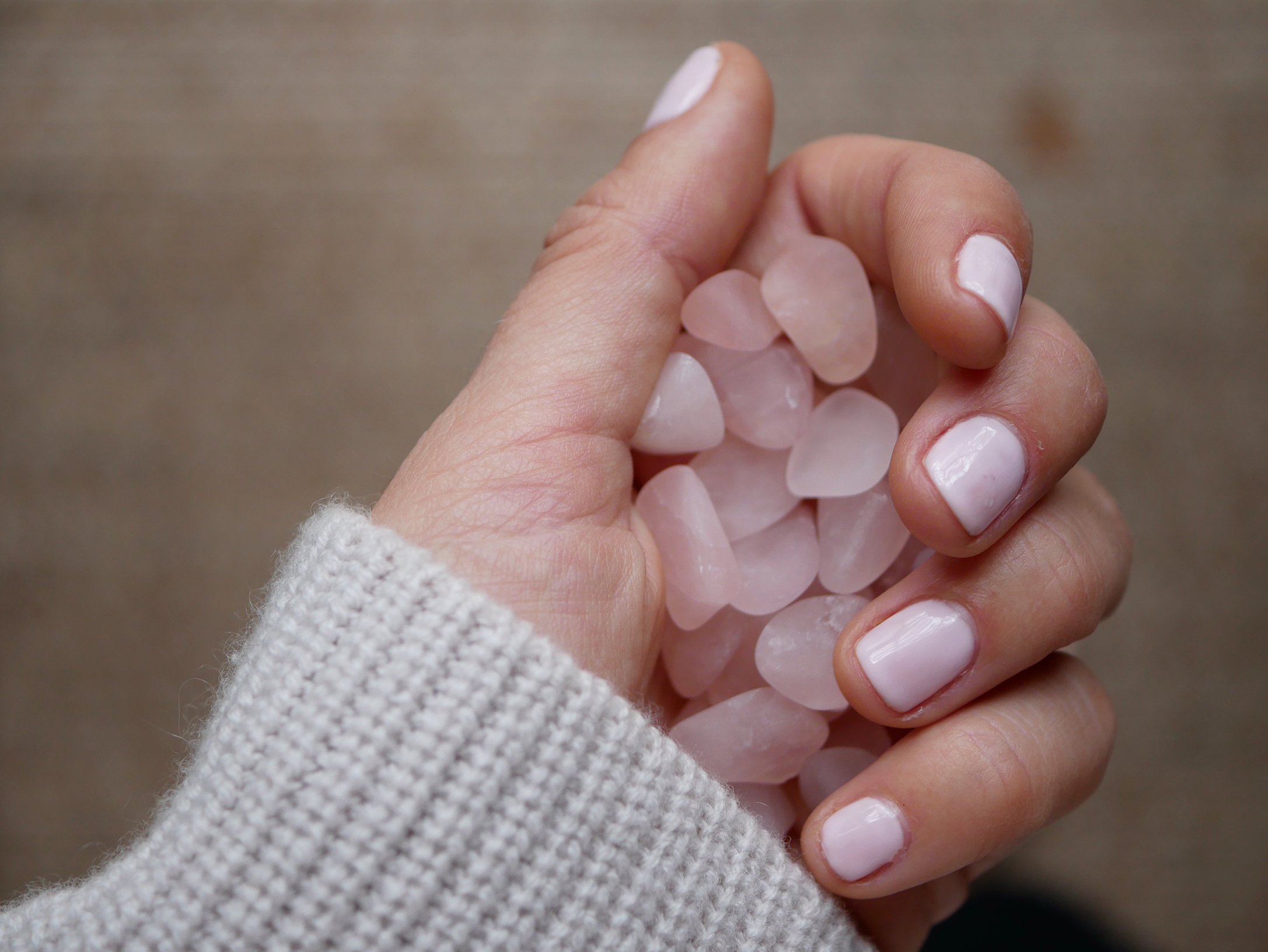 Our monthly Crystalscopes pair each zodiac sign with a crystal whose energies can support us through the coming month's transits. We choose crystals that are accessible and widely available. You may see the same stone pop up from month to month as a medicine for a different sign—consider it an invitation to add to your toolkit!
Read these for your sun, moon, and rising signs to learn what you should wear, carry, or place on an altar to help boost your specific astrology for the month. These also work as remediations for specific houses in your natal chart.

Learn more about February's transits—and what they mean for you!
FEBRUARY 2019 CRYSTALSCOPES
ARIES
Watermelon Tourmaline
Make the most of your ruling planet Mars's last two weeks in your sign while allowing its transition into Taurus to be a graceful one with the aid of watermelon tourmaline. The energy of this gorgeous gemstone, which combines the pink and green rays of the heart, help us to unapologetically pursue our heart's truest desires—but at a slow-and-steady pace that allows us to be loving, compassionate, and humble in achieving our goals.

TAURUS
Carnelian
With Mars moving into Taurus this month (and Uranus following suit in March) the energy around Taurus will be undeniably high—almost peaking at times. Mars is the ruler of ambition. In Taurus, this force will manifest as information about what roles you're ready for and which patterns may not be serving you. Carnelian, the ancient stone of vibrant life force, can add just the oomph you may need to maximize the experience of your very exciting (and slightly chaotic) February.

GEMINI
Lepidolite
Manage stress this month with lepidolite, a glimmering lithium-included variety of mica. Social activity may feel overstimulating this month and demands on your time will be plentiful. Calm yourself by holding a piece of lepidolite between your palms. This is an excellent time for Gemini to cultivate a personal care practice relating to meditation or contemplation.

CANCER
Tanzanite
The nodes have shifted to the Cancer-Capricorn axis and the Cancerian energy is preparing for its time in the spotlight. Tanzanite is a beautiful color-shifting gemstone that illustrates the connection between the heart, the root, and the throat chakras, encouraging us in healthy, balanced expressions of our needs and desires. Cancer will have a heart-expanding month, and tanzanite can help keep everything feeling safe and sane.

LEO
Chiastolite
The ride isn't quite over yet! Leo has done a lot of hard work over the past year and a half and is preparing to reap the benefits of a good deal of uncomfortable soul-searching—but may be running into some exhaustion and fatigue. Things can still feel a little blurry and it may be hard to see the road ahead. Chiastolite, an ancient stone of pilgrims, assists Leo in remaining centered and focused as they take the next step.

VIRGO
Pink Kunzite
With Venus and Mars in harmonious fellow earth signs, Virgo has a real possibility to open up to love and romance in a way that defies the buttoned-down stereotype associated with this sign. Passion, intrigue, and delight are all on the table this month if Virgo can breathe through the anxiety that also crackles in the air.

LIBRA
Gold
Mars opposing your sign during the first half of February forces you to prove your mettle this month. The cosmic forecast suggests a need to keep your ego in balance this month, and gold is an alchemist's secret weapon. Wearing a simple gold chain or band, especially one you have enchanted for this purpose, can help keep Libra's keen and active mind (further electrified by the Aquarian focus of the month) in serene balance, keeping humility and just the right amount of moxie to get done what needs to get done.

SCORPIO
Turquoise
Some frustrations can come up for Scorpio this month, but turquoise ensures that the stinger need not appear where it is not necessary. Tempers for Scorpio can run a little hot once Mars moves into Taurus, and turquoise is the gemstone equivalent to a few nice deep breaths. Wear at your throat for maximum cooling effect and to avoid arguments with friends and loved ones.


What do the stars have in store for you?
SAGITTARIUS
Ocean Jasper
This month is exciting, turbulent, and a bit tense for Sagittarius, as there is a lot going on under the surface. The mystery surrounding some unresolved issues can be panic-inducing or provoke unpredictable behavior, but ocean jasper helps Sagittarius catch the wave and ride the tide of emotional upheaval rather than drowning in it. Reveling in uncertainty is one of Sagittarius' greatest strengths when the force exhibits itself in an exalted manner. Grab a piece of ocean jasper and dive in!

CAPRICORN
Jade
The nodes have shifted to activate the Capricorn-Cancer axis, signaling Capricorn's call to receive increased acclaim, praise, and prosperity. This month is important for proving one's character and exhibiting patience, as well as perhaps developing a meditation practice. Things may feel that they are advancing too slowly but trust the pace and use the delays to get things right the first time. Jade is a traditional accompaniment to mindfulness practices, which will prove especially useful for Capricorn this month.

AQUARIUS
Rose quartz
Happy birthday, Aquarians! After all that action on the Leo-Aquarius axis the past year and a half, it is time to reclaim and revel in self-love. Rose quartz is often lauded as a stone for generating or attracting romantic love, but this beautiful and beloved stone is also excellent for cultivating spaces of deep self-love and high self-esteem. Wearing a piece for a prolonged period, or meditating with one over several weeks, can produce profound shifts in how we relate to ourselves and our bodies, which may be just what Aquarius needs right now.

PISCES
Garnet
As the sun slips into deep Piscean waters, sinking down into the collective's 12th house, all boundaries and structure can feel wobbly and dissolute. While this can sometimes be a liberating feeling, there is a great need for us to hold onto positive structure and routine at this time. Garnet can be a profoundly helpful ally for Pisces energy when it feels uprooted or fuzzy around the edges. Holding a garnet in one's palm is an almost instant grounding technique and wearing garnets can help keep even the dreamiest Pisces feet planted on the ground.


Image by Amanda Eddy via Twenty20
Most Popular on
Astrology.com