Your Weekly Horoscope for January 16 to 22, 2022: Full Moon in Cancer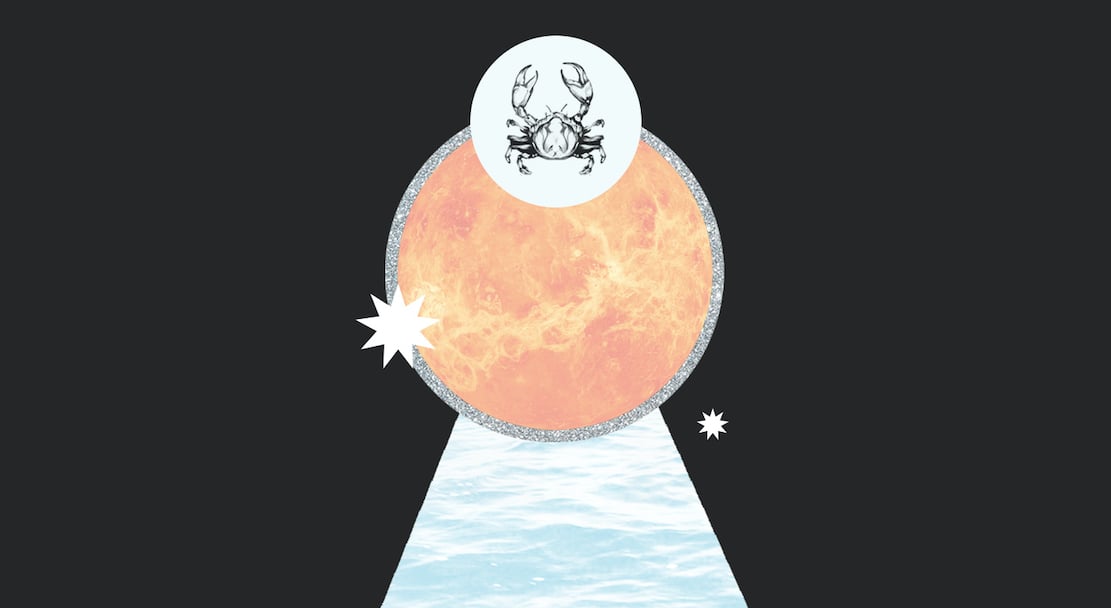 The stars are shifting this week! There is a spectacular lunation to look forward to on Moonday (pun very much so intended), along with a few significant planetary changes on Tuesday and Wednesday.
On Sunday, January 16, the sun conjuncts Pluto in Capricorn, creating an alliance between the boss ego and the CEO of the underworld. A powerful transformation is activated, as Pluto has an uncanny ability to tear down even the highest walls, baring something or someone for what it truly is—the good, the bad, and the ugly. The truth behind the Capricorn-led ego comes to light when Pluto unearths the importance of power in authority, structure, and maturity. As a result, the conjunction can be stressful, as it might allude to powerful figures undergoing a public awakening and personal pride could be unturned. Tread lightly!
Then two planetary shifts will redirect the collective mentality on Tuesday, January 18. Uranus stations direct in Taurus, inciting a slow, but sure, fiscal revolution. Expect the unexpected with resources! Because Uranus is a distant, collective planet, its direct motion might be increasingly felt over time. Then the Taurus/Scorpio energy heightens as the Nodes retrograde back into this astrological axis. The North Node is now in Taurus, putting the South Node in Scorpio. This shift in fate and destiny is imperative—it turns the collective attention towards the South Node's power struggles with security and the North Node's comfort level within its means. Both transits work together to ask the collective one thing: What do you actually value?
The Full Moon in Cancer
It is quite fitting to have the full moon in Cancer on the day the moon rules: Monday! On January 17, the domicile moon will peak, accumulate, and reverberate. Emotions tend to run high already, so the domicile moon will be swimming in its feelings. As Cancer rules over the home and family, it might allude to a domestic cycle coming to head. Relationships with the mother and inner child are likely to cause someone to shed a tear or two. Ongoing emotional investments in the home come to light, as the ancestral truth shines true. When Moody Luna's nurturing capabilities touch everyone's hearts, intuition and compassion come naturally. Be gentle with yourself. 
MORE: TOTAL (SOLAR) ECLIPSE OF THE HEART: CANCER'S NEW MOON
Aquarius Season Begins
Finally, the sun enters Aquarius on Wednesday, January 19. According to traditional astrology, the sun is considered to be in exile when in Aquarius. But any transit or aspect can be purposeful—it is what you make of it! Aquarius is a fixed, masculine air sign that is co-ruled by Saturn and Uranus, invoking a semi-stable, semi-structured rebellion. While positioned in the sun, Aquarius encourages the collective to listen to their inner mad genius. Now is the time to show up authentically, not caring about social norms or restrictions. March to the beat of your drum throughout Aquarius season!
MORE: Your 2022 Love Tarot Reading knows what to expect in the year ahead!
Major Transits of the Week
1/16 — Sun in Capricorn conjuncts Pluto in Capricorn
1/17 — Full Moon in Cancer
1/18 — Uranus stations direct in Taurus, True Node in retrograde enters Taurus
1/19 — Sun enters Aquarius
Your Weekly Horoscope for January 16
Feel all the feelings under the full moon in Cancer. Get cozy at home, as you sit with your heart. Luckily, you are sure to feel like a renewed social butterfly when Aquarius season arrives!
Poignant conversations with close friends might come to a peak under the full moon in Cancer. Remember to speak from the heart! Later, your attention is all about your image and career goals with the debut of Aquarius season.
Money matters hit a heartstring during the full moon in Cancer. It could be worth kicking bad budgeting habits to the curb to focus on your savings. When Aquarius season begins, your mind will be thinking about distant lands and new opportunities to learn. 
You are in the spotlight under the full moon in Cancer. Time to consider your personal evolution from six months ago to now! How have you changed? Consider this as Aquarius season is ready for your unique transformation.
Expect your emotions to run deep under the full moon in Cancer, which might cause you to retreat and reflect. Luckily, you will be ready to socialize once again when the sun enters your opposite sign, Aquarius!
Friendships and dreams are under review during the full moon in Cancer. Virgo, how have your emotional investments paid off? Consider your answer as you move into Aquarius season, which will put your everyday life and routine into perspective!
Sign up for our newsletters and get in-depth astrological content delivered in your inbox!
What have you accomplished in your career over the past six months? Your professional journey peaks under the full moon in Cancer! Later, Aquarius season will inspire you to find unconventional ways to enjoy life and romance.
Opportunities to explore and learn peek under the full moon in Cancer, encouraging what you can take away from your experiences. As the week goes on, your attention will shift to your private life of home and family when the sun enters Aquarius.
The full moon in Cancer brings your vulnerability to the center stage, as you consider the emotional evolution of your intimacy and finances. Emotions simmer down when the sun enters Aquarius, enticing you to get connected with your friends.
Relationships are in review during the full moon in Cancer, as you consider your stance in your relationships. Emotions will die down, and you will feel more level-headed about your resources when Aquarius season begins.
The full moon in Cancer is introspective, asking you what you are willing to emotionally invest in with your health and work. You might feel more self-assured following the full moon when the sun enters your sign!
Romance and joy might overflow under the compassion full moon in Cancer early on in the week. Later, your attention turns toward your inner innovation when the sun enters Aquarius.
Store
Recommended Reports For You
Most Popular on
Astrology.com