Your Weekly Horoscope for June 19–25, 2022: Cancer Season Is Calling!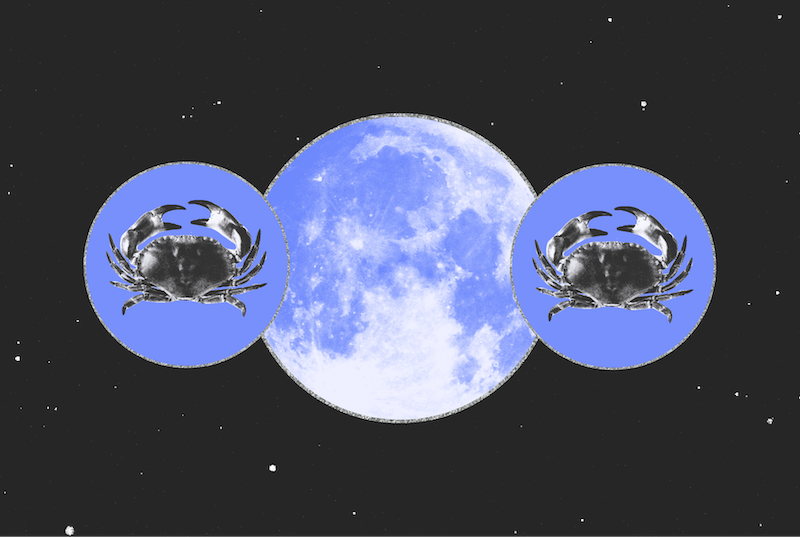 Beginning on Sunday, June 19, Venus in Taurus sextiles Neptune in Pisces, creating harmony between the two domicile celestial bodies. Venus and Neptune can work together to create magic. Neptune can encourage Venus to be fluid with resources, embody a fantastical style, and become openly amorous in love. Venus can help ground dreamy Neptune, allowing Neptune to be hopeful but realistic. Although this sextile will feel like a fairytale, there can be an illusory vibe. If there is any secrecy during this sextile, it may come out towards the end of the week when Venus trines Pluto retrograde! 
A day later, Mercury in Gemini sextiles Jupiter in Aries, but this isn't the first time they have met! Mercury and Jupiter joined forces during Mercury retrograde on May 19. Consider any egregious miscommunication that may have happened during this time, as it could come back today now that both planets are direct in their second sextile. As conversations unfold today, consider any significant or philosophical ideas that may come up with excitement! Jupiter can expand upon Mercury's curious mind, so a small comment could lead to something astounding.
Then a few days later, Venus in Taurus trines Pluto retrograde in Capricorn, inferring harmony between the domicile venus and the regressing CEO of the underworld. If there are any secret lovers or romantic relationships from the sextile earlier in the week, then they could come out during this trine! Aside from that, Pluto is unveiling the power struggles with the Venusian themes of money, commitment, and beauty. Now could be an excellent time to consider how much power is either taken or given to such themes!
Quarterly Check-in with Luna
Under the last quarter moon in Pisces, there will be an emotional fluidity with embracing the future while also saying "goodbye." The transition is easy as Luna's mutable watery embrace allows us to enjoy how far we have come while remaining hopeful for the next step in our journeys. Allow the intuitive aspect of Pisces to flow during this lunation!
Cancer Season Begins!
Summer has officially commenced once the sun enters Cancer! Cancer season is the time to honor our roots — our lineages, where we hail from, and the family we continue creating. Home and family are the main themes throughout Cancer season as it is the time to reconnect with our loved ones. Do not be surprised if you turn into a little bit of a homebody during Cancer season!
Since the sun is now reporting to the moon, we may feel moodier than usual as the sun reverberates in the sign of the reactive crab. Feel everything as it comes in the way that it demands to be felt during Cancer season! Leaning into your emotional gravity will allow you to enjoy the beginning of summer feverishly. The intensity of listening to our gut feelings will come with our moodiness since our intuitive cues will never lead us astray.
The Duality of Venus
Although Gemini season is over, the duality of the twins lives on when Venus enters Gemini. Now reporting to Mercury, Venus in Gemini becomes quite the flirt! Communication is essential as Venus in Gemini absolutely needs mental stimulation and light-hearted interactions to fall in love. The best way to win someone's heart during Venus in Gemini is by asking them questions, indulging in their curiosity, and sharing your fun facts! Since Venus embodies this wonderful duality, there could be a more open-minded approach to who we fall for.
Money becomes more of a mental matter as Venus in Gemini views security as an ebb and flow. Security may come and go, so Venus in Gemini will likely come up with numerous ideas to capitalize on what we have at our disposal. Opportunities to profit from education, publishing, editing, and communication could pop up throughout this transit.
The dexterity of Venus in Gemini extends to its views on aesthetics and style. Art, music, fashion, interior design, and more are incredibly flexible. Venus in Gemini is open to tweaking its beautification process as new insights or comments inspire different routes.
Major Transits of the Week
6/19 – Venus in Taurus sextiles Neptune in Pisces
6/20 – Last Quarter Moon in Pisces
6/20 – Mercury in Gemini sextiles Jupiter in Pisces
6/21 – The sun enters Cancer
6/21 – Venus in Taurus trines Pluto retrograde in Capricorn
6/22 – Venus enters Gemini
MORE: Curious about what the end of June may bring?
Your Weekly Horoscope for June 16
The desire to nest will come on strongly once the sun enters Cancer this week. Tap into your inner homebody and enjoy your sacred space during Cancer season!
Pay attention to your emotional presence in your conversations with companions as Cancer season unfolds. Your intuition will tell you what you need to know!
Secure your resources now that the sun is in Cancer! Use this scrupulous Cancer season to stabilize your financial security.
It is your time to shine this week when the sun enters your sign! Cancer season will encourage you to step out and show up with courage.
How can you better nurture yourself now that the sun is in Cancer? Use the Cancerian energy to tap into your soft, sensitive side.
What dreams and friends can you care for? With the sun moving into Cancer this week, your intuition can guide who or what you nurture.
As the sun moves into Cancer this week, you may want to consider what aspects of your career you want to better develop. Time to nurture your accomplishments!
Time to invest your time and energy into your self-growth now that the sun is in Cancer. Cancer season will bring forth inspiring adventures that will define your beliefs.
Honor your power of intuition and caretaking now that the sun is in Cancer! Cancer season may be more introspective but undeniably psychologically empowering.
Show your soft, sensitive side to your loved ones as the sun enters Cancer. Use your opposite sign season to grow closer in your emotional bonds!
What healthy practices can you nurture now that Cancer season has begun? The sun in Cancer will help you become more attuned to your body and daily practices.
Romance and joy are yours to enjoy now that Cancer season is in full swing! Your intuition can help guide you in your fantastical passions.
Most Popular on
Astrology.com