Your Weekly Tarot Reading for August 14–20, 2022: Listen to Your Intuition!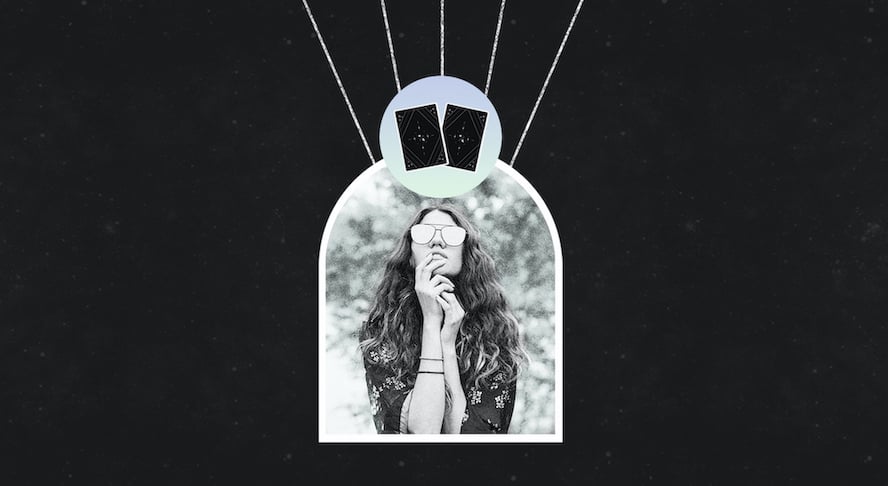 Open your heart to the possibilities of your intuition, as this week's intuitively chosen Tarot cards reflect the importance of paying attention to your instincts. When it comes to exciting new opportunities or a chance encounter with someone you are just starting to get to know, count on your divine perception to lead the way without second guessing or overthinking your choices.
Don't hesitate — read on for your mid-month Tarotscope!
Aries: Seven of Swords
Work smarter, not harder Aries. Obstacles abound this week, getting in your way to threaten the efficiency of your tightly organized routine. Before you get frustrated, take a more logical approach. Utilize your cleverness and astute problem-solving skills in order to alleviate all of the frustration.
MORE: How to read and use Tarot cards
Taurus: Queen of Cups
Trust your intuition, Taurus. Being sensitive is a gift, but don't let it overwhelm you. Pay particularly close attention to how you feel in the presence of new people you are interacting with this week, and that first instinct will tell you everything you need to know. No second guessing!
Gemini: The Sun
Feeling down, Gemini? Shift your attitude to gratitude this week as you take stock of all of the simple pleasures that make your life feel more at ease. Being more thankful will help you feel more balanced and aware of all of the new people, places, and opportunities arriving in your orbit.
Cancer: Ace of Wands
Seize the moment, Cancer. Everything is aligning in your favor as this week's energy provides an optimal time to just go for it and make a major move. Trust your instincts without hesitation, even if it feels almost too good to be true! Say yes, accept the deal, and sign the contract! 
MORE TAROT: What should you expect at work today?
Leo: Ten of Pentacles Reversed
Money isn't everything, Leo, and we all know that it certainly cannot buy you happiness. Carefully consider your relationship to your finances this week as you weigh the options of whether it's worth your energy to take on all of the extra work coming your way. Taking a break could be just as beneficial at this point.
Virgo: Justice
Release that sense of urgency, Virgo. You have an important decision to make, but you also have time to do so. Why rush?? Use this timeline to your advantage by getting centered and carefully consider all of your options before fully committing to anything.
Libra: Ace of Pentacles Reversed
Don't count your chickens before they hatch, Libra. A new job opportunity is coming your way which could be quite fruitful, but try not to get too carried away fantasizing about how you will spend all of that extra income! Wait until that official contract is signed first.
MORE TAROT: Wondering why you feel out-of-whack some days?
Scorpio: Eight of Swords
Don't overthink it, Scorpio. The more you obsess about your current situation and ruminate over the possibilities, the more you are going to doubt yourself and your decision-making skills. Go with your first instinct, commit fully to your choice, and then just keep it moving.
Sagittarius: Seven of Cups
It's time for a reality check, Sagittarius. Your head has been buoyantly filled with fantasies and floating in the clouds lately, leaving all logic unchecked. It's been fun while it lasted, but the honeymoon phase is now coming to a close. So prepare yourself to reenter the real world.
Capricorn: Four of Pentacles Reversed
What are you avoiding, Capricorn? It feels like you are looking anywhere and everywhere except exactly where you should be placing your focus! Distractions can be fun, but they can also heighten your anxiety as you steer clear of whatever it is you should be facing. Do yourself a favor by limiting the diversions.
MORE: Sign up for our newsletters for daily in-depth astrological content!
Aquarius: The High Priestess
See what unfolds, Aquarius. Your current situation is feeling rather mysterious, but that does not have to be a bad thing! This is your moment to enjoy the unknown instead of rushing to make a bold move. Relish any opportunity for peace and the solitude of stillness in order to discern your next move.
Pisces: Ten of Cups Reversed
Express your appreciation, Pisces. Open your heart up a little wider this week as you make it more of a point to tell your loved ones how much you care about them. Everyone loves to feel appreciated, so acknowledge all the ways they support you and meditate on gratitude.
Store
Recommended Reports For You
Most Popular on
Astrology.com