Your Weekly Tarot Reading for September 24–30, 2023: Rest and Reflect.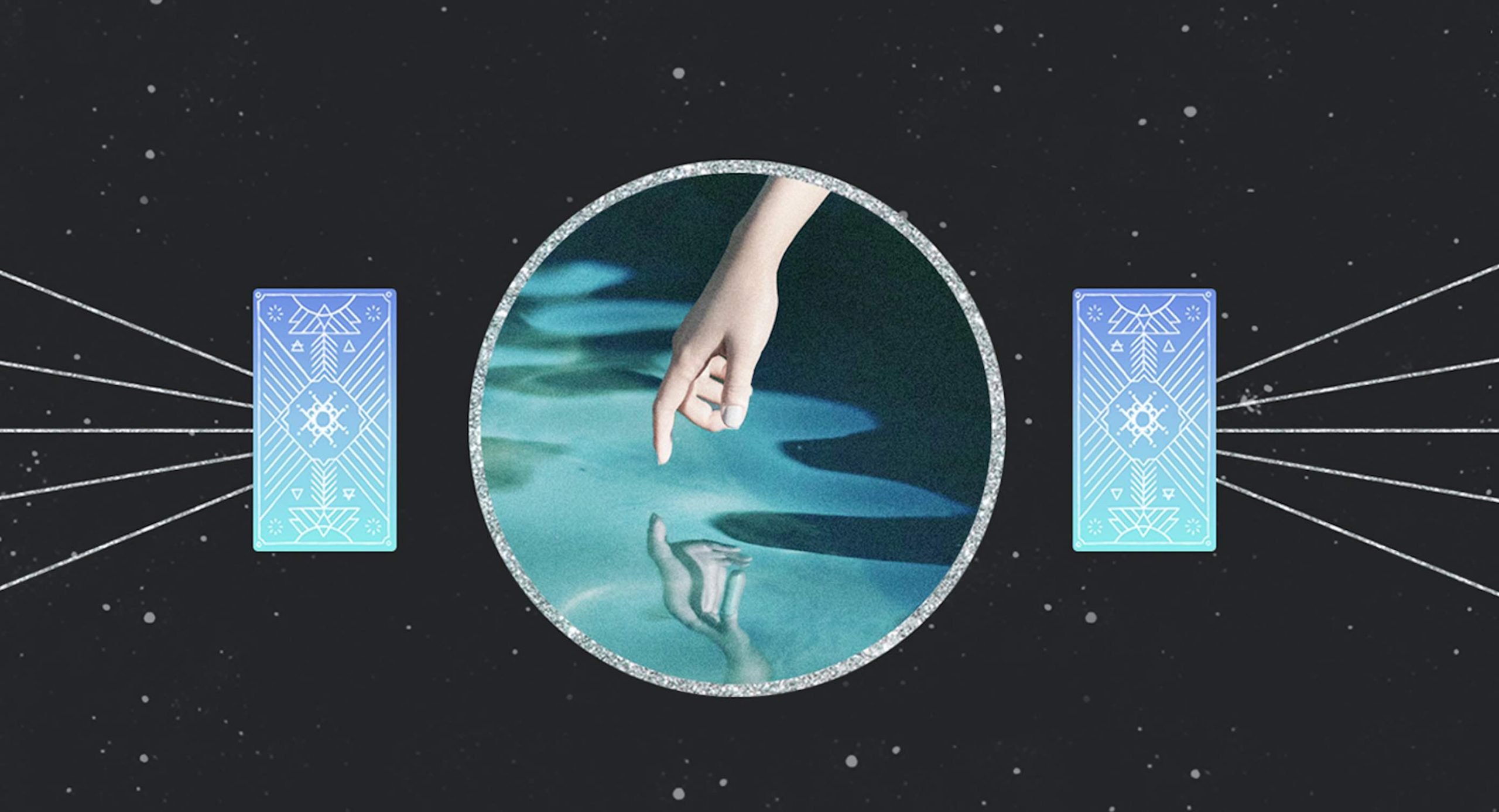 We are easing into a new season this week, and the Harvest Moon on September 29 provides a lovely opportunity to set our autumnal intentions for the rest of the year. Set aside some time to reflect on the past year and honor your progress: the goals you set, the ones that came to fruition, the ones that are still sprouting and growing, and even the ones that might need to be let go. There is still plenty of time to make something wonderful happen before this year ends.
This week's intuitively pulled Tarot cards reflect the changing seasons with a reminder of the importance of pressing pause on the pressure to make decisions or any major moves and instead shift the focus to rest and reflection. If we are always moving forward, we never have the space to be present. Listen to your intuition, and be sure to tend to your own energetic needs now.
Read on for your Tarotscopes with cosmic insight into what to pay attention to as the seasons shift and change.
Aries: Queen of Cups Reversed
Focus on yourself, Aries. If you have been feeling exhausted, drained, or on the verge of an energetic burnout, this is your sign to take some time to prioritize yourself so you can truly relax and replenish. Give yourself whatever you need to reset this week.
MORE TAROT: How to read and use Tarot.
Taurus: The World
Honor your accomplishments, Taurus. As something major comes to a close, it's important to celebrate it before moving on to the next goal! Back in the moment of a job well done so you can fully appreciate all of the work, efforts, and sacrifices you put in to get here.
Gemini: Two of Cups
Keep the communication lines open, Gemini. If you want to live in peace and harmony this week, be prepared to start up some much-needed conversations. If something feels off with someone you care about, address it with an open heart and honesty before it blows up into something far bigger than it needs to.
Cancer: The Hanged Man
Take a break, Cancer. It's going to be very challenging to make the type of major decision you need to make when your mind is overwhelmed with so many thoughts and the fogginess of everyday minutia. Press pause and step back this week to reset and deal with everything later.
MORE TAROT: Learn about each Tarot card's meaning.
Leo: Two of Pentacles
Cut back, Leo. If you have been feeling overwhelmed lately, understand that something's gotta give this week because your current workload is just not sustainable. If it doesn't necessarily require your attention and there's no real urgency, let it go so you can focus on your actual priorities right now.
Virgo: Two of Swords Reversed
Don't waste your time, Virgo. Something must be said, and a decision must be made, but if you overthink it or drag your heels, the passing of time could make this next move for you. Don't let that happen this week because taking control of the situation yourself is far better.
Libra: Four of Wands Reversed
Drama-free is the way to be, Libra. When it comes to your personal relationships, it's important to remember that being stable and predictable does not mean the same thing as being boring. A sense of grounding and a little more reliability from the people you interact with the most would serve you well right now.
MORE TAROT: What should you expect at work?
Scorpio: Ace of Wands Reversed
Don't hesitate, Scorpio! If you have been holding back on making a move toward something you desire, it's time to change your mindset and take some much-needed action. You don't need anyone else's permission to do what you want to do, and by talking yourself out of moving forward, you are only sabotaging yourself. Just begin!
Sagittarius: The Hermit Reversed
Get out of your shell, Sagittarius! After a period of introspection and indulging in a little extra alone time, it's time to reconnect with your friends and loved ones! Invoke your social spirit and make some plans to just have fun! It will be even sweeter if you prioritize trying something new and adventurous.
Capricorn: Knight of Pentacles Reversed
Trust the process, Capricorn. Here is a little secret: Everything you want right now is going to take time, and you will miss out on the magic of the journey if you try to take shortcuts and skip ahead! Indulge in patience, and let everything unfold just as it should.
MORE: Sign up for our newsletters for daily in-depth astrological content!
Aquarius: Nine of Pentacles
Enjoy what you have, Aquarius. How will you ever stay motivated to strive forward with your goals if you never take the time to stop and enjoy the moment you are currently in? At some point, you wanted so much of the accomplishments you have now! Allow yourself to savor your successes this week.
Pisces: Eight of Wands Reversed
Slow it down, Pisces! It's so hard to wait for the signs of progress, but you definitely don't want to rush this moment. There's nothing worse than creating unnecessary drama by trying to force something that's just not ready! Take your time this week, and try to remember that good things come to those who wait.
Store
Recommended Reports For You
Most Popular on
Astrology.com