Your Weekly Tarot Reading: August 31-September 6, 2020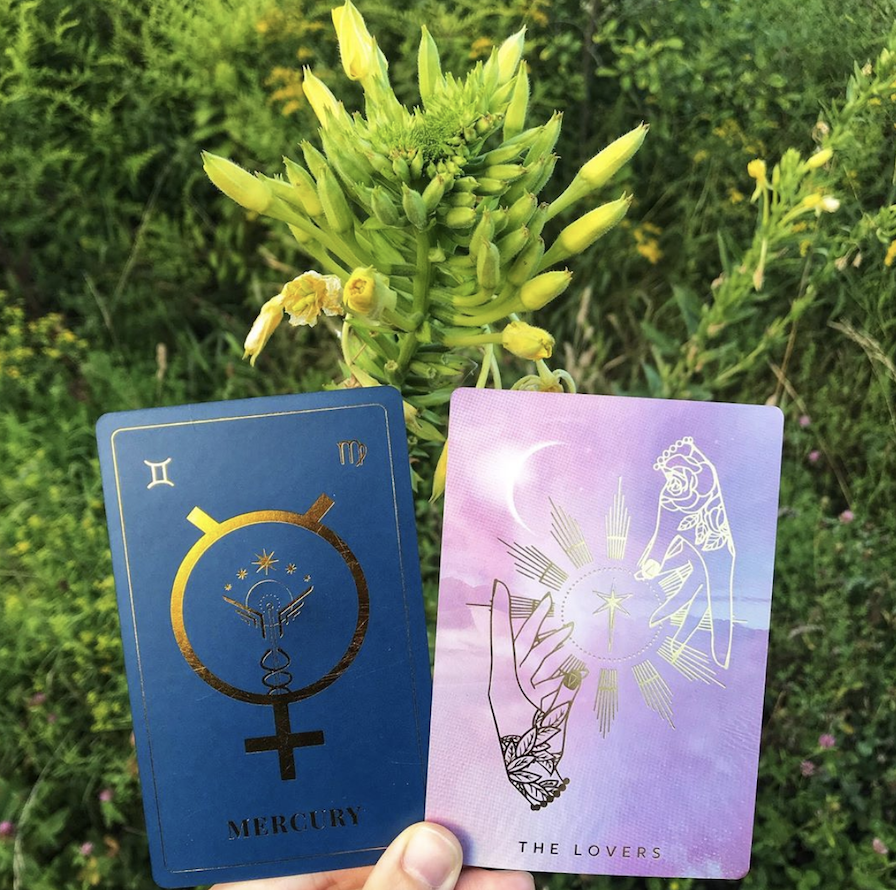 A full moon offers optimal energy to release something in our lives that is no longer serving us, so in honor of our upcoming full moon in Pisces on September 1, I have created a simple yet effective ritual to assist in your letting go process. Use this week's Tarot card pull to point you toward an area of reflection on something that you've been holding onto but no longer need in your life.
Create a private space for your ritual as free of disturbances as possible. Turn on your favorite relaxing music or chill-out playlist. On a piece of paper, write down a clear and concise statement regarding what you wish to release on this full moon. Close your eyes, imagine this habit, relationship, block, or whatever it is… and picture it leaving you and your energetic field. This is no place for it here anymore. 
Open your eyes and fold up the piece of paper that contains your intention of letting go. In a fire safe dish (pull out your cauldron if you have one, honey, or use something else that can handle the embers safely!), burn your piece of paper. Be careful! As your intention of letting go burns, imagine releasing it and sending this notion off into the universe! Say out loud what you are releasing and so it is! Once the paper has burned, bury the ashes in your garden or the soil of your favorite houseplant.
Aries: Four of Pentacles
It is time to reflect upon your relationship with money, dear Aries! What financial blocks are you ready to begin letting go of this week? Are you endlessly saving without ever letting yourself enjoy a little bit of your hard-earned cash? It is important to be fiscally responsible, but it is also crucial to allow yourself to be comfortable as well.
Taurus: Three of Wands
Opportunities are awaiting you, Taurus—you just need to lean in and accept them. On this full moon, may you release any limiting beliefs that keep you from expanding and growing. This moment is your self-confidence boost, allowing you to usher in a new wave of success.
Gemini: King of Wands 
Are you feeling creatively stifled and uninspired, Gemini? Allow this full moon to usher in fresh inspiration with a visionary perspective. It is time to focus on lifting any creative blocks you're currently experiencing. Do not lose hope—inspiration will strike when you least expect it.
Cancer: Six of Pentacles Reversed
It is time to address your need to over-give, sweet Cancer! It's wonderful to be so generous, but think about why you feel you must always overextend yourself with others. Continue to help those who need it, but don't do it to your detriment, as this will only breed resentments.
Leo: Wheel of Fortune 
Change is not always easy, but it is coming, Leo, so release your fears around the unknown. Everything is always evolving, and nothing can stay the same forever. As soon as we accept this, we can welcome all of the exciting opportunities that lie ahead.
Virgo: Page of Swords Reversed
Stop overthinking everything, Virgo! With this full moon, release your control-freak tendencies. This is your reminder that you simply cannot plan every scenario's outcome, and sometimes you just have to let go and allow destiny to take the wheel.
Libra: Four of Cups
What is making you feel so stuck this week, Libra? With this week's full moon, it's time to release the feelings of fear that keep you from progressing right now. You have the power to change your situation−you just need to cultivate the energy to make those big moves.
Scorpio: Page of Pentacles
Stop fantasizing, Scorpio, and put your plans into action this week! New financial opportunities are arising that can turn your dreams into your reality, so let go of any blocks around worthiness and acceptance of all of the abundance coming your way.
Sagittarius:  The Chariot Reversed
This week's full moon is asking you to release anything blocking your ability to focus, Sagittarius. It's time to reconnect with your goals and spark up the motivation to move toward accomplishing them. Even if it is one small step, it will feel so good to get moving in the right direction again.
Capricorn: The Hanged Man Reversed
It is time to recognize your patterns, Capricorn. What bad habits can you let go of in this lunar cycle? Whether it is something small or major, a mild irritation or a total nuisance, commit to releasing a pesky vice that has been holding you back.
Aquarius: Six of Wands Reversed
The fear of failure can be soul-crushing, Aquarius! Focus on releasing the self-doubt you've been feeling lately. Not everything works out the way we desire, but not trying at all is so much worse than not succeeding. You are your own harshest critic!
Pisces: Temperance Reversed
Good things take time, Pisces, and you need a major dose of patience this week. Release the expectations of the timelines you've created in your mind, and let everything unfold with its own divine timing.
Art by The Scales Of The Goat
Read More Stories:
Most Popular on
Astrology.com