Shadow Work Tarot: Spreads, Cards, Journal Prompts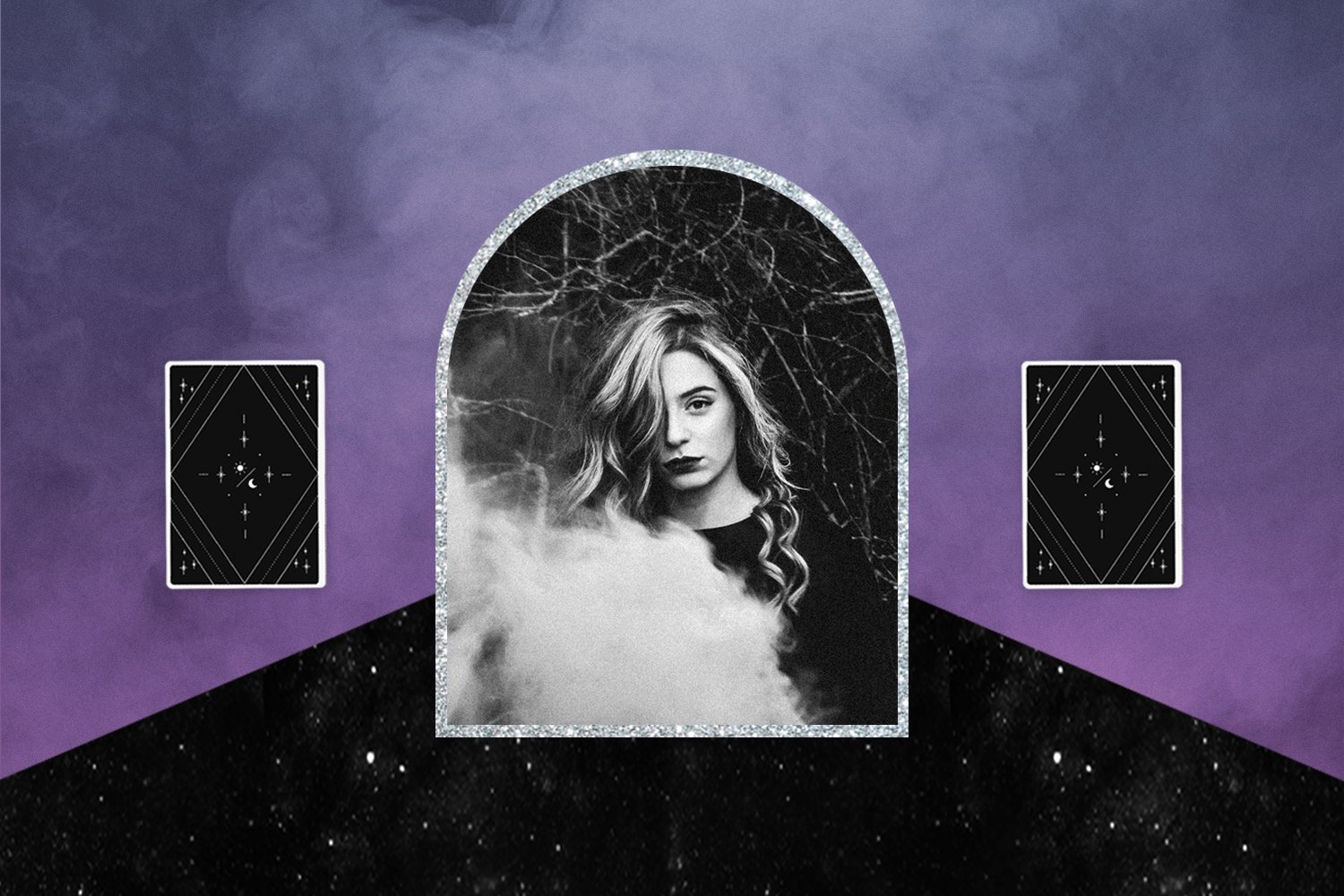 Use Tarot cards to align with your shadow self. Here is a Tarot spread, shadow Tarot cards, and the best Tarot and oracle decks for shadow work.
Shadow work is one of those things that we often hear about but can't always grasp how to do. So, we asked Tarot expert Deborah Rossetto, Tarot reader and creator of @born_under_saturn_, how to use Tarot to heal your darker side.
What Is Shadow Work?
This is the practice of understanding, accepting, and improving your shadow self—your hidden self. While that might seem a little scary, Rossetto assures that it's nothing to be afraid of. "It doesn't necessarily mean that the hidden part is a bad part," she says.
In fact, it's more of a healing process than anything. "Working on ourselves also means trying to understand why we are what we are and how the experiences of our lives have influenced us in a conscious or unconscious way."
Tarot and Shadow Work
With shadow work inevitably comes past experiences: trauma, karma, and pain. Through those experiences, we can find our desires and needs. But it can often be hard to digest the past—or even locate which parts are important. That's where Tarot comes in.
While reading Tarot for yourself is both complex and controversial, Rossetto ensures that it's definitely possible to practice shadow work with Tarot. "What is needed is objectivity and sincerity, but above all," she says, "the desire to really get to know our shadow parts."
Meditation
In order to hone in on this process, Rossetto recommends meditating for 10 minutes before each shadow work reading. This allows the mind to stay "present and open to kindness."
Questions
Rossetto also recommends refining your questions so that they work for you. "It is important to ask not 'what should I think,' but 'what should I do,'" she says.
Tarot Spreads
How to Accept Your Shadow Tarot Spread
"Working on our shadows means accepting and integrating with our true souls," Rossetto says. Here's a spread to help you connect the two:
What shadow aspect do I need to work on?
How to work on my shadows
Which potential should I develop in order to grow?
Shadow Side Blockages Tarot Spread
This particular spread focuses on the personal blockages that you may feel.
What aspects of myself are blocking me?
What do I need to heal to change them?
What actions do I need to take to act toward my values?
Tarot Cards to Watch For
There are some Tarot cards that you will want to pay attention to if they appear in your shadow spread. These Tarot cards can symbolize that you're in contact with the shadow self:
Oracle and Tarot Decks for Shadow Work
While Rossetto doesn't use specific decks for shadow work, there are few decks out there that would be useful in this type of reading. Here are a few:
Shores of Luna Somina Tarot Deck. Get into the right mindset with these artistic, darker-toned Tarot cards.
Supra Oracle Deck. This oracle deck uses dichotomies to portray its imagery: dark vs. light, round vs. hard, the hidden vs. the seen. So, it's a perfect deck to use in shadow work.
The Literary Witches Oracle. If you're a literary buff, this deck will help you pull sentiments from its plethora of famous authors.
Journal Prompts
"The shadow work journey is long," Rossetto says, "so it is useful to journal. … Write on the cards that come out and reflect."
To help the journaling juices flow, here are a couple of journal prompts to start with:
What is the worst emotion for you to feel?
How do you think people see you? How is it different from how you see yourself?
What is a void in your life right now?
When you feel down, what triggers those moments?
What do you know are trauma triggers for you?
If you talked to the closest person to you, what would they say is the biggest trigger for you?
What is the memory that brings you the most pain or shame?
FAQs
Is shadow work dangerous?
Shadow work can be intense, but it is not dangerous. You're only connecting with yourself, right? This is more about having a frank conversation with yourself than it is about connecting with bigger forces.
How do you tap into your shadow side safely?
The only thing you'll have to worry about is how deep you want to go. Before practicing shadow work, you might want to try a quick meditation.
Focus on this mantra: I will only receive what I am ready to hear. Repeat it a few times until you feel completely safe—knowing that the information surfacing is ready for you.
Related Articles:
Store
Recommended Reports For You
Most Popular on
Astrology.com