Venus Is Now in Aquarius, So It's Time to Get Your Freak On!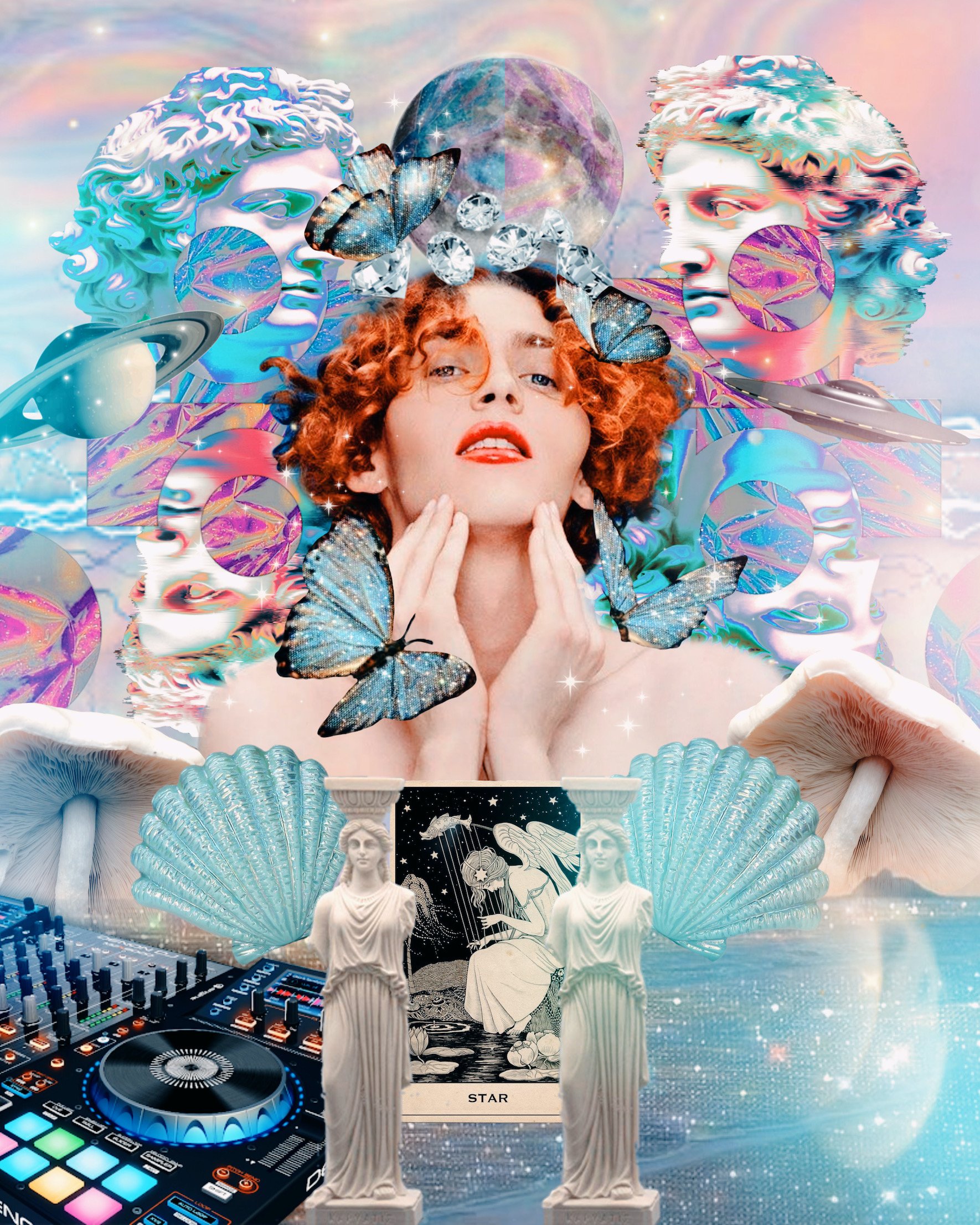 Venus in Aquarius Dates: February 1 to February 24
While Venus was in Capricorn, it had us getting serious about what type of partnership we are calling in, favoring a long-term bet over a short-term hookup. We examined the foundations of our relationships and our money, opting for the cold, hard facts over fluff. But on Monday, February 1 at 6:05 a.m. Pacific Time, Venus moves out of stable, committed, earthy Capricorn and into innovative, rebellious, airy Aquarius. Traditionally, both signs are ruled by Saturn, but with vastly different expressions of its planetary energy.
Here, our goddess of relationships, glamour, and what we value, prices all things unconventional and non-traditional. Anything that goes outside the traditional relationship norms is more embraced during Venus' transit. Aquarians are known for their taste for the unusual, making this an excellent opportunity to stay open-minded about your deepest relationship desires. Use this time as an invitation to examine the desires you've set to the side or disowned.
Have you been wanting to explore kink/BDSM dynamics, with yourself or a partner? Have you been thinking about opening your relationship to try ethical non-monogamy? Or perhaps, you have been questioning your heteronormativity patterns? This transit allows you to embrace non-conformity—whether by learning, researching, or through your lived experience. During the time Venus is in Aquarius, you don't have to fit society's standards, making this the perfect excuse to let your freak flag fly!
As an air sign, Venus in Aquarius is less emotional of a transit and won't have us too in our feelings. That's because, through a romantic lens, we are looking to be mentally and intellectually stimulated. Sapiosexuals rejoice! We may find ourselves more turned on by riveting conversations. Don't be surprised if you find a great deal of erotic energy being activated while talking to your friend about things like psychedelics, human consciousness, aliens, or conspiracy theories.
Something about passionately expressing your point of view may get you all charged up. So, if you're crushing on someone, ask them questions about what they're into. Get hyper-curious about what lights their brain up, listen carefully, and share your perspective to keep the dialogue going. Next thing you know, you've been on the phone for hours and there's a deeper level of understanding and appreciation for one another.
This transit places less of an emphasis on romantic love and more of an importance on the love we have for our friends, our community, and humanity in general. This can manifest in a few different ways. You might be inclined to be more social than usual, saying yes to more online gatherings or (safely) seeing friends in a Covid-safe setting. Finding love through our friend groups or our extended social circle is also a signature of Venus in Aquarius. Or suddenly, you might realize you're in love with your best friend after knowing them for a few years. Another expression of this energy would be requiring a solid friendship with someone before dating, instead of hooking up right away. Making sure our partners can also be there for us as a friend is a major value for Venus in Aquarius.
As a fixed sign, Aquarius is more hesitant to commit to something right away. In fact, coming on too strong will definitely be considered a turnoff. Aquarians don't commit to just anyone and their standards are higher than the stars because once they're in, they're ALL in. That fixed nature of Aquarius is where we see that Saturn energy coming into play. Commitment is a big deal and not something to take lightly, so they don't do it often. So perhaps under this transit, don't be surprised if your standards get raised or if the person you're dating doesn't want to take it to the next level so quickly.
If you're in a long-term partnership, let this transit inspire a little more independence in your dynamic. Taking time apart and letting your partner do their own thing can reintroduce the spark if things have been feeling a little flat. Being hunkered down in our homes during Covid times can understandably make it hard to take space and make us a little more dependent on each other than usual, but you can work with this innovative, free-spirited, Aquarian energy to empower you in your freedom, even in small ways. Co-dependent relationships can wreak havoc on our identities and sense of self—and it's easy to slip into one when the boundaries of your relationship are weakened. And since Aquarius has things like independence and boundaries on lock, this is a great time to talk to your partner about what you can do to encourage each other's freedom in the long run.
If you're single and dating, you might find yourself attracted to or going after the rebel, who does things differently. Be open to new possibilities and expand beyond your "type" to see if something else floats your boat. You may also realize you're beginning to like someone who you wouldn't normally be attracted to, but something about them intrigues you. This is also not a time to hide behind a mask of what you think the other person wants. As always in dating, sharing your true, authentic self will get you what you want—and this is especially true during Aquarius season. Do you think there's something strange or weird about your personality? Great! Lean into it—play it up. You deserve to find someone who thinks all your weird quirks are cute.
In terms of finances, we are already seeing a surge towards cryptocurrencies as an alternative, ground-breaking, and entirely futuristic way of using money. And as we journey through the epoch of air for the next two hundred years—marked by the Jupiter and Saturn conjunction in Aquarius—we'll see more and more of our money going "digital." During Aquarius' season, we saw a Reddit forum of 4+ million regular, everyday "retail investors" almost successfully take down a massive wall street hedge fund through a collective effort. Many experts said it was the first time they had ever seen something like this happen, which couldn't be more Aquarian!
Read me: February Overview: An Aquarius Stellium Officially Kicks off a Year of Massive Change
More and more average Americans are entering the stock market and have begun manipulating a game that is completely rigged towards the wealthy. Expect more revolutionary and rebellious behavior and disruptions in or around the financial sector while Venus is in Aquarius. If you're just trying to get your money right, enlist the help of different apps aimed at elevating the average consumer's financial literacy, or find online experts to learn from. It might also be an inspiring time to brainstorm new ways of making income, especially online.
Aesthetically, our fashion choices might get a little wacky and out there, but Venus in Aquarius is responsible for some of the biggest pop culture trendsetters. Yoko Ono, Elton John, and Janis Joplin all have a natal Venus in Aquarius. As the needle-movers in fashion, their sartorial choices may have been ridiculed at first, but eventually, everyone else began following along.
Let this transit unveil your fewer trendy preferences and reveal oddities or eccentricities in your expression. Push the envelope to go where no one has gone before and watch how others begin to emulate over time. When Venus is in Aquarius, our tastes can be stretched to new heights, so let radical self-expression be your guide.
Notable Venus in Aquarius Transits:
2/6 Venus in Aquarius conjunct Saturn in Aquarius
Not a very warm and loving transit, but it's great for getting your alone time.
2/11 Venus in Aquarius conjunct Jupiter in Aquarius
An optimistic energy for love and finances that could indicate a huge blessing coming our way.
2/13 Venus in Aquarius conjunct Mercury in Aquarius
A great time to talk about your unconventional relationship desires.
2/19 Venus in Aquarius square Mars in Taurus
It could either exacerbate existing tension in relationships or make things super sexy!
Most Popular on
Astrology.com