As She Enters Taurus, Love Goddess Venus Calls for Deep Transformation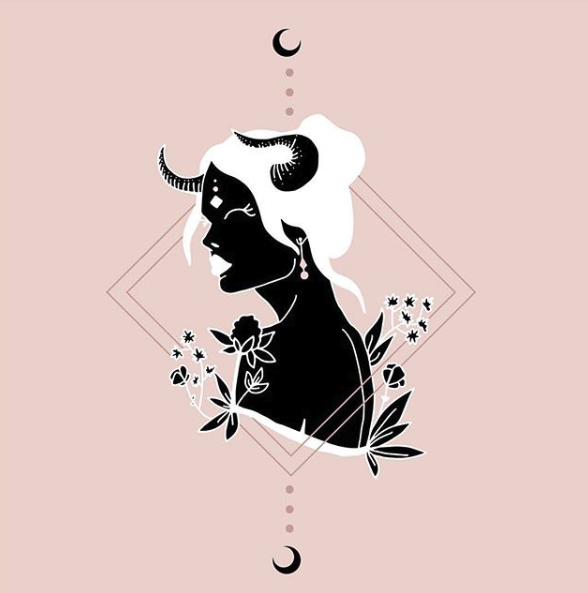 The month of love has passed but that doesn't mean love has left the air! Venus in Aries was an absolute bombshell, blazing a trail for the confident to prowl and the interested to dive into something new! Entering the earth sign Taurus, Venus begins to take a more easy and soothing approach to love and romance. Venus is right at home within Taurus, there she's able to indulge her senses and relax her body. Now is the perfect time to visit the spa, splurge on a massage, and even just taking the time for a simple facial! Venus in Taurus loves pleasantries and sweets, so be careful about overindulging on your leftover Valentine's Day candy!
On March 4, 2020, at 7:07 p.m. Pacific Time, Venus enters the sensual and nurturing sign of Taurus, and gosh does she enter with a bang! As she prepares to form a conjunction with the planet of revolution and the unconventional, Uranus, expect a lot of little surprises pop up during the first two weeks of March. Be careful what romantic situations you allow into your space, with Venus making a sextile to Mercury retrograde in Aquarius around March 4, it's very possible that you may have to rehash old themes regarding love and pleasure. Thankfully, on March 9, Venus will be fully free from her square to Saturn in Capricorn, taking the raincloud away from your parade and enabling more fun to occur!
On March 16, Venus leaves her conjunction with Uranus during Mercury's post-shadow, bringing forth more clarity and less chaos regarding all things love and beauty. Don't get too comfortable though, because, on March 22, the planet of love forms a sextile with Neptune in Pisces. As each day gets closer to the end of March, Venus begins to make contact with the entire Capricorn stellium in the sky! Making a trine to Jupiter, the planet of expansion, on March 27, as well as another trine to Pluto, the planet of transformation, on March 28, be sure that you're not staying fixated on how love is "supposed to be." Now is a time for transformation, so don't be scared to release what no longer works.

Your Venus in Taurus Horoscope
I am allowing my subconscious desires, dreams, and hidden thoughts to swim to the surface this month. Deepening my understanding and appreciation for where I've come from, those who have come before me, and the roots that I decide to lay on this Earth. I am expanding my legacy and finding fun in the world that I am building for myself. Patience is a virtue and stability exists so long as I will. I am loving the transformation and death of all that no longer serves me, growing and expanding the person that I visualize myself to be.
Thich Nhat Hanh has said "If you can accept your body, then you have a chance to see your body as home. You can rest in your body, settle in, relax, and feel joy and ease. With aging, I am noticing my body is changing. While some of my changes were expected, I am working to accept the parts of me I wasn't ready to give up yet. Change is inevitable, sometimes it's painful, but it's mostly bittersweet. Nothing lasts forever, which is why I am appreciating myself at the moment. I am mindfully practicing radical self-love; my revolution riots begin and end within.
I am taking note of my newfound perspectives, outlining what fits, and making space for my values. I am rewarding my body for its efforts, making time for massages, facials, baths, and even the sauna! I am awakening my mind's eye and visualizing all that I can do when I soothe my subconscious. Transformation is tricky, often requiring the death of self before there can be a birth of the self. As I hold space for labor pains that ache and shake the core of my being, I honor my body for all that it has been able to hold.
I am open to random encounters and the probability that strangers are worth getting to know. I am starting to be kinder to myself within and without relationships. I am teaching myself to forgive myself for not always being able to protect myself. I am human and it is understandable that I have needs and expectations, this does not inherently make me an unhealthy person. I am better understanding my terms and conditions within relationships, and in turn, I am more readily available to share my boundaries and desires with the ones around me.
There have been many moments when I've cared about the way others looked at me. I can recall moments when I've felt understood, or that people have misunderstood the message I am sharing with them. I do not expect everyone to comprehend my vision, which is why I am prioritizing those who at the bare minimum work to support me. I am honoring the weight of the work I have been putting forth, holding space for the exhaust and the tension that it's built up in my body. While Venus remains in Taurus, I am taking the time to prioritize my self-care and healing.
I am making more time to spend time in nature, allowing myself to smell the roses and pick up flowers. I may not be the master of mindfulness or an expert on achieving a strong sense of stability, I am giving myself much more credit for what I have done. I am proud of my ability to calm, ease, and soothe myself. I have taken time for isolation, focusing on the best parts of maintaining myself. Healing is a continuous journey, and it's met with many ebbs, fluxes, and flows.
I enjoy being present for my loved ones, I take pride in being able to extend myself for them. However, it's possible that I must learn how to create healthy boundaries and a clear stopping point. I have projects and pleasures that I deserve to explore and develop, therefore I must develop more structure and limits regarding how available I make myself. I can't live a life that's all work and no play, being ruled by the planet Venus, I thrive when I am able to relax.
If I am being honest with myself, love hasn't always been a crystal stair. It's been filled with interesting characters and unusual scenarios. Now more than ever, I'm being encountered with new heights of unconventional, I am starting to find the peace I have been looking for within the relationships that I have. There have been many close relationships that have fallen out of my life, leaving room for all the new relationships currently occupying my spaces. I am speaking much more clearly about the things that I need and desire in a relationship, no longer stuttering and being coy with my speech.
I am falling in love with my health and wellness, and I'm not skimping on investing the time that I deserve to give myself. The universe is sending green lights down from the sky, as I take my time deciding on if I want to commit to physical activity or time for rest at the spa. Regardless of where I decide to invest my resources, so long as I am committed to whatever I do then I will be sure to reap the results.
There's never a bad time to learn a new thing, so I'm making the best of a good time by taking a seat up front in the class of pleasure. I am engraving the mantra "treat yourself" in every corner of my mind, removing questions regarding if I am deserving of honoring myself. Without a question I have done more than needed to deserve the gifts that I am giving myself, which is why I am lightening the air and cleansing my aura for the next few weeks. Not all dreams need to turn into blueprints, so I am taking note of which ideas have potential and leaving room for relaxation.
People don't always appreciate who I am and a big rationale for that is I don't think they understand exactly where I came from. I am open to sharing intimate details and fun facts about myself with those closest to me, but this period of celebration is primarily for my own purposes. The past few months have weighed heavily on my soul, each step forward has felt extremely difficult which is why I'm doing more to celebrate my progress. I am proud of all that I have done and what I continue to do, taking the best parts of tricky scenarios, I have learned how to keep my head afloat.
I am taking my phone off the do not disturb mode, not because I intend on over-extending. I am taking my phone off silent because I do not feel bullied by it anymore; I am becoming more fixed with setting and honoring my boundaries. This is a time for the prioritization of my "me time," and I am not hesitating to spoil myself with a miniature spiritual retreat. Even if I can't afford a more major vacation, there's nothing wrong with making the conscious effort to cultivate an amazing staycation!
Art by Rebecca Reitz
Most Popular on
Astrology.com