Your Weekly Tarot Reading for July 5-July 11, 2021: Obstacles Along the Way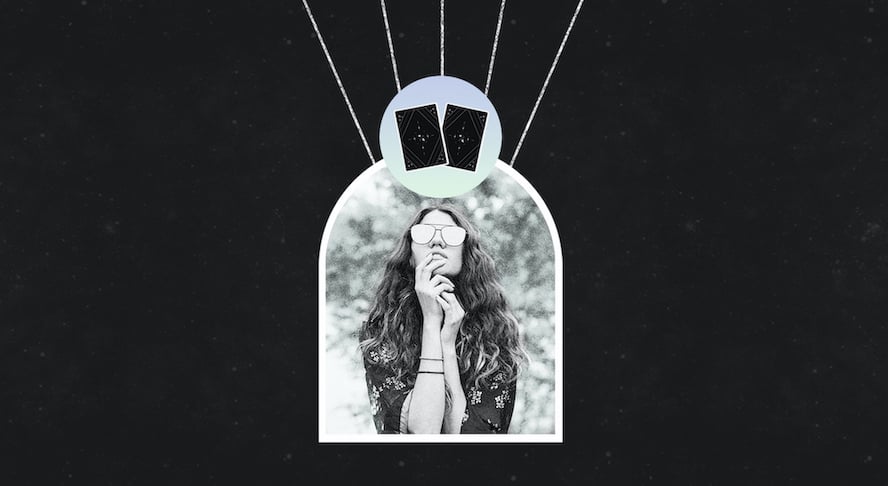 Okay, there are some bumps in the road. But your weekly Tarot reading for July 5 has some good advice to help you come out of this week as a winner!
Are you ready to get creative and put your problem-solving skills to good use? Because this week's cards foretell frustrating delays, unexpected challenges, and unforeseen setbacks. It does not sound hopeful, but I promise you that this could be fortuitous! We all face obstacles beyond our control at some point or another, and yes, it's not easy, but it is manageable. 
Read me: Summer Lovin': Your Romantic Forecast to Beat the Heat and Heartbreak
Remember to take a moment to pause and breathe before getting overwhelmed. Once you are more centered, you will be able to see clearly in order to forge a new path and maneuver around these roadblocks. Sometimes frustrating moments like these actually lead to new opportunities we would not have otherwise stumbled upon because we had to rework our original plan.
The moon is new in Cancer on July 9 so don't be afraid to make a change or try a new method to create personal progress
Aries: Page of Pentacles Reversed
Learn from your past mistakes, Aries! Your recent endeavors have not gone exactly according to plan, but let's not classify them as total failures. Instead, look at what went wrong and think about what you could have done differently for it to have gone more right. Don't give up on your goals, and use this opportunity to use a different method moving forward.
Taurus: King of Swords
Your weekly Tarot reading for July 5 urges you to stay cool, Taurus! Do not get emotionally involved in whatever comes your way this week. You don't need the drama right now! If something really requires your attention or needs a novel solution, take the logical approach, and then keep it moving.
Gemini: Six of Wands Reversed
What makes you happy, Gemini? Tune out others' opinions and notions of what your success should look like right now. Everything is unfolding at a slower pace for you, but that doesn't mean goals aren't being achieved over here! If you are pleased, then keep doing what you are doing.
Cancer: Five of Pentacles
Count your blessings, Cancer! When was the last time you took inventory of all the major accomplishments in your life? Resist the temptation to focus solely on what you do not have or have not achieved yet. Celebrate your successes (big and small) and notice how your spirit is lifted and your mood shifts to a more positive light!
Leo: Knight of Wands Reversed
Your weekly Tarot reading for July 5 urges you to go with the flow, Leo. Unexpected delays are popping up this week and preventing the progress you were hoping to make right now. What can you do? Instead of getting frustrated, use this as an opportunity to slow down and focus your efforts elsewhere. Maybe even take some time off and enjoy yourself.
Virgo: Seven of Cups
This is your reality check, Virgo. Lately, you have been spending a lot more time dreaming than actually doing (this is so unlike you!). It's fun and even helpful to fantasize about the possibilities in your future, but this is your invitation to choose something, set a new intention, and begin working towards making it happen.
Read me: July Astrology Forecast: You Asked for Fireworks, so Here They Are!
Libra: Five of Swords Reversed
Leave it in the past, Libra. How can you move forward when someone from your past keeps creeping in and disturbing your present? Whether this is a former coworker, an estranged friend, or an ex, let's leave the past in the past. Do not engage! Keep yourself busy with something (anything!) far more constructive and worthy of your time.
Scorpio: King of Wands
Put in the extra effort, Scorpio! In both your personal and professional life, everything is requiring a bit more of your attention right now. Don't spread yourself too thin this week, but do what you can to be present in each moment. People who rely on you really need you right now.
Sagittarius: Three of Swords
It's ok to be sad, Sagittarius. Disappointment, loss, and rejection are painful, but still part of life. Take time this week to show yourself a little extra TLC and reach out to loved ones for more support. Don't lose hope…you will get through this moment and come out stronger on the other side.
Capricorn: Three of Wands Reversed
Give it more time, Capricorn. Just because you are not accomplishing your goals as quickly as you would like to right now, it does not mean that you should give up—or worse yet, that you have failed! Roadblocks come up sometimes! Keep going and get creative to maneuver around them.
Aquarius: Five of Wands Reversed
Direct communication is key, Aquarius. Emotions are high around you, but when conflict arises, you have learned how to handle it like a pro. Continue to put this knowledge to good use and tackle any issues before they blow up into something much larger than necessary.
Pisces: Queen of Wands Reversed
Don't let a little challenge knock you down, Pisces! When it comes to your work this week, expect some frustrating delays. Unfortunately, you cannot make the missing information flow faster or get the signal to go ahead any sooner so use this time to focus on something else. Your passion project or hobby has been on the back burner and now it is begging for some of your attention!
Store
Recommended Reports For You
Most Popular on
Astrology.com