From July 13, 2015 thru July 19, 2015
Keep watch over your heart at the week's outset, and don't let it run wild. Tempted to take a big risk in romance? Take a step back and give it time. It's not going anywhere. Besides, you'll need everything screwed on straight to deal with issues this weekend that have nothing to do with your heart, but everything to do with your head. Midweek, you'll get a break; get some exercise. Don't get involved in family arguments on Friday and Saturday, and be open to someone else's way of doing things. On Sunday, take a couple hours for yourself, but spend the evening with someone special; the air's charged with romantic energy and you'll want to make the most of it.
Your Love Tarot reading can give you the foresight to navigate the romantic ups and downs of your life. Get deep insight and sound advice for your romantic situation. Let the cards predict the future of your love relationship, show you how can adapt and grow together, and make the best out of it! This reading helps you to make wise choices in love.
Read More »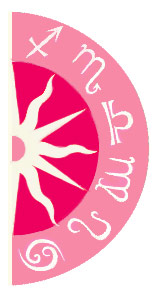 Discover what 2015 holds for you: