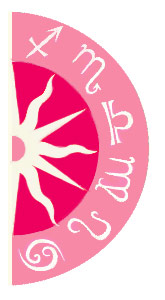 The so-called dog days of August 2014 are upon us — exactly 100 years since the beginning of World War I, and the skies today have their own version of a titanic battle. In terms of celestial bodies close to Earth, all three planets nearby — Mercury, Venus, and Mars — are highly active.
Venus in Cancer is the main agent of change since this traditional heavenly orb of love and beauty squared shock-master Uranus last night, and now she proceeds to offer eager human souls a grand triangle in water signs, composed of 120-degree flowing trines to Saturn in Scorpio (3:23AM) followed by another one to Chiron in Pisces (8:06AM). Healing forces, although somewhat disguised or sluggish, are back on the march with the amelioration of old wounds the primary target.
Mercury — the Messenger of the Gods cool-communication winged-deity — reinforces interests in the widening field of alternative medicine by forming a potent, 135-degree tie with Chiron (2:51PM).
The red planet Mars — ancient ruler of both agriculture and warfare — takes on the biggest challenge by making a feisty square of 90-degrees to King of the Gods and leader-of-the-pack Jupiter (3:47PM). Their adversarial joust — deepening the rivalry between fixed and powerful Scorpio and Leo, respectively — can knock your socks off across the board. Therefore, the universe is putting a lot out on the line during this first 24-hour time-period in the eighth month of the year.
To add cosmic insult to injury, the Moon in Libra squares Venus in Cancer (7:59PM) — simultaneously starting an almost precise 24-hour void lunar uncertainty zone that lasts until 7:58PM tomorrow night. Don't press your luck by making major overnight decisions. [Note to readers: All times are calculated for Pacific Daylight Time. Be sure to adjust all times according to your own local time so the alignments noted above will be exact for your location.]
Are you searching for your own serenity? Find inner peace with a Free Spiritual Reading. Call 1-800-648-9165 right now!