2021 Astrology Predictions: Welcome to the Age of Light-Speed Change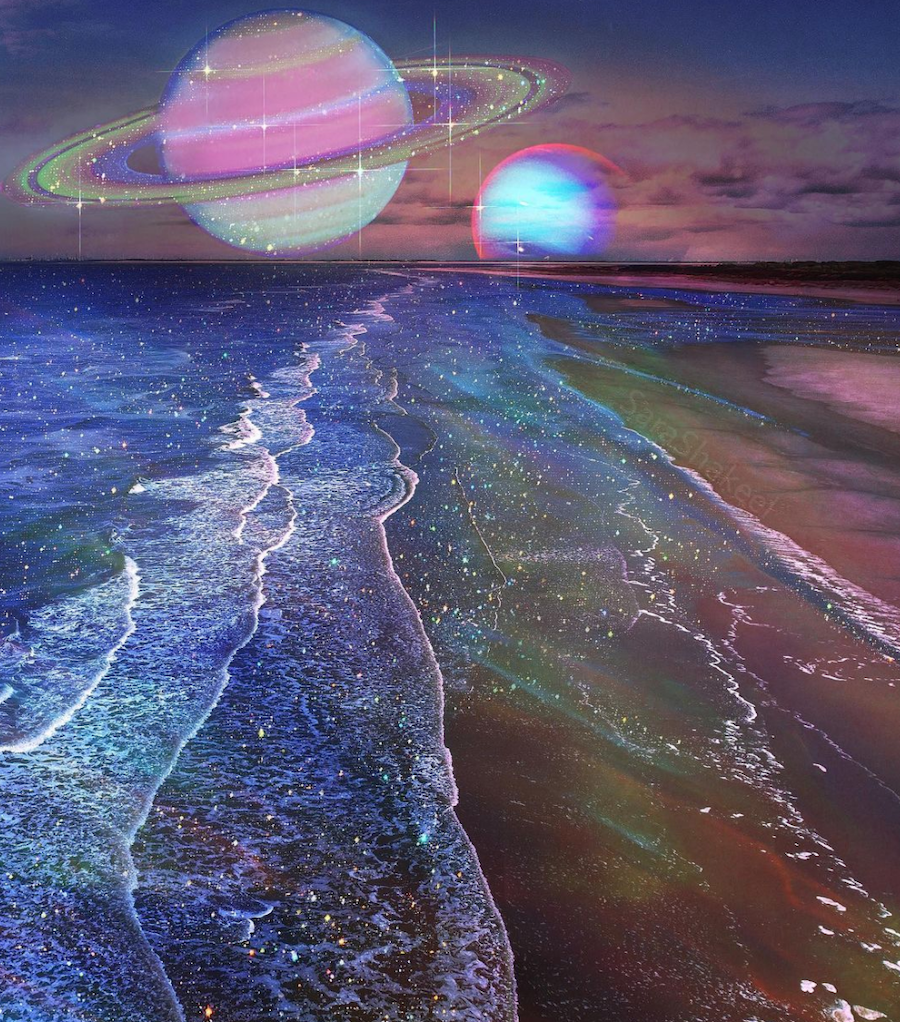 The year 2021 enters with the propulsive force of a new era announcing itself, as the immense impact of the great conjunction between Jupiter and Saturn in Aquarius ripples outward. While we had to grieve the end of an old era in 2020 while enduring difficult birth contractions collectively, the astrology of 2021 will require continuously adapting to the far-reaching changes that will be erupting across all aspects of society. The closeness of Jupiter and Saturn in the sky at the beginning of the year will serve as a guiding star of hope for creating the reforms and innovative solutions needed to address the numerous societal issues and inequities that have been exposed during the past year of the global pandemic.
The astrology of 2021 is primarily centered around the movement of Jupiter and Saturn from forming conjunctions with Pluto in the previous year, to forming catalytic square aspects with Uranus in Taurus in the new year. Jupiter in Aquarius will form only one exact square aspect with Uranus on January 17, while Saturn will form three square aspects with Uranus on February 17, June 14, and December 23. Uranus will make a shattering impact upon societal systems, bringing the collapse of outdated structures and the rapid advancement of those able to meet the changing needs of global cultures. It will be imperative to release attachment to the way things have been and discover the creative potential that will be emerging amidst the reordering of societal structures.
January begins with a big bang, as Mars will enter Taurus on January 6 and spend the rest of the month amplifying the volatile tensions brewing between Jupiter, Saturn, and Uranus. There will likely be increased social unrest as well as rapid changes that will bring sudden breakdowns and breakthroughs.
Once February arrives, we will have the opportunity to adjust to whatever reshaping we have been experiencing personally, as Mercury will be retrograde in Aquarius along with the sun, Venus, Jupiter, and Saturn also occupying Aquarius. During the second half of February, we can gain greater clarity for the way our life has been shifting on both internal and external levels, helping us discern ways of cultivating greater stability and creativity as we deepen into embracing the changes taking place.
The second quarter of the year will begin more calmly than January and February, but change will begin accelerating again at the end of April and the beginning of May when Mercury, Venus, and the sun will move through conjunctions with Uranus and square aspects with Saturn. Though there will continue to be increased movement and volatile shifts during the second half of May and first half of June due to eclipses, Mercury's retrograde in Gemini, and the second square between Saturn and Uranus, the entrance of Jupiter into Pisces on May 13 will be an angelic sign of hope. Jupiter dipping into its sign of traditional domicile will remain a source of inspiration and imaginative ideas to draw from and to mediate whatever difficulties we are facing until it returns to Aquarius on July 28.
The third quarter of 2021 will begin with Jupiter stationing retrograde in Pisces on June 20 and Mercury stationing direct in Gemini on June 22, making the first week of the third quarter a time of recovery and checking-in with however our story has been changing. The month of July will be the most momentous month of the third quarter, as Mars in Leo will inflame the friction between Saturn and Uranus on July 1 followed by Venus in Leo doing the same from July 6 through July 8. When Venus and Mars form a conjunction in Leo on July 13, it will be an important time for coming to terms with what you want within your relationships and how you want to creatively express yourself. The month of August and first half of September can be a restorative period for stabilizing anything that came out of balance in July.
The final quarter of 2021 will begin with Mercury retrograde in Libra combining with Mars in Libra, creating a disruptive influence that will test relational dynamics. While October will bring cathartic experiences that can regenerate our purpose in life, there will be amplified waves of volatility arriving in November we will need to be prepared to traverse. Mars and Mercury in Scorpio will trigger conflict between Saturn and Uranus during the first half of November, while a lunar eclipse in Taurus on November 19 and a solar eclipse in Sagittarius on December 3 will accelerate the flow of pivotal events that will mark important turning points in our story.
The final month of 2021 will make it clear that personal and societal structures will be continuing to change and that we will need to deepen into the ways we have been reshaping our life. December will dredge up the roots of our desires as Venus will spend the entire month in proximity with Pluto in Capricorn, with Venus stationing retrograde on December 19. As we will also experience the final exact square aspect between Saturn and Uranus on December 23, we will need to shed whatever has become inauthentic and embrace the possibility of liberating ourselves from old restrictions. The entrance of Jupiter into Pisces on December 28 will serve as a beacon of light that can guide us toward the expansive potential available as 2021 draws to a close.
Art by @sarashakeel
Most Popular on
Astrology.com