Everything You Need to Know about the Full Moon in Sagittarius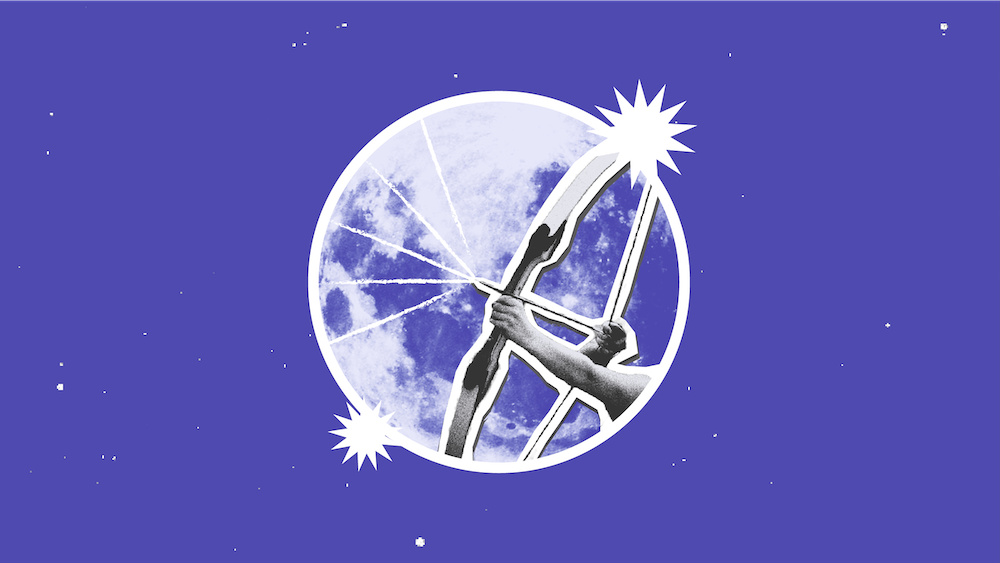 The Sagittarius full moon graces our skies on June 14, bringing an abundance of optimism, joy, and luck to the table. This lunar event will ask you to tap into your philosophical side, so you might want to take some time out for meditation, prayer, or candle work.
The universe will be listening to your hopes and dreams right now, especially if they are geared toward self-improvement or finding happiness. However, tapping into your connection with the other side will play an important role in manifesting any wishes you make, so you'll need to keep your eyes peeled for synchronicities and signs from beyond over the next six months.
The Archer is considered one of the most beloved members of the zodiac, and with the full moon taking place under this sign, we will all get a little taste of this auspicious energy. Unfortunately, these vibes will also come with a bit of resistance from dreamy Neptune, as the sun and moon form a T-square with the ethereal planet.
This cosmic climate could trigger sketchy or deceptive behaviors within the people around you, so you'll want to be careful about who you trust. If you suspect that someone you know isn't acting honorably, there's a good chance that you're right, though finding proof to substantiate such claims won't be an easy feat.
Neptune's influence on this full moon could also bring through some lethargy, mental fog, or confusion, so you'll need to fight for your clarity. Luckily, a cheery outlook can help you overcome any cosmic slump that comes for you, so remember to hold on to your optimism, even if the atmosphere feels a bit bleak at times.
The energy present is also poised to bring inspiration your way, though it would be easy to get lost in a dream if you don't bring logic and common sense into the mix. While it's certainly okay to indulge your fantasies right now, they will remain as such if you can't draft then execute a plan on how to make them a reality.
While there will be plenty of mysticism floating through the skies right now, Saturn will act as a reality check, providing you with an anchor to help you find structure within your plans. Though you'll be starry-eyed with ambitions for a brighter tomorrow, this planetary powerhouse can help you see the path ahead with sense and clarity, but only if you allow it to.
Take a moment to fully consider what will be required of you moving forward and whether or not your current responsibilities or commitments create an issue. Though you'll feel like you can take on the world right now with Sagittarius' expansive energy blessing your aura, it would be a mistake to assume that these elevating vibes will carry on indefinitely. You might need to make certain compromises with yourself to manifest your heart's desire, so be sure to prioritize your focus and energy accordingly.
Luckily, you can now purchase your June full moon report, which is tasked with guiding you through the fog … toward your inner magic.
Store
Recommended Reports For You
Most Popular on
Astrology.com