Sex? Magick? Both! Welcome to the November New Moon in Scorpio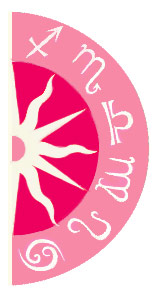 Sophie Saint Thomas, co-host of The Serpent Cast — a sex and spirituality podcast she shares with VICE/Broadly astrologer Annabel Gat— is a sex writer, a witch, and a Scorpio with more than one David Bowie tattoo. You can read her sex writing in GQ, Glamour, Allure, Playboy, and more. The Serpent Cast comes out every Tuesday morning on iTunes. Previous guests include Bri Luna of The Hoodwitch, Jacq the Stripper, Vanessa Cuccia, creator of Chakrubs, and so many magical more.
Soft? Sweet?
These are not words that typically come to mind when we think of smoldering, sexy, strong Scorpio.
However, this year's new moon in Scorpio on November 7 has a delicate feel.  Thanks to the sun and moon's dance with Neptune this week, the mood is magical, whimsical—and transformative, as though Scorpio's leather corset and fishnet stockings have a dusting of glitter and a few layers of tulle shrouding them.
It's a glamorous time to make magick and, as with every new moon, it's a brilliant time to start something new, to grow something.
Plus, an unexpected turn of events come with Uranus's reentry into Aries on November 6, and on November 8, lucky Jupiter enters adventuring Sagittarius. Now is the time to take a leap of faith, take a risk— the planetary energy is encouraging you to do so.
Here's how to manifest your risk into reality with a sex magick spell.
SEX MAGICK FOR THE NEW MOON IN SCORPIO
What you'll need:
Pen
Paper
Yourself
Your favorite mood lighting
Your music of choice
Your hand, a vibrator, or whatever your favorite way to masturbate is.
Step 1:
Using your pen and paper, write down what you want. Is it a partner who treats you with respect? Is it to shed shame? Is it to land a gig that you know you'd rock, or just wads of cash?
Scorpio doesn't judge (at least, not for wanting cash or a proper partner). See, sex magick is using sexual energy to manifest a desire, but that desire can be whatever you want it to be. State what you want with an intention letter.
Step 2:
This is your personal time. Put on your favorite music, whether it's Rihanna or ancient chants, and light your room in a manner that feels comfortable. Perhaps that means candles, perhaps that means all lights off, but set the mood with you and your desires in mind.
Be selfish. You're about to touch yourself for manifestation purposes, after all.
Step 3:
As your brain delights in sexual fantasies, touch yourself, while also using your visualization powers to watch as your desires come to life.
Step 4:
If you can (and it's okay if you can't) bring yourself to orgasm.
Enjoy every moment of the sensation. And as you climax, hold onto your intention – be it that perfect partner, or that kick-ass gig. Imagine yourself, in your most powerful Self, enjoying it all.
Step 5:
Feel free to bask in the post-orgasmic glow, or fall asleep (if you lit candles, blow them out) but now get out there and make some dreams come true. Then, as Scorpio season crawls along, eventually scuttling back to its own business as Sagittarius takes the stage, use detective Scorpio skills to watch all the ways your sex magick is manifesting!
Store
Recommended Reports For You
Most Popular on
Astrology.com