This Week in Sports Astrology: Tom Brady Retires?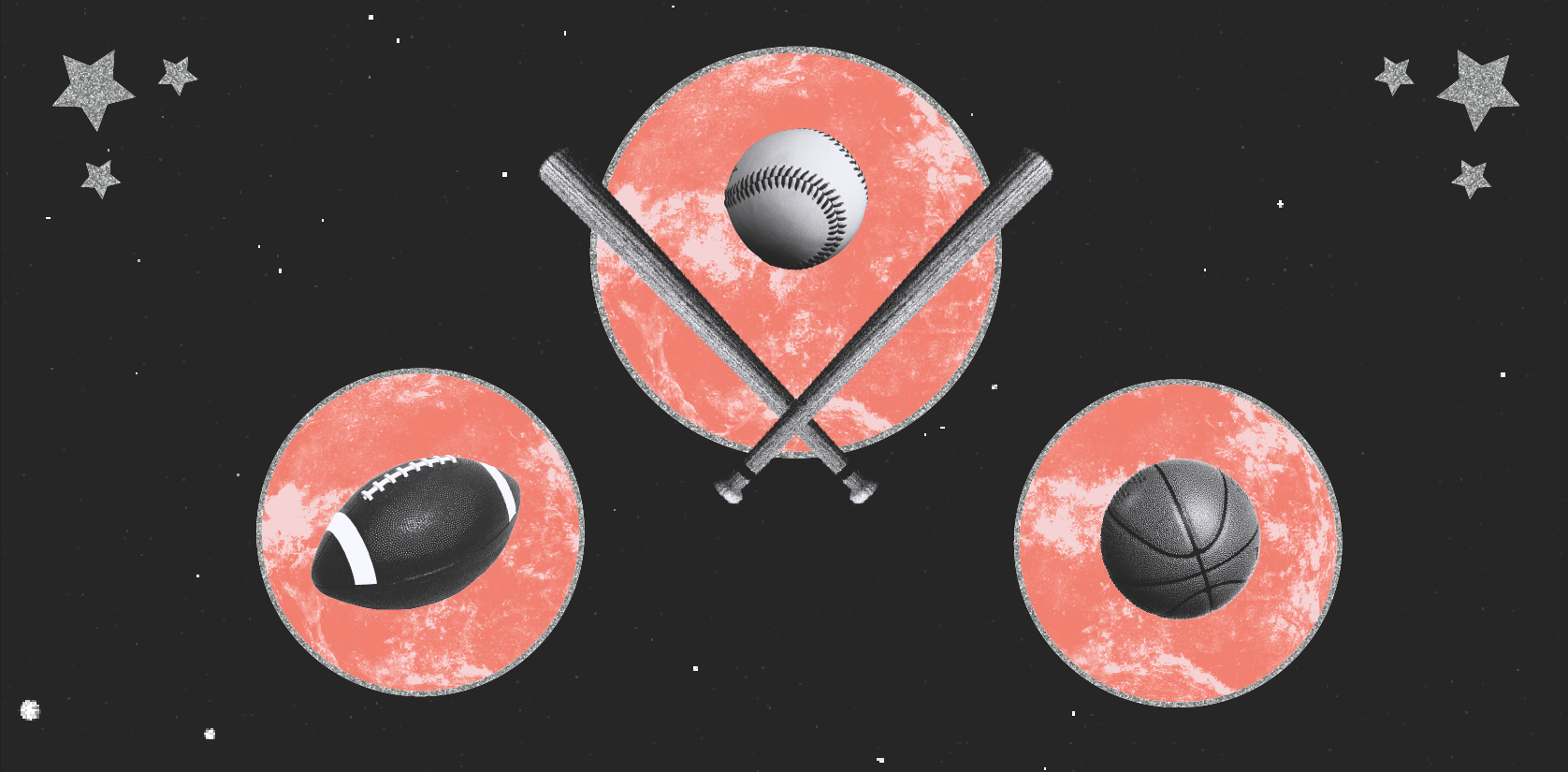 Let's kick off our first foray into Sports Astrology with Tampa Bay Buccaneers Quarterback, and fellow Lion, Tom Brady. He was the QB with the New England Patriots for 20 years prior, then joined the Bucs in 2020, leading them to Super Bowl LV and extending his individual records to 10 Super Bowl appearances, 5 MVPs and 7 victories. The GOAT—or Greatest Of All Time—as some would say.
Tom was born on August 3, 1977, at 11:48 a.m. in San Mateo, California, a dynamic Leo with a Grand Trine in fire, Aries Moon, Leo Sun, Neptune in Sagittarius—a pretty boy Libra Rising. He announced his short-lived retirement, on Feb 1, 2020, at 3 p.m. in Tampa, Florida.
With his midlife crisis in full bloom, the Saturn opposition packed a double cosmic whammy as it also opposed his Sun, he has Sun conjunct Saturn in Leo in his tenth house of career: an auspicious time to take stock of things.
For the poster boy of the Saturn-Uranus square, things were in flux! Yet, the biggest celestial conundrum was that he made his "final" retirement announcement on Feb. 1, 2022. The narrative of Mercury Retrograde prevailed as the planet of communication was retrograde from Jan. 14 through Feb. 4.
Making an announcement of that caliber wasn't good timing, unless—my astrology theory prevails—that he wanted an out to change his mind. Things are far from set in stone when Mercury Retrogrades. So after the proverbial 40 days and 40 nights, he unretired again (!), stating, "These past two months I've realized my place is still on the field and not in the stands. That time will come. But it's not now. I love my teammates, and I love my supportive family. They make it all possible. I'm coming back for my 23rd season in Tampa. Unfinished business LFG."
It's a women's prerogative to change her mind, and, apparently, a man's too— at least when they have Mars in Gemini!
King of the Zodiac
Tom Brady liked the accolades. He mentioned being a Leo, in a 2016 Sports Illustrated article. Someone jokingly tweeted, "It's easier to get hit by a 300 lb. lineman, than stay home with young children."
Tom's Venus in emotional Cancer, a match made in heaven with Cancerian Gisele Bündchen, born July 20, 1980, in Brazil. With an intense Scorpio moon and Capricorn Rising, she likes to rule the roost. Not so fast, though, as Tom's Aries Moon demands "me" time.
Gisele is into astrology and having Tom announce retirement during Mercury Retrograde could have been a compromise between Tom not really wanting to retire and Gisele wanting him to. A space to revisit decisions made during Mercury Retrograde!
Uranus transiting Tom's seventh house of relationships, Gisele's asking for equal time for her and family. Tom's Venus in Cancer, can relate, also a powerful omen for compatibility. Yet, with transiting Uranus in his seventh house there's more unpredictability than usual—either you or your partner wanting to make changes.
Tom Brady Sr., b. May 6, 1944, Taurus with Uranus, conjunct Sun transit, found himself in the middle of a maelstrom, as he blamed media for wanting Tom Brady to retire, rushing things. Taurus does not appreciate rushing!
Tom "unretired" on March 13. Epic and a bit of a hot mess from the Football Gods and Goddesses! Other famous athletes have unretired, including Aquarius Michael Jordan. Bomani Jones, Game Theory host, joked, "Tom Brady's giving us all trust issues."
Uranus square the Sun tests one's individuality, acting impulsively. Solar Fire forecast found Tom's Progressed Mercury conjunct Mercury, "You may find yourself over stimulated, as if you have too many choices." Perhaps you feel others are making decisions that are forcing you to consider your options."
We see you, Gisele!
People can manifest as transits. As above, so below.
At Spring Equinox, Jupiter, the Santa Claus of the zodiac, makes things bigger, more and better, graces Tom's sixth house of work, health and service for the next year. "TB 12," his health and fitness company can be more fruitful, too.
Transiting Jupiter conjuncts Tom's Moon in Aries beginning in June through September, which is good for promotion, publicity, recognition. Another pass in January, right before Super Bowl!
At the end of the day, Tom is not ready to give up his quarterback throne.
Timing is Life, Life is Timing
Leos thrive on attention, it's their Super Power. Tom's pivot is a game-changer. Trust the process, see what's sustainable, and midlife transformation transits can repurpose us all.
While Tom chooses to remain a QB in the NFL, his midlife machinations teach us to go through it, grow through it. Cosmic reboot. He didn't get frightened, he got enlightened. Teachable moments!
Another angle was explored in an intriguing article by USA Today sports journalist, Lance Pugmire. His article headline, "Unusual Bets on Bucs before Brady's return," suggested that the word leaked out that Tom Brady would be returning. Bets escalated as a result.
The person who paid $518,000 for Brady's last touchdown ball saw value diminish when Brady unretired. The noblesse obliges that Leo is famous for was showcased when Brady offered a Bitcoin to their favorite charity.
Gisele just wrote a Health and Wellness cookbook, very Cancerian, food, family, feelings. Recipes she, Tom and kids eat on a routine basis. Lots of avocados, including Tom's good-luck smoothie. Hey, football players can be superstitious as well!
What's Next for Brady
Tom Brady will join Fox Sports as its lead NFL analyst when his playing career ends.
Fox did not disclose terms of Brady's deal, but the New York Post reported that the seven-time Super Bowl-winning quarterback has agreed to a 10-year, $375 million contract—the most lucrative in sports broadcasting history.
All the world is a stage for Leo, and Tom Brady is making the most of his retirement so far, playing himself in a new film called 80 for Brady. The movie tells the story of four friends and New England Patriots fans who take a road trip to watch Brady and the Pats battle with Atlanta Falcons in Super Bowl LI in 2017. Brady led the Patriots to a historic comeback victory to win New England's 5th Super Bowl Championship.
Hope you enjoyed the celestial intel. Stay tuned for more!
Most Popular on
Astrology.com