Your Weekly Tarot Reading: April 26-May 2, 2021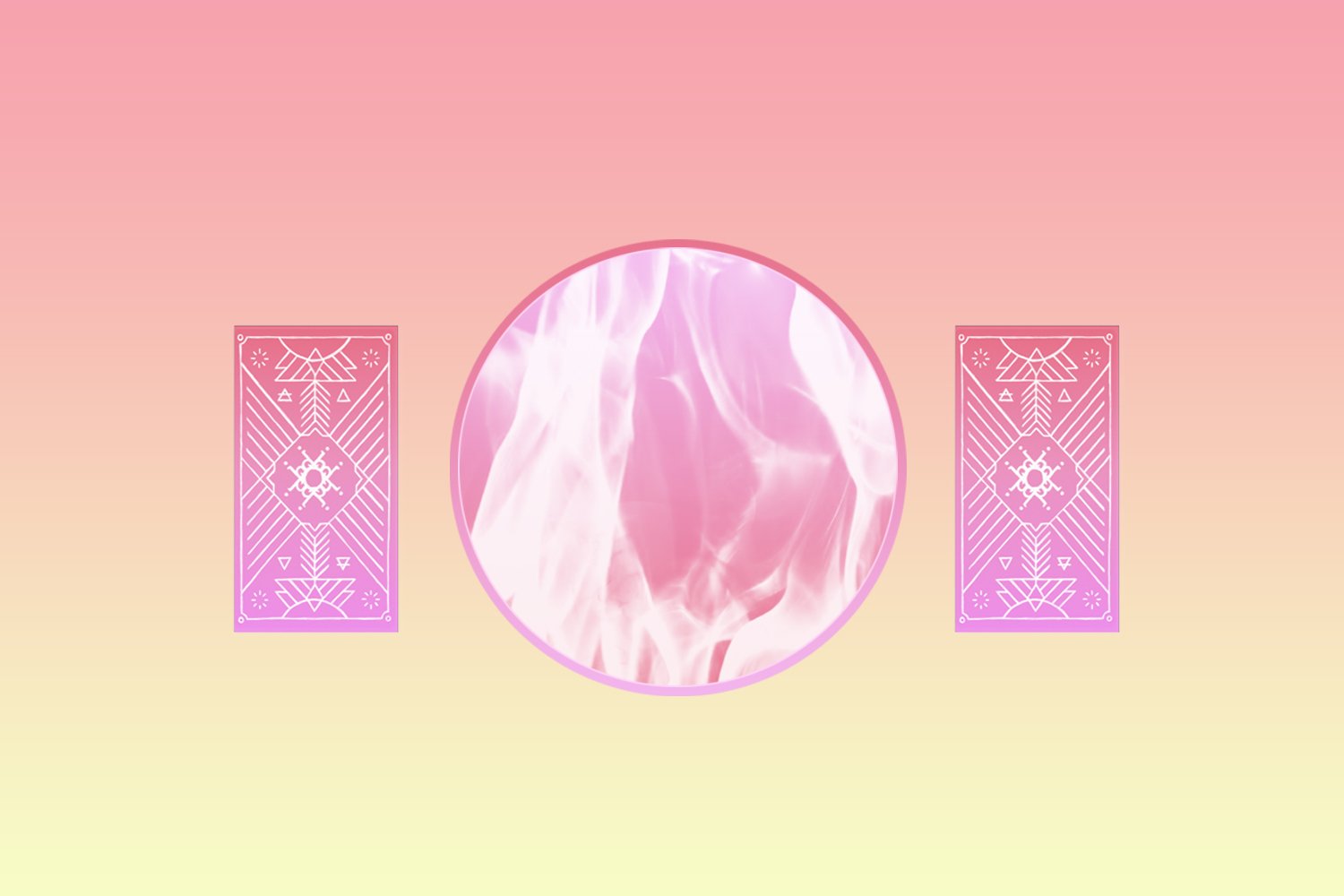 On April 26, we welcome the pink supermoon, the first supermoon of three this year. And your weekly Tarot reading is here to help you channel its potent energy.
A supermoon occurs when the moon is closest to Earth in its orbit, giving it the appearance of being much larger and brighter in the sky. This particular supermoon is known as "pink" not because of the sweet hue of the actual moon, but because of the nickname given by Native American tribes in honor of the pink Phlox flowers that bloom at this time of year.
A full moon holds a powerful energy to release what is no longer serving our highest good and the supermoon adds an extra boost of intense illumination, clarity, and cleansing to the mix. To harness this lunar power—along with the message from your weekly Tarot reading for your zodiac sign—make a fresh batch of moon water on the evening of the pink supermoon!
Your weekly sun sign, work, and love horoscope have important information for the days ahead. Check them out here!
Pink Supermoon Ritual
Moon water is exactly what it sounds like…water that has been charged up by the light of the moon. This is a simple ritual that requires hardly any preparation or planning. Choose a vessel (I love a good old-fashioned mason jar) and fill it with filtered or spring water.
Place your vessel of water (covered or uncovered, it will still receive that lunar energy!) anywhere it will be bathed by the light of the moon. This could be a safe spot outside or on your windowsill. Leave overnight and collect in the morning!
That's it, my darlings! Use your magical moon water to cleanse your home and your non-soluble crystals, to nourish your plants, make an herbal infusion, or use in your next bath ritual.
Below, find your weekly Tarot reading for the last week of April:
Aries: Page of Wands Reversed
Keep trying, Aries. Just because your first attempt at the execution of your vision did not go as planned, it does not mean that this is a total failure! Get back to the drawing board and start brainstorming new ideas of ways to get your point across. Don't give up yet!
Taurus: King of Swords
Express yourself, Taurus. You have finally found that sense of clarity you have been searching for and your mind is swirling with so many thoughts and ideas waiting to be shared! This is a good week for your writing skills to be put to use so put those inspirations down on paper. You will come back to all of this at a later date.
Gemini: Two of Swords
Make a decision, Gemini. What are you waiting for? You have been weighing your options and creating pro and con lists, but you still seem to be at a standstill. What is the key information you are looking for in order to commit and proceed? Seek out that knowledge this week so you can finally decide your next move.
Cancer: Four of Wands
Dress your nest, Cancer. How can you make your home more comfortable? Whether it is investing in a luxurious new set of sheets or finally tackling that home renovation project you have been putting off forever, this is a good week to turn your attention towards your domestic domain.
Leo: Eight of Pentacles Reversed
Your weekly Tarot reading is asking you to seek out a mental reset, Leo. Your lack of focus is starting to catch up to you, and it's becoming more challenging to stay on task for long enough to accomplish much of anything this week. Instead of getting frustrated, take a break and do something else to clear your head. Go for a walk, meditate, or spend some time in nature so you can come back to your work feeling refreshed.
Virgo: The Moon Reversed
Set the mood for peaceful sleep, Virgo. Your racing thoughts are bringing on insomnia and causing you to toss and turn all night! Implement a relaxing nighttime ritual before bed to help you shed the chaos of each day and get your ready to ease into a sweeter slumber.
Libra: Nine of Cups
Celebrate your successes, Libra! Take notice of your recent accomplishments and revel in the feeling of a job well done. Enjoy this moment by indulging in a celebratory dinner with those you love or any other way that allows you to immerse yourself in gratitude for the blessings you have created for yourself.
Scorpio: Eight of Pentacles
Slow and steady wins this race, Scorpio. To accomplish your goals right now, you are going to need to be diligent and stay focused on the task at hand. Incremental progress will add up this week, but do not forget to take breaks in order to avoid a massive burnout.
Sagittarius: Queen of Cups
You are a pillar of strength, Sagittarius! Your empathetic nature is serving you well this week, as everyone is coming to you for sound advice. Often, people just want to be heard, so offer your emotional support to your loved ones just by listening as they vent about their current issues.
Capricorn: Wheel of Fortune
Embrace change, Capricorn! If you have been feeling bored or a little restless, it's time to create a major shift in your routine. Look for new opportunities, whether it is a new job or even a change in location. If you have been wanting to move, now is the time to explore the possibilities!
Aquarius: The Lovers Reversed
Explore this moment of indecision, Aquarius. Not every choice is easy or makes the most sense in the moment, but the possibilities feel less murky when you have clarity around what you truly desire. If you are feeling unsure as to where to commit right now, spend more time getting to the root of the issue by connecting back to your core values.
Pisces: Knight of Wands Reversed
Resist your desire to be impulsive, Pisces. If you have been feeling more scattered than usual and having a hard time focusing, take a break from your usual routine and channel all of your restless energy into fitness. Try a new exercise regime that is both fun and physical while engaging your free spirit, like hula hooping or roller skating!
Most Popular on
Astrology.com