From June 29, 2015 thru July 5, 2015
What's with this sense of imbalance? Why is your home life so weird right now? It's enough to give you vertigo. It's also making you a bit sentimental. On Tuesday, no matter what's going on in the present, your mind is dwelling on the past. There's only one solution: Romance. You need something fiery to distract you, to bring you into the now. Luckily, romance figures into Wednesday and Thursday, and beauty -- everyday beauty -- plays a major role in Friday, too. The weekend begins a bit frantically (Saturday is chaos), but ends with smooching (sweet, sweet Sunday).
Your Love Tarot reading can give you the foresight to navigate the romantic ups and downs of your life. Get deep insight and sound advice for your romantic situation. Let the cards predict the future of your love relationship, show you how can adapt and grow together, and make the best out of it! This reading helps you to make wise choices in love.
Read More »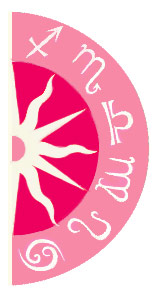 Discover what 2015 holds for you: