From July 27, 2015 thru August 2, 2015
If you're not careful on Monday, words may just fly out of your mouth without you noticing, so be careful! You don't want to sidetrack your love life because a couple hurt feelings. Midweek is about starting something new or taking something to a new level. Use that to your romantic advantage. The weekend arrives, bringing you lots of time, time, time. Be extravagant with your hours and spend them relaxing with someone you love (or someone you'd like to love, if possible). Being lazy together really helps you get to know each other (plus it feels good!). On Sunday, you'll have to get organized for the week ahead. Clean up that kitchen and cook a romantic dinner for two.
The Zodiac Love Tarot reveals the truth about your love life. Learn which obstacles are in your way and where your strengths lie. This reading clarifies important relationship issues, allowing you to search for answers through the symbolism of astrology and Tarot cards. The imagery of this unique system allows you to achieve your heart's desire.
Read More »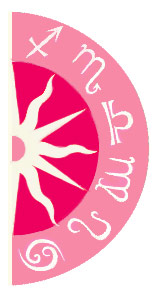 Discover what 2015 holds for you: