From February 1, 2016 thru February 7, 2016
Traveling can put even a master organizer to the test, what with all the reservations, tickets and itineraries to juggle. But you'll have complete command of the details as the week begins -- just be careful when you're communicating those details to others. On Tuesday and Wednesday, make sure you spend time (scheduled or just spontaneous) socializing with traveling companions and new-found friends. You'll get a boost of energy -- and maybe even some new ideas, to boot. Friday and Saturday could present problems, as the challenges of the road threaten to overwhelm. Flexibility could win out over organization for once, so don't be too rigid (especially with others). On Sunday, start something new.
Fill your life with joy by learning about your personal chakras, or spiritual energies. Wondering why you feel out-of-whack some days, then fantastic the next? What is really happening in your soul? The Chakra Tarot helps you discover the truth by revealing the state of your body's seven sacred energy centers, and how each affects your life.
Read More »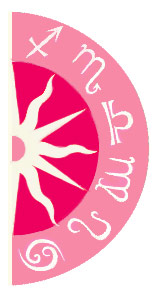 Discover what 2016 holds for you: