Weekly Finstrology Update for March 20: Fed Could Take New Tack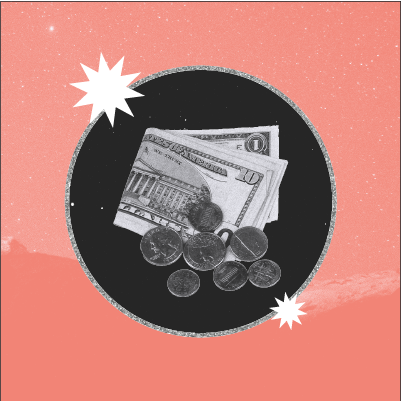 The Fed meets on Tuesday, March 21 under two strong and influential astrological events that could cause it to change course in its attempt to bring down inflation.
The spring equinox, when the sun enters Aries, occurs at 5:24 pm on Monday, after markets close for the day. On Tuesday afternoon, there is a new moon also at 00 Aries at 1:23 pm. Both are heavy-handed in their message for new, aggressive beginnings. Thus, when the Fed announces its next moves on Wednesday at 2:00 pm, don't be surprised to hear something unexpected.
Watch for a high in the S&P 500 on Tuesday because Jupiter is exactly aligned with the market's natal moon, while the new moon opposes natal Jupiter. The area from 3943 to 3976 could provide significant resistance.
The Nasdaq-100 could get a boost on Thursday as Pluto enters Aquarius at 8:13 am and aligns with the index's natal Mercury. Watch 11,810 to provide significant support. Pluto in Aquarius shifts the focus of its transformative energy to technology from business and government, which has been on its radar while in Capricorn since January 2008.
Markets on the Move
SIVB | Silicon Valley Bank—An Instructive Post-Mortem
Silicon Valley Bank has failed and its stock, trading under SIVB, has been halted for trading on the Nasdaq market and likely is headed for delisting. But, the bank's demise delivers great insights from an astrological perspective on how all relevant horoscopes for a company must continue to be considered when analyzing a company and its stock.
With assets of $209 billion when regulators announced they had taken control on March 10 (about three hours after the stock's trading was halted), the company was the second-largest bank failure in the country, behind Washington Mutual in 2008 that had $328 billion in assets.
How the planets on March 10 lined up with the incorporation horoscope for SVB Financial Group, the holding company formed on March 22, 1999 in Delaware, was weak. No planets in the sky at the time of the takeover event were making significant, tight connections to the company's chart.
However, the planets of March 10 told an entirely different story when compared with the company's original incorporation as Silicon Valley Bank on February 22, 1983 in California. Most revealing was that on the day the bank failed, transiting Pluto at 29 Capricorn 44 was partile square to the 1983 horoscope's Pluto at 29 Libra 24. Pluto is the planet of destruction and rebirth, and in square to its natal position can be a time of extreme stress. Indeed, it is a test of survival.
Equally interesting is that when SIVB stock began trading on October 23, 1987, the sun at 29 Libra 36 was partile conjunct the 1983 incorporation Pluto, emphasizing their connection and the importance of the current Pluto transit. When the trading halt began, the transiting moon was at 24 Libra 26, triggering both charts. (Chart 1).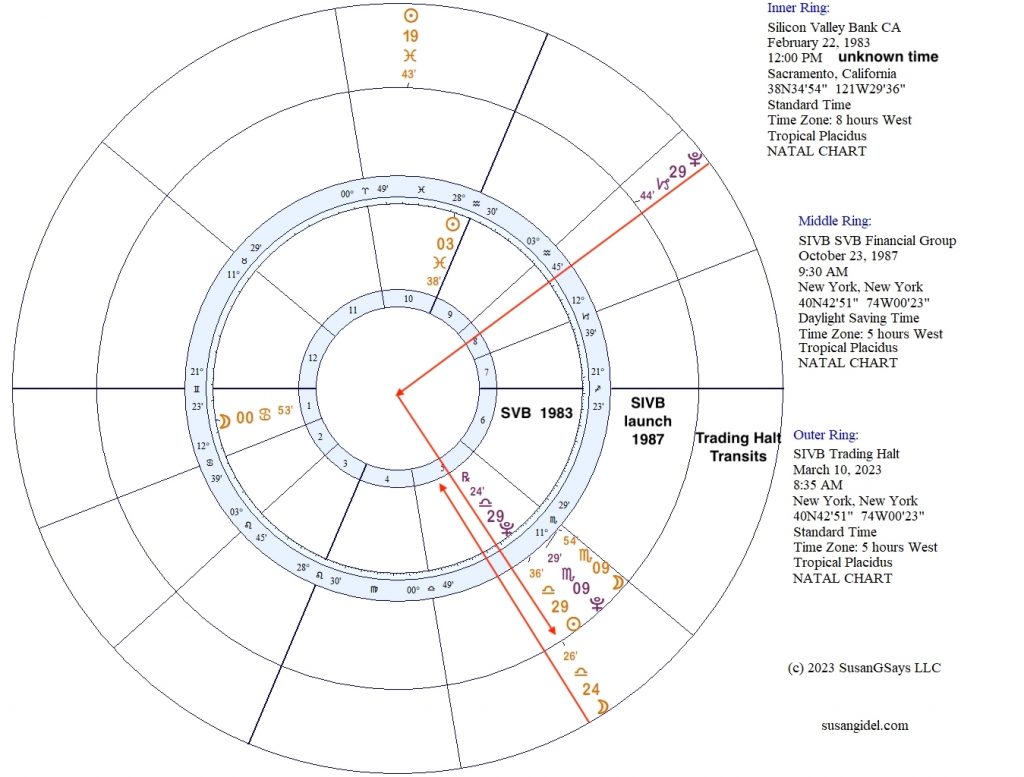 Pluto's timing also was significant in another way. The planet made its first of three exact squares to SVB's 1983 Pluto on Friday, February 24. On the next trading day, Monday, February 27, the bank's President and CEO, Greg Becker, sold 12,451 shares of stock at $287.42 on average and bought the same number of stock options set to expire on May 2, according to an SEC filing. The stock closed March 9 at $106.04, and was halted the next morning.
Pluto's exact square occurs again on July 10, 2023 and January 1, 2024. It comes close, but not exact, on October 12, 2024. Watch for developments in the SVB storyline around these times.
Other financial institutions formed in 1983 also are experiencing a Pluto square in 2023 and early 2024 as transiting Pluto travels back and forth from 27 Capricorn to 01 Aquarius. The companies also facing some Plutonian intensity include:
AMP Ameriprise Financial
CCNE CNB Financial Corp.
FBNC First Bancorp (NC)
FRAF Franklin Financial Services Corp.
FXNC First National Corp.
HBNC Horizon Bancorp
LKFN Lakeland Financial Corp.
LNBB LNB Bancorp
PB Prosperity Bancshares
PNC PNC Financial Services
SBCF Seacoast Banking Corp. of Florida
SMBK SmartFinancial Inc.
UBCP United Bancorp
Weekly Highlights
Soybeans High on Tuesday, March 21—The new moon in Pisces and transiting Mercury trine first-trade Pluto and are opposite natal Mercury. May soybean futures could rally toward $15.18 per bu.
10-yr. T-note Big High on Tuesday, March 21—The new moon aligns with this market's important Venus/Mars axis, with transiting Saturn forming a T-square apex with the market's other important opposition, between Mercury and Uranus. This sets up for a big high in price (and big low in interest rates). June futures could run into resistance at 118-08.
Euro FX High on Wednesday, March 22—The moon and Jupiter are aligned with the market's first-trade Venus, with transiting Venus conjunct first-trade Mercury. Expect resistance at 1.0720 to 1.0730 in the June futures contract.
All times Eastern
All information in this post is merely the personal opinion of the author and not that of Astrology.com or any other person, company or entity. This information is not to be construed as financial advice, nor relied upon as such. Please contact your broker or financial advisor for trading and investment advice, and use astrological indicators in combination with other trading-decision inputs. Past results are not necessarily indicative of future market behavior.
Store
Recommended Reports For You
Most Popular on
Astrology.com