Weekly Horoscope for April 16: Pioneer Toward Your Destiny!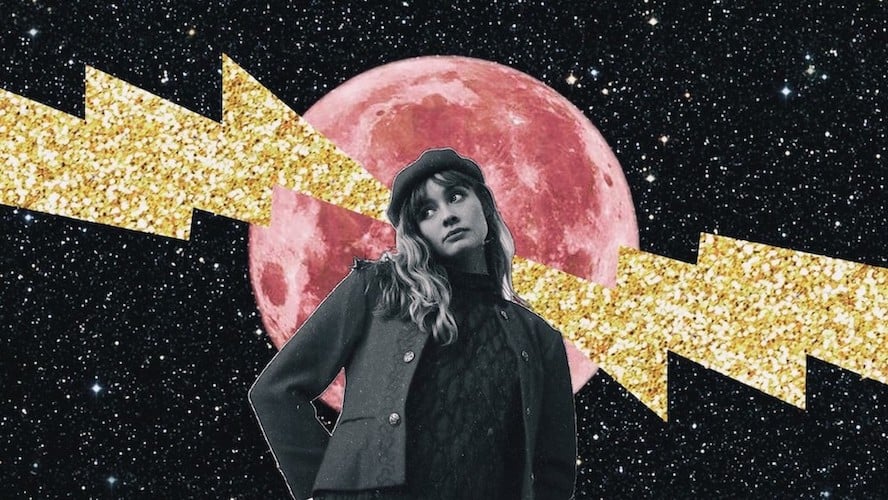 The intensity of eclipse season will arrive like the eye of a god peering down upon us from the heavens. For thousands of years, humanity has looked to the skies to understand powerful cosmic forces and omens and symbols from the divine. This week, a solar eclipse in Aries arrives on April 19. But in truth, we've been feeling the energy approach like a mighty electrical storm for weeks already. This is the first eclipse on the Aries-Libra axis, and we will watch as many more come from now until 2025. Eclipses announce that destiny has arrived, rapidly forcing us to evolve to the next level. Expect powerful shifts of fate, sudden new beginnings, and whiplash every which way. Solar eclipses mark powerful new eras.
MANTRA
I surrender to change and am unafraid.
ZODIAC SIGN RATINGS
This week's energy will mark major new beginnings for all zodiac signs, but three will be especially affected: Aries, Cancer, and Libra. Exciting, destined fresh starts await. Aries will welcome a new dawning for their entire lives, as they will be propelled to explore a new version of who they are and where they wish to go. Cancers, however, will experience a wildly exciting launch higher or in a new direction regarding their professional lives. Libras, though, will see a sudden step forward in significant relationships. Couples may make long-term promises and grow closer, while singles could find someone with strong compatibility. 
YOUR WEEKLY HOROSCOPE
ARIES
Destiny is propelling you to pursue major new personal projects, plans, initiatives, and endeavors, Aries. A whole new era of your life arrives for you this week. You may suddenly decide to recreate yourself in wondrous, exciting new ways. Don't sell yourself short. Summon your confidence and charge onward into the sunrise. The solar eclipse in your zodiac sign — your solar first house of identity — will supercharge you with passion and courage.
TAURUS
Reflect on where you've been as you lie low, daydream, and relax, Taurus. You've been hard at work for so very long — years, in fact. The universe is encouraging you to slow down and rest. The good news is that this week's solar eclipse in your solar twelfth house of solitude and the unconscious will encourage you to daydream vast and exciting ideas you'd like to tackle in the coming years. 
GEMINI
Exhilarating energy will crackle through your life this week, Gemini. Draw up a list of big goals and aspirations you've always dreamt of pursuing and get to work on them. As the solar eclipse in your solar eleventh house of friendships and joy arrives, you'll feel a surge of momentum to get active and connect with others. You may find that the pieces fall into place more easily than you ever even imagined.
CANCER
Previously locked doors in your career may now blast open, and it is up to you if you're ready for action and new responsibilities, Cancer. Prepare for a whole new era in your professional world to arrive like you're in a chariot on fire parading through the night. A solar eclipse in your solar tenth house of achievement will appear, propelling you forward with immense speed.
LEO
It's time to unleash your enthusiasm and embrace your hunger for adventure, Leo. The universe is taking you on a rollercoaster now. With a solar eclipse in your solar ninth house of expansion dancing in the heavens above, you may now make a destined shift regarding long-distance travel, media endeavors, publishing, or legalities. If you've desired to immigrate, you may now be in luck. Last, if you've been involved in academics or seek to be, this lunation may allow you to do so.
VIRGO
More opportunities to monetize and bring in wealth could be offered from the universe this week, Virgo. A solar eclipse in your solar eighth house of assets and investments may bring a surge of cash your way. If you already have a financial portfolio, you may also see an increase near this time. Last, if you've applied for an extra credit card line, mortgage, venture capital, or settlement, the news of approval could also come now, too.
LIBRA
A soulmate connection could be calling out to you now, Libra. Tremendously happy surprises await your relationships this week. A solar eclipse across the sky from you in your solar seventh house of partnership will ignite in the cosmos. This ensures that an exciting shift may happen with a significant other, such as a desire to make long-term promises, move in, get engaged, or even elope and be wed. If single, you're also favored to cross paths with someone with major long-term potential.
SCORPIO
Be prepared to juggle many different things this week, but be sure to also watch your health, Scorpio. Buckle up for a fast-paced period with many new things being thrown at you. A solar eclipse in your solar sixth house of productivity arrives and will fill your calendar with a surplus of new responsibilities and projects from your employer, as well as routines, obligations, and plans. Finding the perfect work and life balance is your key to success.
SAGITTARIUS
Romance and passion are your M.O. now, Sagittarius. A roaring fire will ignite within your heart this week. Prepare for a solar eclipse in your solar fifth house of true love and passion. This could cause singles to cross paths with a romantic soulmate connection. If coupled up, you may now fall more deeply in love than ever before as you march onward into your endless fairytale romance. If you've been hoping for news of a pregnancy, this lunation may also bring the sudden news your way.
CAPRICORN
You may now decide to move, renovate, relocate, or completely redecorate, Capricorn. A new chapter in your domestic life may be upon you. This could even motivate you to start discussing plans to tackle regarding real estate you own or seek to purchase. Last, an essential shift concerning your family could also pop up, such as the need to step up and aid one of your kindred or a parent.
AQUARIUS
Profound visionary ideas could ignite within your mind now, Aquarius. A milestone moment concerning your ideas is upon you this week. A solar eclipse in your solar third house of communication arrives with firepower. This ensures that you could now or soon begin work on a significant writing, speaking, advertising, branding, or social media initiative. Another way this could affect you is to propel you to travel more, especially on many short-distance trips.
PISCES
You're a money magnet now, Pisces. A turning point in your income could appear this week. A solar eclipse in your solar second house of finances will arrive, ensuring you have more liquid cash to play with. This may arrive with a sudden raise or even a job offer. If you release your own products, you could be debuting new ones. This is also an ideal time to advertise your services, skills, and business.
Most Popular on
Astrology.com