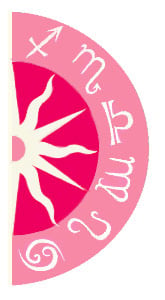 Trying to accomplish too much too fast can easily boomerang with nasty results.
The cosmos is trying to communicate the following message -- slow down, be patient, and wait until the New Moon occurs at 3 degrees of Cancer (7:32PM) before taking any great leaps forward.
Halting your progress before the Sun-Moon rendezvous are Mercury making a caustic, 45-degree link to Vesta (12:27AM), the monthly Moon in Gemini opposition to Saturn in Sagittarius (5:32AM), a void lunar cycle in Gemini starting at 11:46AM and ending when the Moon enters Cancer (3:08PM), and the chief adversarial sky pattern of the day -- Mars in Cancer in polarity to Juno in Capricorn (6:17PM).
Rocking the boat with dear ones as Mars and Juno joust in the heavens is a no-no. Let go of as many old problems as possible to allow the New Moon vibrations (7:32PM) to reinforce love, understanding, and goodwill within your extended family circle.
[Note to readers: All times are calculated for Pacific Daylight Time. Be sure to adjust all times according to your own local time so the alignments noted above will be exact for your location.]